Turning your photos into works of art will let you mix up your Instagram feed or wall decor with unexpected, eye-catching images. Get creative with style and color while sticking with your favorite subjects and themes. You don't need to be a naturally gifted Picasso or have advanced photo editing software to give your images a painterly look, either. Instead, there are several apps you can use to add effects with one touch and then make detailed edits. Here are six of our favorite apps for turning photos into paintings.
1. Adobe PaintCan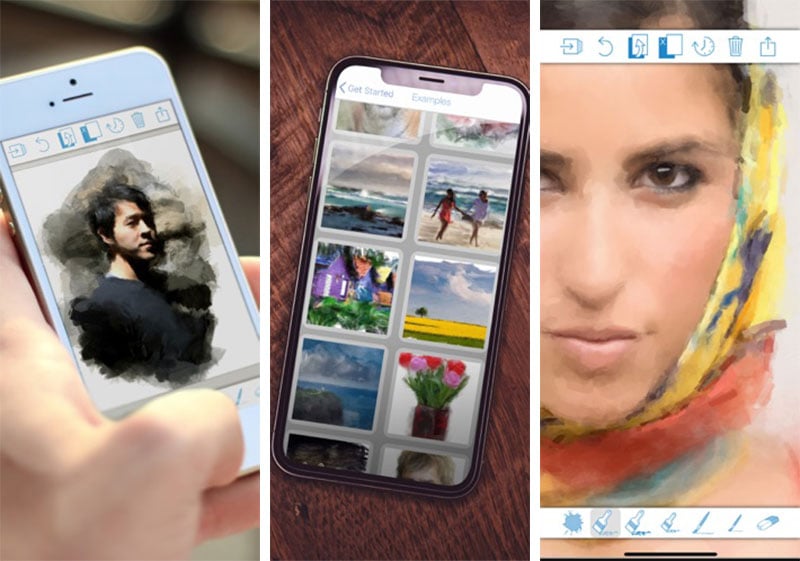 Adobe PaintCan doesn't simply apply a painterly effect to your photos; instead, it lets you use six types of brushes and effects to paint over your image. Colors are auto-chosen based on where you paint. You can also undo all of your work or use an eraser to undo a portion of your work.
When you first play around with Adobe PaintCan, you may feel like the image becomes too blurry and impressionistic. The trick is to use a two-finger motion to enlarge the picture. Then, whatever brush you're using will cover a smaller area of the image, meaning you can paint in more detail. The app has a number of sample photos to play around with so that you can experiment before using your own photos.

2. Brushstroke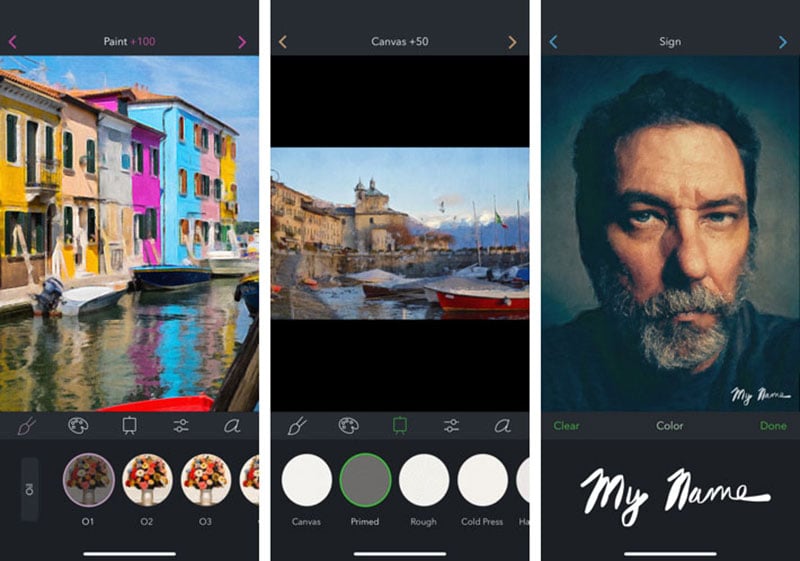 With Brushstroke, you can apply one of many painterly effects with one touch. There are several art styles and color palettes to choose from. You can transform your videos into moving paintings, too.
Included in the more than 50 presets are abstract, acrylic, gloss, lead pencil, oil and watercolor. After choosing your style, you can change the intensity of the effect. Then, adjust the colors and add texture to the background. When you're done, sign your work before you share it online or have it printed out.
If you'd like to turn your image into wall art, Brushstroke has teamed up with CanvasPop so you can order canvas prints and have them shipped to your home.

3. Glaze
With Glaze, your photos-turned-paintings will look real enough to touch. You'll be able to actually see the layered paint, just like on a real painting. Since many of Glaze's effects have a lot of texture, they work best on images with contrasting colors and distinct shapes. There are a number of effects that you can apply with one touch. More than 30 styles come free with the app, and you can unlock more for a low fee. You can also stack styles to create presets.
With the Transparency Pack, you can use masks to apply effects to portions of the image. You can also save transparent layers for blending. Try out the pack for free. The best part about the app is that it walks you through how to use its features, and there's also a user guide and a video tour for even more help.

4. Prisma Photo Editor
Prisma Photo Editor has over 300 filters, many of them modern and colorful. This is a nice change from other photos-to-art apps that veer toward the abstract and impressionistic. Some of Prisma's filters preserve so much of the photo that it looks like a crisper, smoother version of itself, with just subtle artistic differences.
There are traditional painterly effects, too, and Prisma releases new filters all the time. You can emulate styles from history's greatest artists, like Dali, Munch and Picasso. Once you've applied a filter, use sliders to make adjustments and edits. You can change settings like contrast, exposure and sharpness.
5. Tangled FX
Tangled FX adds a distinct effect to your photos that you won't find on other apps. Images look dynamic and wild after being "outlined," which brings the photo's natural etching, fibers, strokes, swirls and webs to the forefront. You'll notice details, shapes and movement you don't see with the naked eye.
What makes Tangled FX a standout app is that it doesn't have an array of painterly effects, but instead does one thing and does it expertly well. There are still 16 styles to choose from, but they're all within that "tangled" realm. Quickly apply your chosen effect, then use advanced settings to make more tweaks and fine-tune. Save your custom presets for easier editing in the future.

6. Waterlogue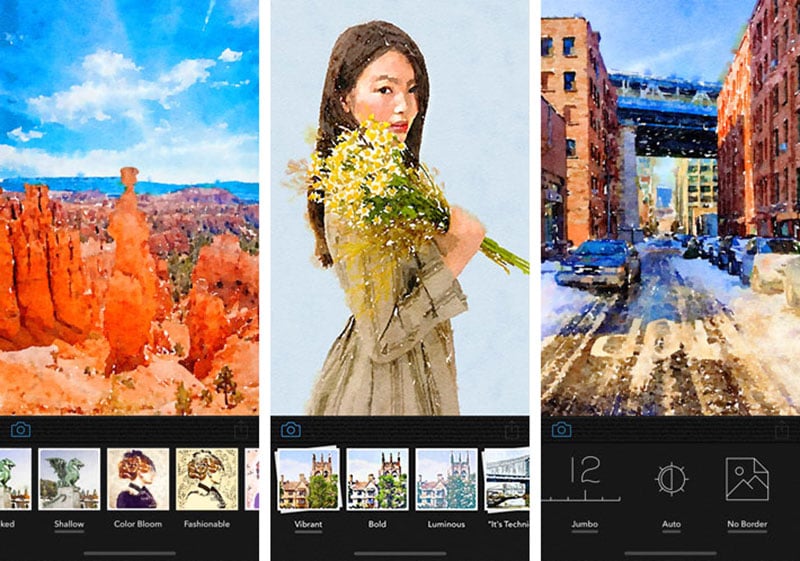 Similar to Tangled FX, the Waterlogue app focuses on one type of effect. Waterlogue is specifically for adding watercolor effects to your paintings, and within that, there are a lot of filters to choose from. The app comes with 14 presets, and you can further customize your images by controlling color, pen outlines and wetness. Play with effects to keep shapes distinct or to have colors run together and create a more abstract image.
The nature of watercolor effects makes them best for landscapes and still life photos. For vistas and street scenes, try to capture some of the blue sky and white clouds – contrast like that looks particularly pretty in watercolor. Waterlogue doesn't have a ton of editing functionality, so you may want to use it in combination with your preferred editing app to make advanced changes.

Once you know which apps you'll use to give your photos an artistic feel, go through your camera roll to find images you thought were too boring to post. Sometimes the most simplistic photos look stunning when given a painterly treatment. Also, while we encourage you to experiment with painterly effects on any and all of your photos, the ones that tend to look best have high contrast and basic shapes, like architecture, landscapes and portraits.
We'd love to see your creations! Tag your Instagram posts with #mobiography.