It's often said that gear doesn't matter in photography. Great artists will produce great work, no matter their equipment. If the legendary landscape photographer, Ansel Adams, were around today, he would probably take captivating photos with his smartphone. But given a choice, he would also equip himself with some add-on iPhone lenses.
As most phones only have a fixed focal length, additional glass can make a huge difference to your mobile photography. Wide-angle lenses allow the photographer to take sweeping vistas and captivating cityscapes. Macro lenses reveal hidden detail in flowers and insects, while fisheye lenses offer a whacky, warped perspective. Meanwhile, sports and wildlife enthusiasts can use telephoto lenses for a closer look.
There are literally hundreds of these lenses to choose from nowadays. To help you choose wisely, we have searched high and low for the best iPhone lenses that money can buy.
Key Features
When deciding on which smartphone lens to buy, there are several matters to consider.
First of all, not all lenses work with every smartphone. While iPhone owners are well catered for, other mobile photographers may have to select a "universal" lens kit.
Build quality is also very important. Cheap imports have a nasty habit of falling apart under pressure. Worse still, some designs are capable of scratching the lens of your smartphone — the stuff of nightmares, indeed.
Mounts are often just as important as the lenses. Some systems require you to purchase a case, while others come with their own stick-on or snap-on mounts. While the former option often provides better image quality and a sturdier hold, removable mounts make it easier to use your smartphone as a smartphone.
Perhaps the biggest decision, however, is whether to pay for glass optics or opt for plastic lenses and save some money. This roundup is filled with glass for good reason — it produces crisp images that are largely free from unwanted defects.
So, with these key ingredients in mind, let's take a look at the top contenders.
Moment Lenses
When quality is the foremost consideration, Moment lenses are difficult to beat. Machined from metal, with multiple glass elements, they feel like tiny DSLR lenses from the "pro" range. The lenses attach to your phone via a protective case. The lineup includes a wide-angle lens, a macro lens, a 2x telephoto lens, and the "Superfish" fisheye lens. Sharpness is excellent, and image defects are virtually non-existent.
With every major phone that is released, the lenses are updated to match the new specifications. This means the glass is calibrated perfectly, but it does restrict the lifespan of each lens. Furthermore, you will need to own an Apple iPhone or Google Pixel device in order to use these lenses at all.
More Info
ExoLens PRO by ZEISS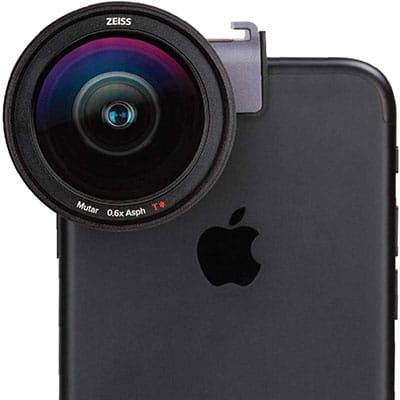 Another option for iPhone owners is the ExoLens range. Developed in partnership with ZEISS, these lenses match those of Moment stride for stride, save for a little lens flare.
There are three lenses in the ExoLens range — wide-angle, telephoto and macro-zoom. All three lenses are resistant to dust and spray. You also have three different mounts to choose from, ranging from the aluminium ExoLens Bracket to the see-through ExoLens case.
More Info on Amazon
Olloclip 4-in-1 Lens / Core Lens Kit
Striking the perfect balance between image quality, price and versatility is Olloclip's 4-in-1 Lens. Available for older iPhones and Samsung Galaxy phones, these kits include a mount that covers both the rear– and front-facing cameras on your device.
As the name suggests, there are four lenses in each kit: fisheye, 10x macro, 15x macro, and wide-angle. Image quality is excellent, although the wide-angle lens does suffer from some optical aberration towards the corners. Perhaps this can be attributed to the fact that Olloclip's lenses are relatively small, and remarkably light considering their metal construction.
The Core Lens set offers a very similar setup on the latest iPhones, albeit with the removal of the 10x macro lens.
More Info on Amazon
iPro Lens System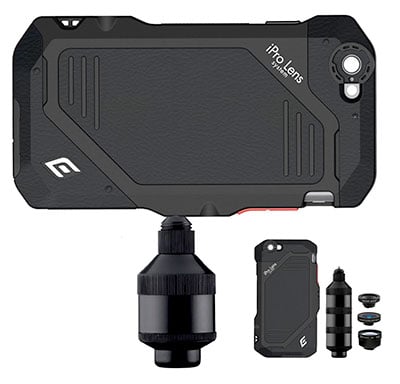 Although the iPro Lens System has officially been discontinued, the lenses are still available to purchase — and they offer incredible bang for your buck on older iPhones and Samsung Galaxy models.
The range includes a macro lens, two wide-angle options, and a fisheye lens. Each lens is made from aluminium and high-quality Schneider glass. The image quality cannot quite compete with that of more expensive lenses — distortion being the most notable problem. However, the iPro lenses still deliver crisp photos.
You will need to acquire an iPro case to mount your lenses.
More Info on Amazon
Inmacus HD Lenses
Made exclusively for the iPhone 6 and 6 Plus, Inmacus HD Lenses are great for landscape shooters. The 18mm wide-angle lens expands the iPhone's field of view by 50 per cent, while still retaining remarkable sharpness. As an added bonus, this lens even accepts 30mm screw-in filters. Vignetting is a slight concern, but virtually unavoidable on a lens which is this wide.
Speaking of filters, the Wide-Angle kit includes a circular polarizer for reducing glare and adding colour, along with a close-focusing lens. The lenses screw into the supplied plastic mount.
More Info on Amazon
DxO One
Strictly speaking, the DxO One is much more than a lens. In fact, this iPhone add-on is more of an add-on camera. The device syncs with your phone via Wi-Fi or a wired Lightning connection, and allows you to use the screen for compositional purposes.
The one-inch, 20MP sensor blows the iPhone camera out of the water. The f/1.8 lens equates to about 32mm, which hits the sweetspot for general shooting. The whole thing is pretty cumbersome and eye-wateringly expensive, but it takes incredible photos.
More Info on Amazon
CamKix Camera Lens Kit
Four lenses, a mini tripod, two cases, a universal phone mount, a velvet storage bag and a cleaning cloth. Sounds too good to be true, right? The answer is yes and no.
For photographers who will only accept pin-sharp results, these lenses are best avoided. But those who enjoy playing with softness and the toy camera look can embrace CamKix. The pack includes wide-angle, fisheye and macro lenses, along with a monstrous 12x telephoto lens.
Each has its own optical deficiencies, with distortion and chromatic aberration being the recurring themes. But keep your subject in the centre, and these kits offer a fun first foray into the world of smartphone lenses. Plus, they work with numerous phones.
More Info on Amazon
AUKEY Optic Pro iPhone Lens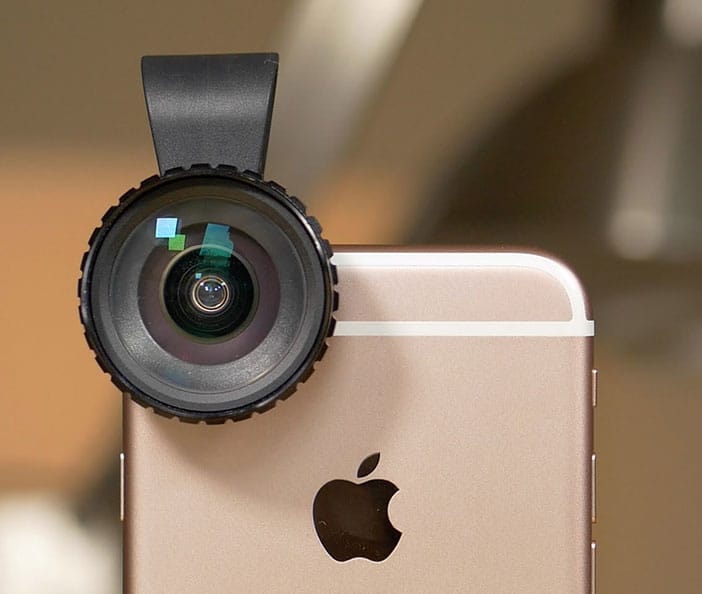 Optically speaking, AUKEY lenses are far from perfect, but they come with two major advantages.
Firstly, the lenses work with most smartphones. Only larger phablets will cause problems. In addition, the AUKEY lenses require no separate mount. Each lens snaps on like a clothes peg, providing a sure if somewhat imprecise footing.
There are several sets to choose from, including 3-in-1 lens kits and standalone wide-angle, macro, telephoto, and fisheye lenses. The image quality won't impress serious photographers, but the AUKEY lenses are perfectly good for creative snaps.
More Info on Amazon
So which are the best iPhone lenses?
Having looked at what each iPhone lens offers, the choice seems much clearer than when we started.
Mobile photographers who have the budget to demand perfect optical quality should probably invest in Moment glass, the Exolens Pro by ZEISS or splash out on the DxO One. In the mid-range, Olloclip delivers very good optics and several different looks at a reasonable price. And at the budget end, iPro offers exceptional value for money…while stocks last. In the longer run, AUKEY will fill the void.
Do you own any of these lenses? Is your favourite lens missing from the list? Tell us in the comments!