Are you using the right photo editing app for your mobile photography? With so many to choose from it's no wonder we struggle to find the right one. In this article we'll show you best 30 photo editing apps for iOS and Android devices and help you identify the best ones for you.
First, let's see how far we've come. The very first smartphones with cameras had the most basic, primitive editing features – and the photo quality was so poor you probably wouldn't even bother trying to edit your smartphones on your laptop or desktop. As the cameras improved and images quality increased it made sense to transfer images off the smartphone and onto a computer running photo editing software. Today's smartphones typically have larger screens, intuitive touch-screen interfaces and natural gesture-driven actions, faster processors and, therefore, better photo editing features and the ability to run advanced photo editing apps.
The more powerful and capable our smartphones and their inbuilt cameras become, the more scope photo editing app developers have to design and develop incredible photo editing apps to help you achieve the results you want.
Here's our round up of the best photo editing apps available in 2019.
I've grouped them by what the app is primarily used for.
Table of Content
General-purpose photo editing apps
Apps which are considered to be 'all-rounders', capable at all the common photo editing tasks and perhaps offering something unique too.
Snapseed
Stylish photo editor with well-organised features and an intuitive user interface including swipe gesture control. Now owned by Google. This really is one of the best known and most loved photo editing apps out there – not least because it's available for both iOS and Android devices. One of its killer features is the way adjustments are 'stacked' so they can be revisited and adjusted later on. You'll love the user interface and the well organised features.


Features:
Automatic adjustments as well as offering a high degree of manual adjustments
A range of good quality effects and filters including HDR, vignette and B&W
Ability to create and save filter combinations
Selective adjustments
Frames and text
iOS & Android versions available
Easy sharing of images on social networking platforms
Non-destructive editing using 'stacks'
Best for:
All mobile photographers but especially professionals requiring fine control over their photos and appreciate a well-designed user interface.
---
Afterlight
Photo editing app offering stylish filters, textures and frames as well as conventional photo editing features. Afterlight is an extremely popular app with a vast range of tasteful, stylish filters, textures and frames. You can expect polished, professional results and an excellent user interface. Definitely a professional tool which can be used for creating credible results.

Features:
74 unique filters
78 natural textures – real 35mm film light leaks
128 frames
15 image adjustment tools
Cropping & Transformation tools
Best for:
Photographers wanting an easy way to create 'grown-up' professinal photographic results quickly and with the minimum fuss.



Website: www.afterlight.us
---
Enlight
Powerful and well-featured photo editing app with an extensive collection of basic and advanced editing tools. This is one of the better all-rounders on offer with the ability to make simple or advanced adjustments to your photos in an intuitive way. Some of the filters and effects are a bit over-the-top but all can be used subtly to suit your taste.


Features:
Extensive range of editing features
Basic through to advanced exposure and colour settings
Advanced creative options
Best-in-class built-in Help feature
Excellent mask features to enable selective application of adjustments
iOS only
Best for:
Photographers of all ability levels (due to the excellent Help features) but especially those who like more creative, surreal or fantasy results.


Website: www.enlightapp.com
---
Adobe Photoshop Express
A scaled-down, streamlined version of the extremely popular and professional desktop version of Adobe's Photoshop. Adobe's desktop version of Photoshop is probably the most popular choice for professionals when it comes to photo editing – so it's no surprise that their mobile version, Photoshop Express, is so impressive. Apart from sharing its genes with its bigger brother, this app's killer feature is its ability to fix common photo problems fast – whilst also providing fine manual control of image adjustments for the more obsessive Photoshop user.

Features:
Fast, intuitive photo touch-up features including red-eye & pet-eye removal, straighten and crop
Conventional manual control of hue, brightness, white balance etc.
Borders, frames and collages
Free but additional filter/effect/features available to purchase as packs
Available for iOS, Android and Windows
Best for:
Anyone already used to the excellent desktop version of Photoshop – or those seeking to upgrade to something more professional.



Website: www.photoshop.com/products/photoshopexpress
---
PhotoToaster
Phototoaster is an excellent all-rounder with a huge range of effects, filters and features. Quite apart from this massive range of effects and extensive, advanced editing features this app's "editing brushes" really make selective editing of your photos a breeze and the results speak for themselves. I'm not crazy about the user interface but it works well enough and it has an enormous fan-base of enthusiastic users.
Features:
Countless one-click effects, filters, texture overlays and borders
Brush-on exposure adjustments
Conventional photo editing tools
Multiple undo
Separate colour channel processing
EXIF support
Best for:
All photographers from beginners to advanced.

---
Adobe Lightroom Mobile
Lightroom Mobile attempts to get all the core features of the desktop version of Lightroom onto a mobile device. The workflow will feel familiar to desktop users but obviously the interface is geared more towards mobile devices.
Features:
Adjustable tone curves
Vignetting and Split toning
Colour and B&W adjustments
Dozens of presets
Exposure, Contrast, Vibrance, Saturation and White balance tools
Available for iOS and Android (requires Adobe Creative Cloud subscription to
Best for:
Anyone wanting access to the core features of the desktop version but on a mobile device.
---
Big Lens
Innovative general purpose camera and photo editing app which majors in shallow depth-of-field effects. A popular app which seems to have a happier customer base in its Android guise. It attempts to provides the very desirable shallow depth-of-field effect we take for granted in digital SLR cameras. It does this fairly well and also offers various tools and effects for enhancing your photographs in other ways.
Features:
18 filter effects
Instant focus / blur tool
Highlight glare with custom shapes
Before/After preview
Edge blur adjustment for a more natural effect
iOS and Android versions available
Best for:
Photographers yearning for shallow depth-of-field effects but who can't yet afford the iPhone 7 Plus!
---
VSCO
VSCO is a classy, understated photo editing app with an analog film bias. Pronounced 'visco' this popular app is minimal in design with an unfussy user interface and a rather 'grown-up' range of quality filters which can be easily adjusted. The filters are subtle and mimic classic and modern analog films – something that will appeal to those from a film background.

Features:
iOS and Android versions available
Class-leading sharpening features
Film emulation plugins for Photoshop and Lightroom
FREE with additional preset bundles available for purchase.
Best for:
The discerning photographer, especially those familiar with film photography and the wide range of once-popular films and their characteristics.



Website: vsco.co
---
Handy Photo
Handy Photo is a fully-featured photo editing app with a few tricks up its sleeve. The user interface won't be to everyone's taste and it's certainly not as classy as some of the more established apps featured in this article – but what it lacks in design it more than makes up in terms of features and results. The developers have to be applauded for including some rare features such as the 'tiny planet' effect which effectively wraps your photo around a sphere, creating a fish-eye effect which results in your scene looking like a planet! The uncropping feature is equally innovative and allows you to crop your photos in a way which means you don't have to sacrifice image size or quality. It has to be seen to be believed.

Features:
Very simple retouching tools for removing unwanted elements from your photos – with just a single tap
Wide range of adjustable effects and filters including glow and fog
Amazing 'tiny planet' effect rarely found in other apps
Ability to move an object from one photo to another
Unique 'uncropping' feature
Selective application of effects and filters
iOS only
Best for:
Creative photographers looking for unique creative opportunities in addition to the staple photo editing toolbox.

---
Stackables
Stackables is a powerful app specialising in adding gradients and textures to your photos. Stackables offers advanced, comprehensive layering and blending of effects but also offers the usual general purpose image adjustment tools such as white balance, exposure, vignette, sepia, grain, blur, tilt and shift etc. The results are very professional and tasteful.

Features:
Offers full TIFF support
Over 200 effects
Textures, light-leaks, vintage gradients and film filters
Geometric patterns
Over 20 image adjustment tools
iOS only
Best for:
Photographers looking for more professional and tasteful effects than some more of the more gimmicky offerings out there.

---
Pixelmator
Pixelmator is a fully-featured all-rounder with Photoshop-challenging capabilities. This is one of those apps that's trying to do everything. I'm happy to say it succeeds and is a viable challenger to Photoshop Express and Snapseed's crown. Unlike the button maelstrom some apps subject us to Pixelmator manages to just show us the controls we need to see for the adjustments we're wanting to make. I would seriously recommend trying this app out.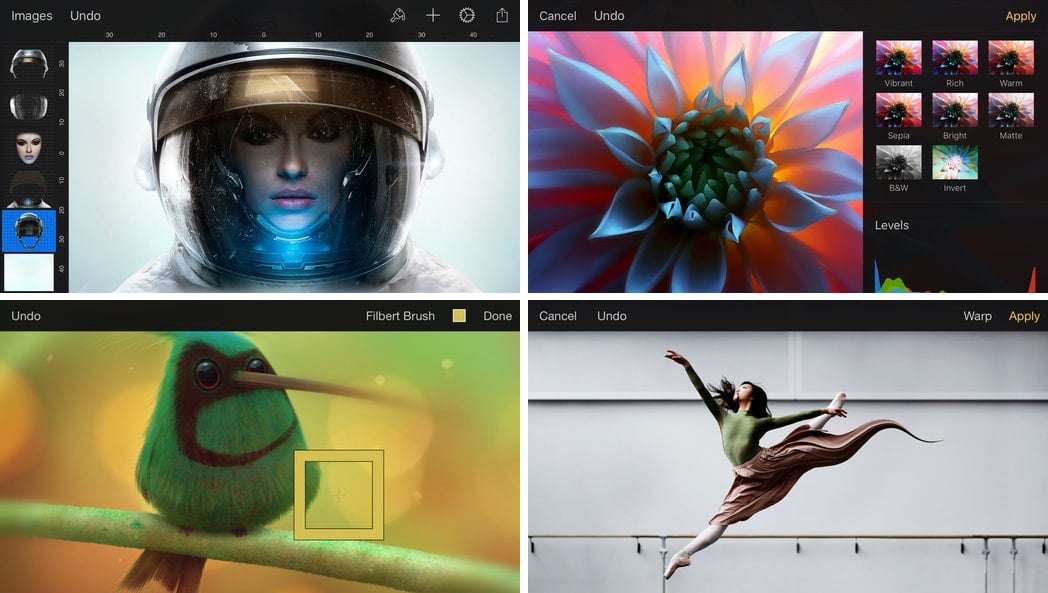 Features:
Full range of photo editing tools including distortion correction
Enormous range of templates and presets to improve workflow
Import/Export PSD, JPG, PNG and many other formats
Extensive graphic design features including text, shapes
Apple Pencil compatibility with palm-rejection
Store and access images on iCloud Drive
iOS only (Mac version available too)
Best for:
All photographers – due to the simple user interface which will appeal to beginners but advanced users will appreciate the sheer range of tools and degree of control.


Website: www.pixelmator.com
---
Filmborn
Filmborn is a classic stock film effects and a host of other features. It is a very stylish photo editing app with a oh-so-cool user interface. It majors in realistic stock film effects and is a great way to explore how your photos might look shot on classic film stock. The results are fantastic and could very possibly help you find your 'style' and lift your photography to a new level.

Features:
True-to-film presets based on actual film scans
Curves control for shadows, midtones and highlights
Real scanning tones to help with tricky lighting situations
iOS only
Best for:
Photographers who love classic film effects and are looking for subtle, effective results.


Website: www.filmborn.com
---
RNI Films
RNI Films provides real film simulations for mobile photographers. RNI stands for "Really Nice Images" and it doesn't disappoint on this front. Its simple user interface is a joy to use and the filters and effects are created from scans of real analog film – so the results can't be matched by the simulations created digitally by some other apps. It's worth checking out RNI's other photo editing apps – such as Colibri and Flashback – both of which offer impressive yet subtle colour treatment of your photos.

Features:
Not a camera app but a film app
Filters created using real film emulsions
Grain effects scanned from real film, not digitally applied 'noise'
iOS only
Best for:
The discerning photographer who wants an authentic analog film feel to their images.

---
Ultralight
Ultralight has a gorgeous user interface and offers intuitive access to excellent editing tools. Rather than overloading the app with features this app confidently offers just the most important ones in a very stylish, accessible way. The user interface is second to none and is a pleasure to use – and this is probably its greatest strength but the results are class-leading too.

Features:
7 simple, playful editing tools
6 different customisable filter packs
Create and save your own filters
Conventional editing tools
iOS only
Best for:
Photographers who like their photo editing apps to look as stylish as the photos they're trying to create. Easy and intuitive for beginners yet capable enough to be appreciated by professional mobile photographers.


Website: www.ultralightapp.com
---
Leonardo
Leonardo is a complete photo editing app for iOS devices and a great all-rounder, doing most common editing features pretty well and arguably in a more simple way than the heavy-hitters in this arena, such as Lightroom Mobile or Snapseed. The user interface is a bit button-heavy but only the most fussy users will find that to be a problem. In terms of results the app lets you go as crazy as you like so some restraint might be in order if you want tasteful results. Perhaps avoid if you're already used to the slick user-interfaces of the more established, professional apps.

Features:
Multiple images can be blended using layers
Advanced selection tools including magic wand, lasso, brushes etc.
Masking
Many realtime filters
Image adjustment features such as crop, straighten, clone, text etc.
Offers PSD output to enable import into Photoshop
iOS only
Best for:
Photographers wanting common photo editing features who might find some of the more professional photo editing tools intimidating or daunting.


Website: www.leonardoapp.com
---
Filterstorm Neue
Filterstorm Neue has a quirky user interface but offers advanced editing features usually found on desktop photo editing software such as Lightroom and Photoshop. Aimed squarely at photographers already familiar with the advanced features more often found on desktop photo editing software packages this app really packs a punch. Its user interface feels a bit Windows 8 but there's nothing wrong with that.

Features:
Advanced control of exposure, colour and contrast using 'curves'
Advanced selective adjustments using masks, brushes, eraser etc.
Linear and circular gradients
Temperature control with white-point picker
Text & watermarking features
Can open RAW images and has advanced export options
iOS only – https://itunes.apple.com/app/filterstorm-neue/id728479183?ls=1&mt=8
Best for:
Advanced photographers wanting desktop photo editing features on their phone.


Website: www.filterstormneue.com
---
Lens Distortions
Lens Distortions enables you to enhance your photos using lighting effects and textures. What sets this apart from the competition is the fact the filters and overlays are all created from photographs – e.g. sun flare effects are created from actual images of sunlight flaring; the haze effects are actual photographs of fog/mist etc. Only a basic range of filters and overlays are offered with the free app but more can be purchased.

Features:
Apply realistic light effects to your photos
Apply atmospheric overlays
Adjust overlay opacity, brightness etc.
Layer multiple images
iOS only
Best for:
Photographers looking for more photo-realistic effects.


Website: www.lensdistortions.com
---
Darkroom
This powerful app really packs a punch, and with frequent feature updates and bug fixes, it's clear that Darkroom's developers are serious about providing a reliable, quality photo editing tool. One of the most exciting features for recent iPhone camera owners is the ability to control the amount of depth-of-field, and therefore blur, created from the depth information captured in Portrait mode on the iPhone 7 Plus, 8 Plus and X. The depth range selector feature has two controls, allowing independent control of where the foreground and background begin to blur.
Features:
Depth editing of photos taken on supported iPhone cameras
Library Sync feature automatically imports your photos
RAW and Large image support
A full range of cameras formats supported, up to 120MP and support for large JPEGs
10 bundled filters, and 20 premium filters, some of which are depth-awares
Batch Processing – Edit, manage, and export multiple photos at once
Excellent curves and color tools – a blend of functionality, simplicity, and power
Crop at full zoom, get the perfect perspective, flip, rotate, add borders, or use one of many common aspect ratios
Brightness, Contrast, Highlights, Shadows, Saturation, Vibrance, Fade, Vignette, Sharpness, and Split Tones
Export uncompressed TIFF and PNG files, or save space with 100%, 95% or 80% compressed JPEGs
Edit, view, and export your full Live Photos with their sound and their videos
Quickly scroll through your entire library to jump to a different photo or to compare version of the same composition
Best for:
More advanced photographers wanting to work with larger files, RAW images and iOS Portrait images captured by the iPhone 7 Plus, 8 Plus or X.

---
Image Repair Apps
These are apps whose main aim is to fix problems with your photos.
Touch Retouch
Touch Retouch enables you to remove unwanted objects and blemishes from your photos. This is a great little app which really focuses on photo fixing or repair – allowing you a useful set of tools to remove or fix various unwanted aspects of your photographs. The user interface is intuitive and unobtrusive and while some of the more fiddly edits can take a bit of practice it really is worth spending the time learning to use it.

Features:
Selection of areas to fix using lasso or brush
Automatic replacement of selected area
Great at removing dust spots, wires or other objects
Create better compositions by removing unwanted people or objects
Portrait enhancing feature removes skin blemishes and wrinkles
Ability to clone/duplicate objects in your photos
Available for both iOS, Android and Windows platforms
Best for:
Photographers who often need to fix or repair photos that have unwanted content (that perhaps couldn't easily be avoided at the time of shooting/composing).
---
SKRWT
SKRWT enables you to correct perspective and lens distortion in your photos. This really useful app addresses a common problem with nearly all smartphone photography – the fact the inbuilt lens is wide-angle, which causes image distortion. Most of the time this isn't a huge problem, but for some kinds of photography, particularly architectural photography where the straight edges of a building are to be preserved, it's not ideal. In these situations an app like SKRWT can help greatly by straightening converging lines. Other general purpose photo editing apps off this facility too but this app leads the pack.

Features:
Correct horizontal and vertical perspective distortion
Crop, straighten and rotate your photos
Fixes distortion from inbuilt and third-party lenses
Available for iOS and Android
Best for:
Architectural photographers.



Website: www.skrwt.com
---
Special Effect Apps
These apps specialise in producing artistic, creative results from your photos.
iColorama S
iColorama S is an imaging app for creators interesting in enhancing their photos/paintings/drawings and converting them into amazing pieces of art using their smartphone. It's not for the faint-hearted, as it is by necessity quite complicated. However, it has an enthusiastic and loyal fanbase and the results speak for themselves.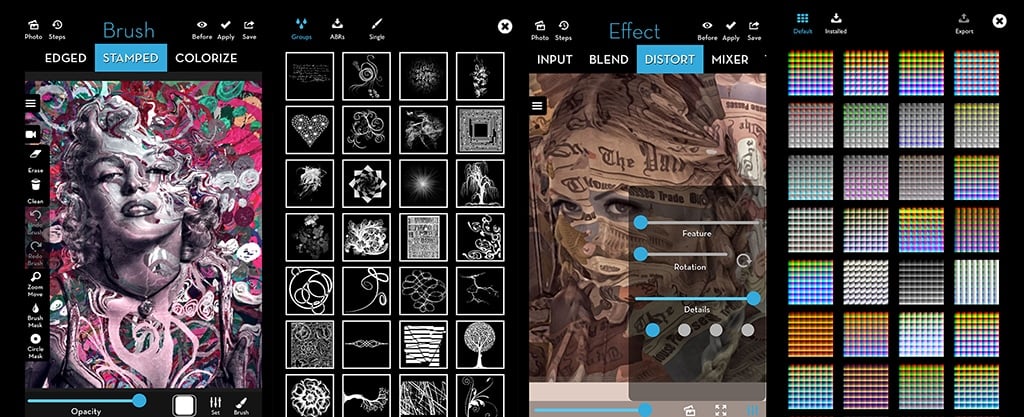 Features:
More than 1000 brushes available
Import Photoshop brushes, curves and fonts
More than 300 image effects and styles
Free monthly updates
Significant community support
Import/export LUT color grades
Tone mapping / HDR and advanced image adjustment
Best for:
Creative photographers wanting to turn their photos in to art.

iPad version which takes advantage of the larger display available here.
---
Prisma
Prisma lets mobile photographers get impressive artistic results from your photos. It's hard to pigeonhole this app as simply a gimmick – because the results are so impressive. Certainly a lot of fun to use and the fact it can apply these styles to video as well as photos is a really bonus. It's worth noting Prisma doesn't allow high-resolution export – which may be a problem for anyone hoping to print their results or use them for anything other than web use.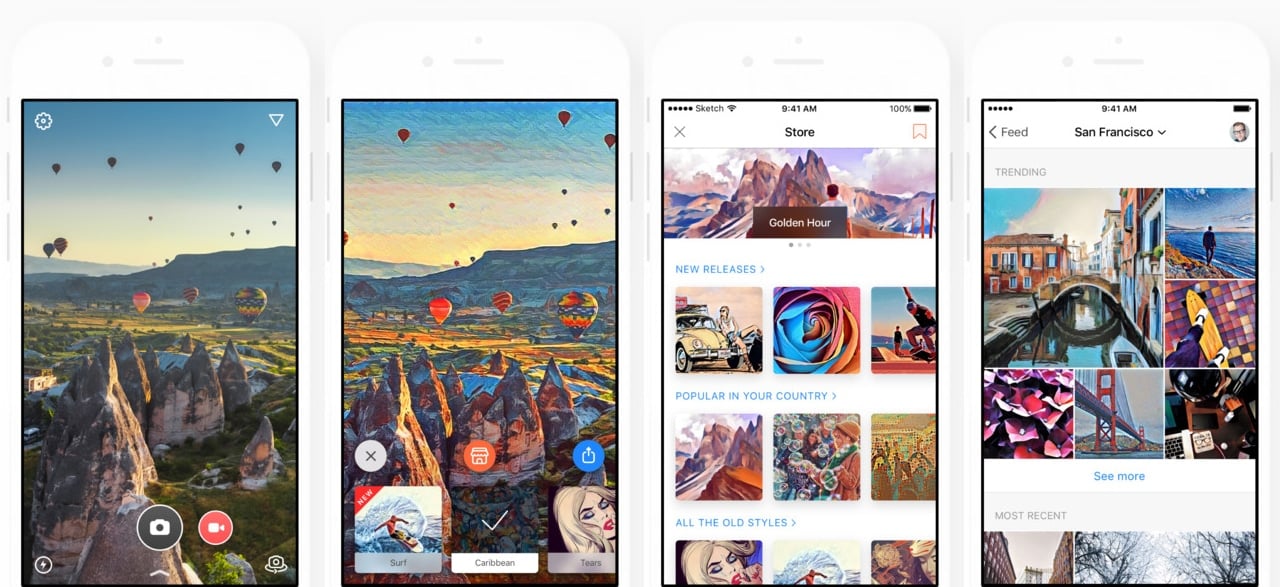 Features:
More than 30 artistic styles available
Based on the styles of famous artists – e.g. Van Gogh, Picasso etc.
Available for iOS and Android
Works with photos and video
Best for:
Photographers wanting to recreate their photos in the style of well-known artists.



Website: www.prisma-ai.com
---
Mextures
This is one of the most popular apps for adding special effects to your photos. Mextures offers seemingly endless creative opportunities and its clean, minimalist user interface will help you achieve excellent results in no time.

Features:
Effects can be rotated and/or layered for maximum creative options
Film grain, textures and gradients
Analog light leaks
Stack and blend effects using layers
Preset "formulas"
Best for:
Artistic photographers looking for creative special effects.

---
Afterfocus
Blur backgrounds to create DSLR-like shallow depth-of-field effects. AfterFocus provides a very simple way of blurring backgrounds to achieve the highly desirable shallow depth-of-field effect so often seen with digital SLRs. This is one way to draw attention to your subject and/or disguise a messy, distracting background. The app lets you switch between selecting what will be in focus and what will not. It can yield really good results – but be warned – it's very image dependent – a busy/messy image will require a lot more work to separate out the bits you want in focus and those you don't – whereas a cleaner image with lots of large areas of a similar tone or colour will work better and require less work.

Features:
Applies blur to selected area
Variety of aperture styles
Adjustable blur strength
Motion blur effect
Best for:
Photographers wanting to use blurring to improve the impact of their images or who to make their images look like they were shot with a digital SLR.
---
Distressed FX
Distressed FX is a simple app for creating stunning photographic art from your photos. Best suited to landscape and still life photography this app makes a valuable addition to your photography app toolbox. The wide range of textures and overlays has been designed by an artist – Cheryl Tarrant – and these are great quality. There are controls for brightness, contrast and saturation as well as the ability to dial the overlay or texture intensity. The results won't be to everyone's taste but their quality and impact can't be faulted.

Features:
23 overlays
19 textures
Overlays and textures can be used in combination
iOS only
Best for:
Creative photographic artists looking to get artistic, painterly results.


Website: www.distressedfx.com
---
Diana
A highly addictive app which gets you creating credible photo art in seconds using its shake & dice feature which selects two random photos from your device. You can of course choose the photos yourself, and select from a range of filters which control how the two photos are blended. Another powerful feature is the ability to take photos using the app, with the first photo remaining visible and semi-transparent so you can align the second photo.
Features:
Easily combine two photos into a unique composition
Discover endless combinations with shake & dice features
Add one of numerous filters
Add titles, quotes and emojis to your photos
Best for:
Creative photographers who want to blend two photos with the option of adding captions or quotes.

---
Pixlr
This powerful app is fully-loaded with great features to help you make the most of your photos, from selective application of filters, double exposures, to collages and borders.
Features:
Over 2 million combinations of free effects, overlays, and filters
Create photo collages with a variety of choices for layout, background, and spacing
Balance out color in one easy click with Auto Fix
Layer multiple photos and blend them together to get a unique look, using Double Exposure
Stylize your image to look like a pencil drawing, an ink sketch, a poster, and more
Remove blemishes and red-eyes or to whiten your teeth
Focus on one color with Color Splash or add impact with Focal Blur
Choose from a pool of effect packs to give your image the look and feel you want
Adjust the mood of the photo with overlays – amplify the tone, cool it down, or add surreal shades
Mask your picture with captions or overlay it with text. Choose from a variety of fonts
Resize images quickly and easily after editing.
Share your photo directly with friends through Instagram, Facebook, Twitter, or email.
Best for:
Creative Android photographers wanting powerful tools and an intuitive user interface.

---
SuperImpose
SuperImpose allows you to blend multiple photos together into a single composite image. Once you've got your head around the idea of layering images this app makes it really easy to create a wide range of results from your photos.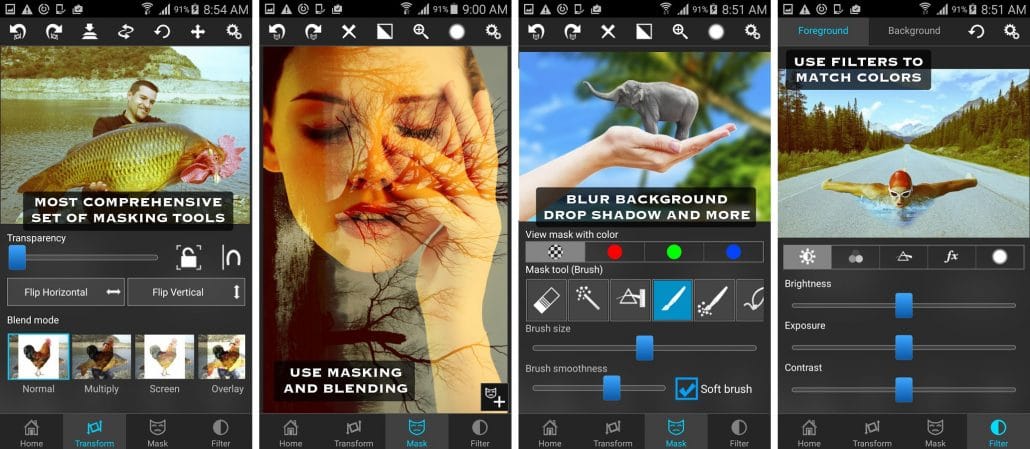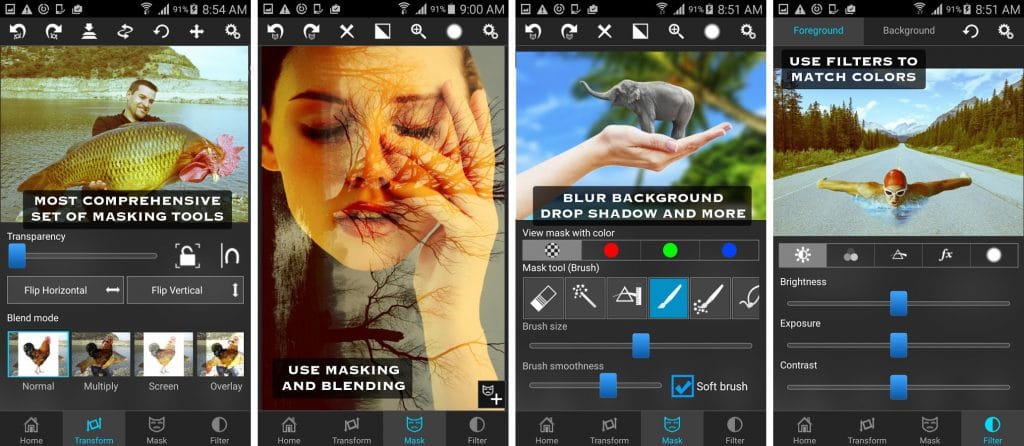 Features:
Create double-exposure images
Replace parts of an image with a different image
Blend textures into an image
Mask out unwanted regions of an image
Best for:
Creative or artistic photographers looking to experiment and create a range of results from the subtle to the extreme.
So there you have it, our epic run down of some of the best photo editing apps for the iPhone and their android equivalents. We have done our best to present a balanced view of the best apps around at the moment. Let us know if you have any favourites not listed here in the comments below.