About Mobiography
Mobiography is a leading go-to resource for those looking to make the most of the camera in their pocket – the smartphone. The aim of Mobiography.net and Mobiography Magazine is to showcase, teach and inspire others how to take better photos with their smartphones. Mobiography has grown into one of the best digital magazines and learning resources about mobile photography.
How it all began…
My name is Andy Butler and I'm the founder and editor of Mobiography.net and Mobiography Magazine. Since an early age, I have always been a keen photographer but it wasn't until May 2012 that I realised I could take and edit photos with my iPhone and then share them out to a growing community of like minded people.
I first came across iPhone photography after coming across an app called Instagram. It blew me away. From that moment on, I had caught the mobile photography bug and was out taking photos with my smartphone at every available opportunity. I was no longer weighed down with my bulky Nikon camera. I could shoot wherever and whenever I wanted, then edit and share those photos. It was so liberating.
However, there was a problem…
In my excitement, I had forgotten everything I knew about good photography, something that I had studied at college. Looking back at the photos I took in the early days, they were pretty bad. Here's one of them.
Once I realised that the photos I was taking weren't that great I started doing something about it and now I take photos like this
They are photos I am now truly proud of but how did I transform the standard of photos that I was taking with my iPhone? Simple. I started to apply the rules of good composition, the rules of focus and exposure and finally, then I learned how to edit my photos to enhance them.
Simple. I made a conscious decision to slow down, pay more attention to the scene in front of me and take a simple three step approach to my photography. This approach I call; Compose, Expose and Edit.
It involves firstly, taking a moment to identify what the subject of the photograph was going to be, then I applying the rules of composition; the rules of thirds, leading lines, different points of view, symmetry etc. This helps to create a photo that draws the viewer into it and clearly guides the eye towards the intended subject.
With your photo framed, the next step is to ensure the subject is in focus and you have exposure is correctly set in order to capture as much detail as possible.
The final step is to pay close attention to the editing of the photograph so that it enhances the image rather than distract or destroy it.
I have adopted this simple three step approach and it is a process I follow each and every time I take a photo. It is something that underpins the ethos behind Mobiography.
How did Mobiography grow?
After discovering iPhone photography in May 2012 I launched Mobiography.net in January 2013. It started as a way to document the things I was learning about mobile photography, about the apps I was using and the people I was meeting and those who were inspiring me. It very quickly grew and started to gain a following.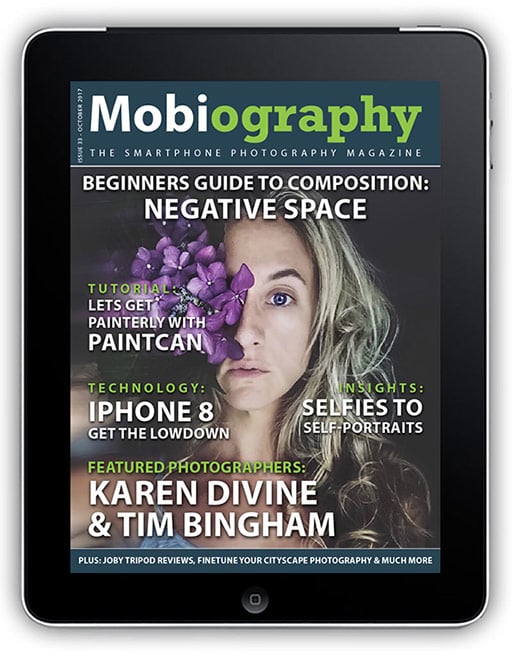 In April 2013 I took things a stage further and started publishing a digital magazine on the Apple app store and later on, Google Play. It was then and still is now, one of the only digital magazines out there on this subject.
Since then, Mobiography Magazine has grown to become the longest running digital resource about mobile photography. The magazine has interviewed many of today's most talented mobile photographers and artists including: Nicki Fitz-Gerald, Brendan O Se, Jack Hollingsworth, Elaine Taylor, Laurence Bouchard to name but a few. Each and every issue is packed full of top tips, app reviews and tutorials as well as looking at various gadgets and accessories.
Want to learn more?
If you're interested in learning more about making the most of the camera that is in your pocket – your smartphone – then make sure you check out Mobiography Magazine.
Mobiography is a bi-monthly digital magazine that is packed full of top tips, tutorials, app, accessory and gadget reviews as well as interviews with top mobile photographers.
Download it today
The Mobiography Magazine app is available in the App Store and on Google Play but for cross platform capatibility you can download the Mobiography Magazine from Magsfast.com. Check out the FREE complimentary issue which features our interview with leading mobile photographer and artist, Nicki Fitz-Gerald.
Join the Mobiography community
Finally, to get involved make sure you sign up to the Mobiography mailing list in order to receive updates by email.
Also, follow Mobiography on Instagram and keep an eye out for the weekly showcase challenge. Each week I set a themed hashtag challenge and invite the Mobiography community to submit their best photos to the challenge. The best will be showcased daily on the Mobiography Instagram account as well as in the Monday showcase as well as in the Mobiography Magazine.