iPhone photography never stops advancing. There seems to always be a new, fun way to get even more creative with your images. Thanks to the multitude of editing apps on the market, you can now turn your photographs into drawings or other types of artwork. Drawing filters convert your image into a different type of media, like chalk, charcoal, marker or pencil. Following on from our 30 Best Photo Editing Apps here are 10 creative apps that will turn your iPhone photos into drawings or painting like works of art. You will often find that some people may not even realize you started out with a basic photograph.
Before we get started one quick note: The best images to turn into drawings or painterly artwork have high contrast and minimalistic scenes – portraits and architecture photography tend to work well with these types of filters.
1. Artomaton
Open your image and choose the drawing resolution and image size, which goes up to 4096 pixels. Then choose the art tool you want to use and apply the filter to your photo. Once the filter is applied, you can tweak things like density, line thickness and stroke length, and you can also add a margin or vignette around the entire image. What makes Artomaton truly unique is that you can choose the angle at which the light hits the canvas. You can also take a video of your editing process to share with others or re-watch in the future.
5 art tools to choose from
11 canvas materials to choose from
Filter options include charcoal, color pencil, marker, oil and sketch
Distort your image based on a scale
Save image in high resolution for the best quality possible
Best for: Artists and photographers who want to relive or share the editing process.

2. Enlight

Enlight is the ideal app for those who want to perform basic photo edits and who also want to turn their images into artwork. Features include drawing effects, image correct, painterly effects and photography filters. To convert your image to a drawing, head to the Artistic part of the app and choose the Sketch tool. Once you've picked the type of drawing tool you want to use, you can further customize it by tapping Tools.
16 preset sketch tools with varying hatching and strokes
Mask your image to apply effects only to specific parts
Combine photos and texts to make standout graphics
Create abstract artwork with double exposures
Save image in high resolution for the best quality possible
Best for: Graphic designers, either amateur or professional.

3. Handy Photo

Handy Photo is another all-in-one editing app that lets you retouch as well as add filters, frames and textures. Access the Sketch tool in the Filters section. Change the edge intensity, lightness and strength of the sketch filter with the icon on the bottom left. The app's other editing features include tone and color adjustment; retouch; movable objects with the Move Me tool; and texture overlays.
Over 20 photo filters to choose from
Edge-aware masking lets you apply effects to part of an image
Elliptical gradient and linear gradient masks offer extra control
On-screen editing tools are easy to access
Choose from a selection of frames to finish your creation
Best for: Photographers who need super quick access to editing tools.
4. iColorama-S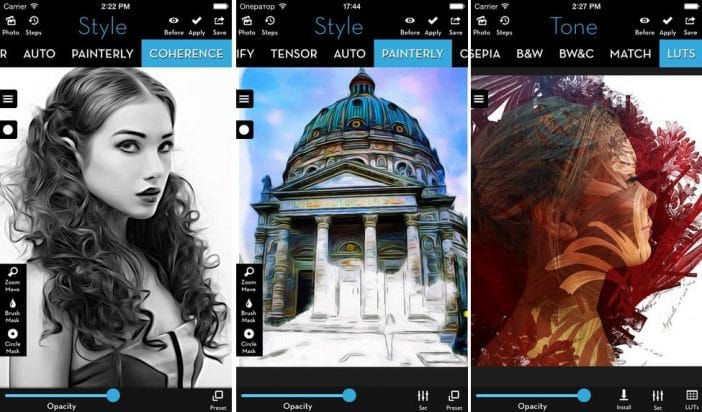 Once you've imported your image into iColorama-S, you'll choose a resolution size – it's best to pick the highest one offered. Then, tap Menu to bring up categories. To access the Sketch tool, go to the Style section. When you've chosen the sketch style you want to use, adjust its strength with the Opacity slider on the bottom. Change the edging and shadow level with the Set icon on the bottom right. Note that when you save your final image, it will automatically be saved in the resolution size you used to import it.
Several painterly styles, including a sketch style for a drawing filter
14 Sketch options to choose from
More than 300 effects in total
Import and use your own brushes from Photoshop
Join the iColorama-S community on Facebook
Best for: Photoshop users who want to use the brushes they're already familiar with.

5. Imaengine Vector Camera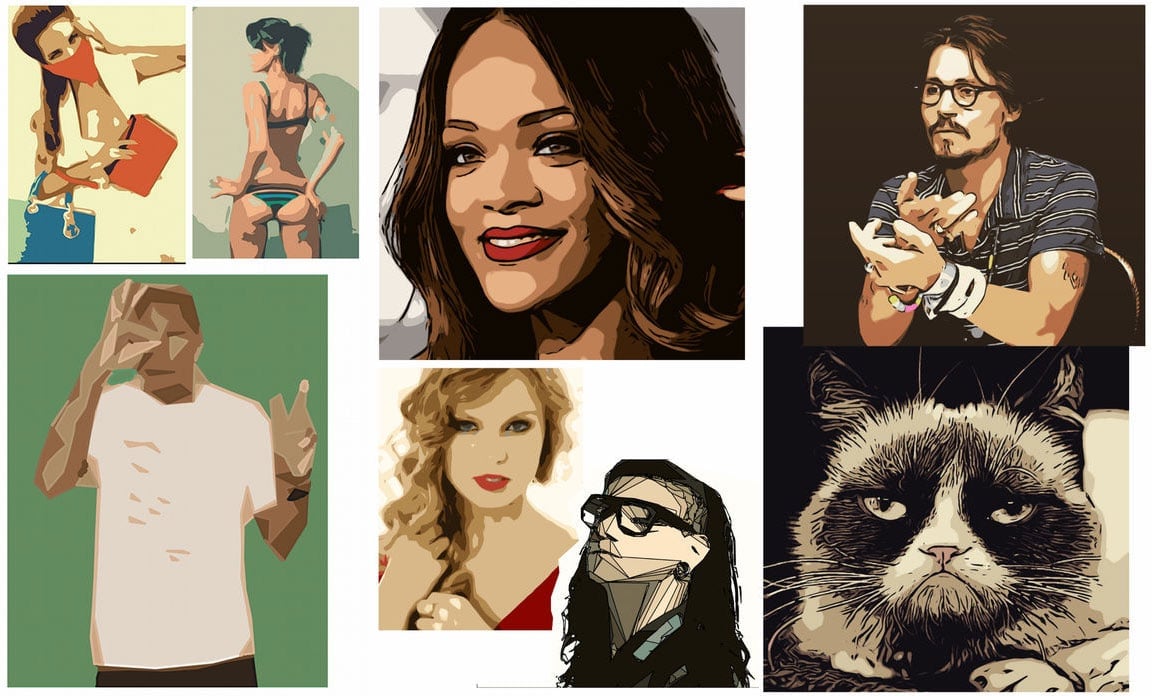 For a slightly different look, Imaengine Vector Camera will turn your photos into vector art, or simple, geometric shapes. Your images will look purposely unnatural or computer-generated. Import an image into the app, then choose from the available filters, which include plastic, two-tone stencils and pop art. Each filter can be further edited to adjust color, detail and stroke length.
30 filter options to choose from
Use your finger to paint on top of your photos
"Rough up" the edges of your photo to make it look hand-drawn
Save high resolution images in various formats
Import your images into other programs, like Adobe Creative Cloud or Dropbox
Best for: Anyone who loves vector art or a computerized style.

6. Perfect Image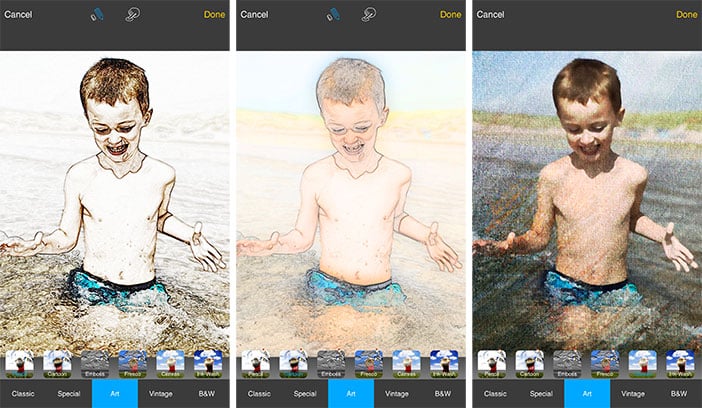 Not only is Perfect Image an editing app, but you can also use it to make collages from multiple photos. Open the app, choose the Filter icon and then pick a photo from your Camera Roll to edit. The Filter section has five filter types to choose from; use the Art section to turn your images into drawings with filters like Pencil and Cartoon.
Mask your photo to apply filters to specific areas
Stack different filters for a unique look
Enhance images with text and stickers
Choose from various collage layouts
Save images in high resolution
Best for: Taking extra time to find the perfect filter stack for a totally unique image.

7. Photo Lab

Photo Lab is ideal if you want to turn your images into sketches, paintings or watercolors. On top of painterly filters, you can also choose from borders, frames and face montages. Open the app, then choose the effects category you want to work with – each category will have several options to browse. Photo Lab has basic editing functions as well, like color adjustment, crop, rotate, sharpness and touch-up.
Choose a photo from your Camera Roll or take one on-the-fly
Over 800 effects available
Create greeting cards for the holidays with e-card templates
Additional photo filters include digital rain and jigsaw puzzle
Save your artwork to your Camera Roll or share it on social media
Best for: Adding a multitude of fun effects to your image, above and beyond sketch and painterly filters.
8. Prisma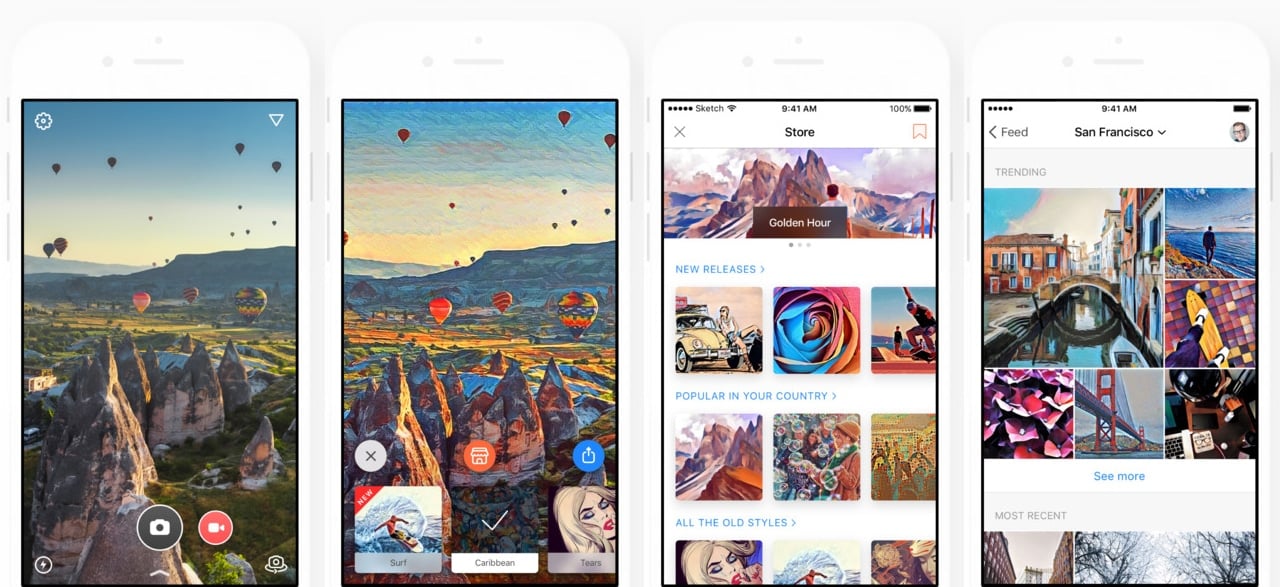 Prisma pulls its artwork filters from the painterly styles of famous artists like Picasso and Van Gogh, and it also offers filters with interesting patterns. Open Prisma and import your image, then choose from the various filters. For a sketch effect, check out the Curly Hair, Daryl Feril, #GetUrban, Heisenberg, Urban and Light Summer Reading filters. Adjust the intensity of the filter by sliding your finger over the screen (sliding left decreases intensity, sliding right increases it). Note that Prisma doesn't save images in full resolution, which will only be a problem if you try to print in a large size.
30 different artistic filters to choose from
Download new styles from the Store icon
Similar layout to Instagram makes it user-friendly
Share your creations with the online Prisma community
Works with video, too
Best for: The true art lover who has time to test out several rich, artistic filters.
9. Sketch Me!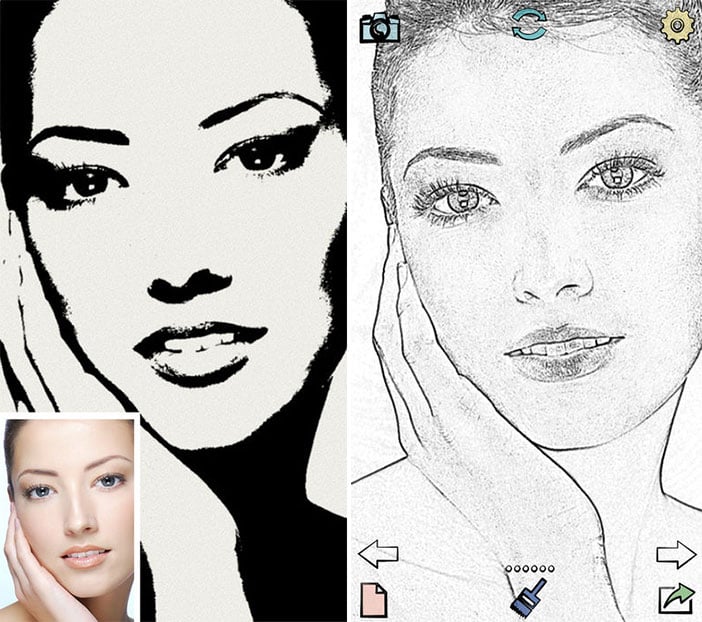 Change your photos into cartoons or sketches with tools like brushstroke and color-coating. Special effects include black and white strokes, hatching, and pencil sketch. Once the filter is applied, you can manipulate edge strength, contrast, opacity, brightness and saturation.
Choose from cartoon, drawing and sketch filters
7 different sketch effects are available
Apply filters with one click
Use the split-screen mode to show the sketch on half the image
Share your artwork on social media
Best for: Viewing your work-in-progress thanks to the split screen.

10. Adobe PaintCan
Instead of simply adding a filter – as the other apps on this list let you do – Adobe PaintCan gives you the tools to manually turn your photograph into artwork. You'll paint over the image to simulate the artistic effect you're going for.
6 paintbrush tools to choose from
Tools intelligently analyze your photo to apply the effect to the area you're swiping
Use the zoom in feature to create finer details with small brushes
Use the zoom out feature to cover larger areas with wide brushes
Create a completed PaintCan image in less than 10 minutes
Best for: True artists who want to take on-screen painting into their own hands.

Each of these apps have their own set of filters, customization options and features to learn, and no two apps are alike. To get the perfect effect for your image, try out several apps to see which one works best for you. Don't be afraid to layer effects, either – you can apply a sketch effect in one app and then upload the image to another app to add a watercolor effect on top of it, for example. We'd love to see what you create – tag your images with #Mobiography to share them with our community!