Are you still using your iPhone's native camera app? If so, you could be missing out. In this article we'll compare fourteen of the best camera apps for iPhone for you. Each offers something more than the native camera app, improved features or a more intuitive interface.
It's slightly counter-intuitive – but the best camera app isn't necessarily the native camera app that comes as standard with your smartphone. This is because photographers aren't all the same, and don't all need exactly the same set of camera features. The smartphone manufacturer has to create a single camera app with broad appeal, which is not too difficult to get to grips with. But once you get past taking snaps, you start to see the limitations of native camera apps, and yearn for more features and more control.
Native Camera App
Before we look at the alternatives, let's start out by looking at what the native iPhone camera app has to offer. It's fair to say that the native camera app is pretty amazing – it has perhaps the most intuitive user interface, several advanced innovative features (Time-lapse, Slow Motion, Pano, Live photos, Portrait mode and Portrait Lighting), and has been developed by a team with full knowledge about the iPhone's inner workings – meaning the camera app should be nothing short of brilliant. And it is brilliant. For most photographers, in most situations, it does everything very well indeed. However, in order to cater for everyone while still keeping the app simple to use, it has to make assumptions, and reduce the amount of customization available to the photographer.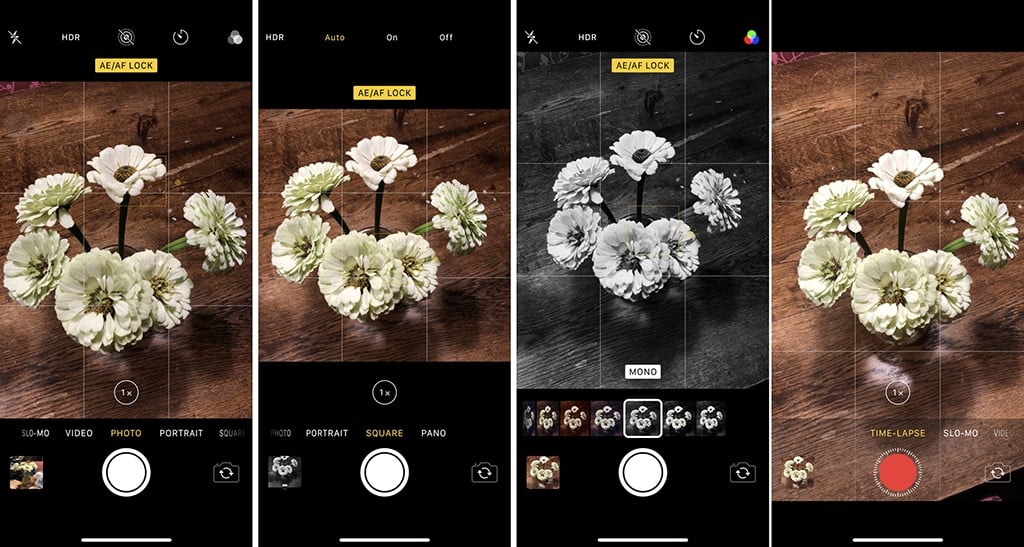 Features:
Portrait mode & portrait lighting
Time lapse, slow motion and pano modes
Live Photos
A limited range of filters
HDR
Shutter delay timer
Best for:
Photographers undertaking general photography who don't need advanced control or customization of features, and who want a simple, intuitive interface.
---
ProCamera
This iPhone-only app has a clean, intuitive user interface and some neat features which firmly push it towards the Pro end of the spectrum. Most notable, for depth-capable dual-lens iPhones, is the ability to adjust the depth-of-field after taking the shot. The 3D Tiltmeter gives you precise information about how level your smartphone camera is. Anti-shake and low light capability make the most of your photography opportunities.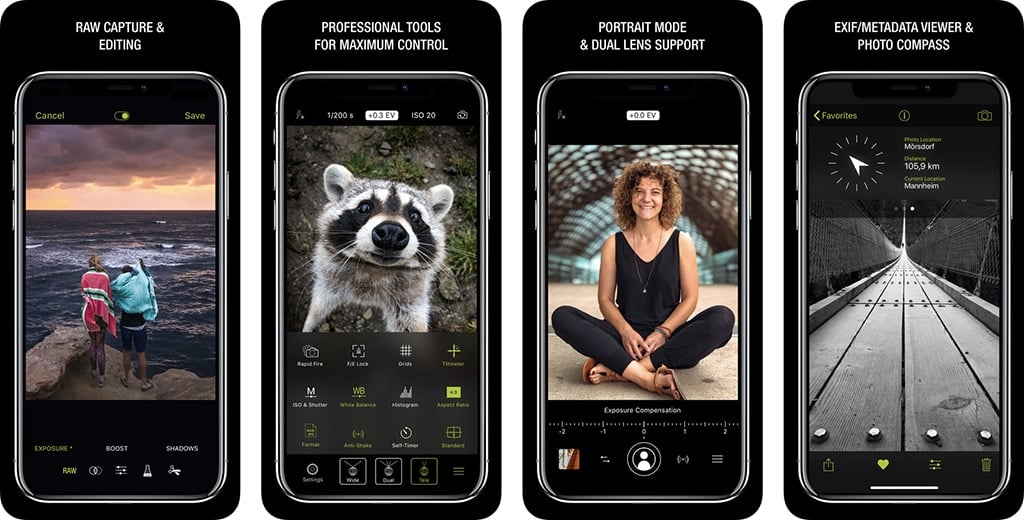 The ProPhoto app running on your iPhone can be controlled from your Apple Watch, as shown below.
Features:
Dual Lens Support
Depth editing
RAW capture
Remote trigger for Apple Watch
Anti-shake
Low Light mode (optional in-app purchase)
VividHDR (optional in-app purchase)
3D Tiltmeter
Front flash for selfies
EXIF/Metadata Viewer & photo compass
Best for:
Photographers with a depth-capable iPhone who want to work with RAW images and who also enjoy videography, and aren't put off by in-app purchases.

Website: www.procamera-app.com
---
Camera+ 2
Another iOS-only camera app with pro credentials, Camera+ offers manual shooting for ultimate control, RAW capture & editing, portrait mode and depth capture & depth editing to allow setting the depth-of-field afterwards (compatible dual-lens iPhones only). All this in addition to class-leading photo editing tools, making it the only camera and editing app you'll ever need.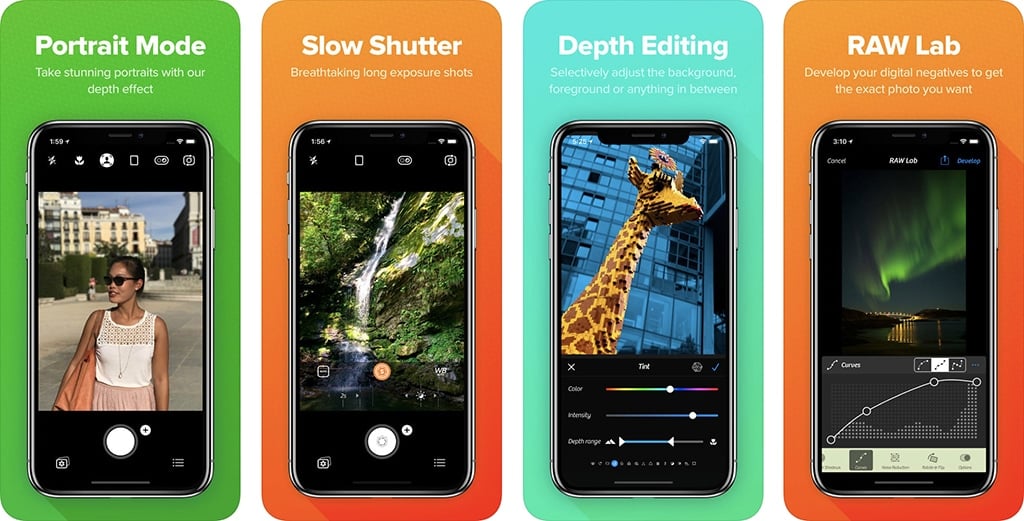 Features:
Manual shooting
RAW capture & editing
Portrait Mode + depth capture & editing
Different shooting modes, including Stablizer, Macro & Slow Shutter modes
Powerful photo editing features
Best for:
Photographers of all abilities wanting top-notch capture and editing features all in a single app.

Website: www.camera.plus
---
Moment App
Best known for their top-quality iPhone lenses and other accessories, Moment have produced an excellent iPhone camera app too. Now its third version, the Moment's Pro Camera app gives you full manual control, RAW shooting and a live histogram.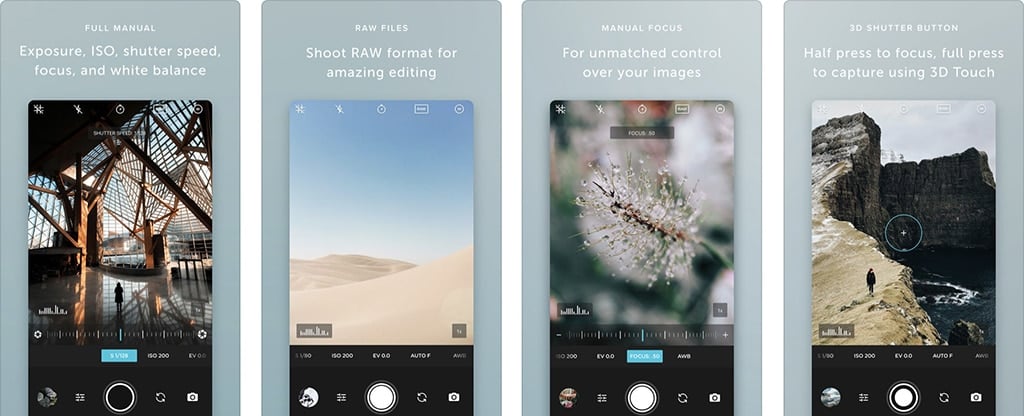 Features:
Full manual control
RAW shooting
Live histogram.
Manual control over which of
Use your Apple Watch as a remote control
Best for:
Photographers of all abilities who place a high priority on aesthetic user interfaces and who need professional camera features.
Website: www.shopmoment.com
---
Blackie
The iPhone-only Blackie camera app is fairly unique in that it forces you to take black-and-white photos. This might sound strange, but this drastic 'limitation' is actually its biggest strength. As you compose your shot, you see the scene in black-and-white only, which allows you to concentrate on the light and shade, and indeed the composition.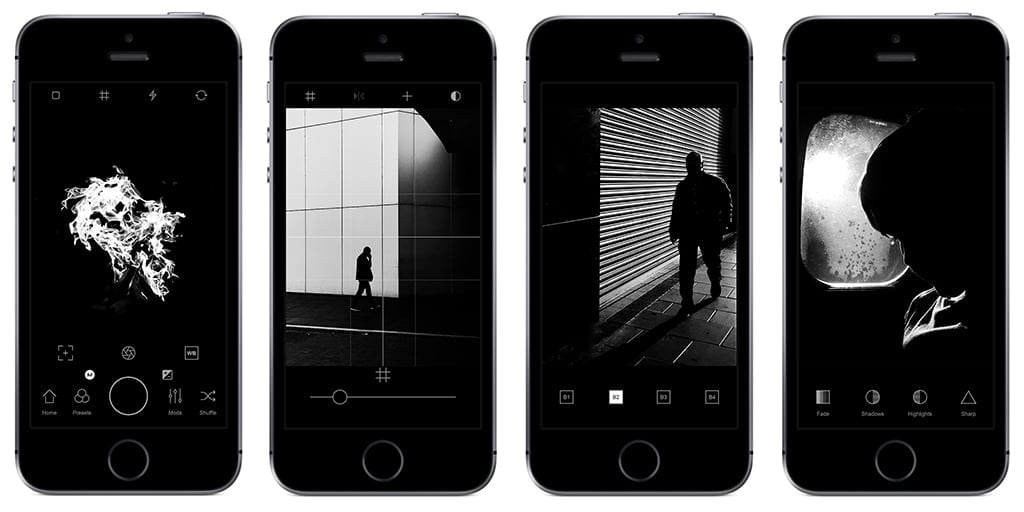 Features:
Only shoots in black-and-white
Minimalist design
Manual camera control
A range of different grids or perfect compositional alignment
JPEGs stored with no compression, for maximum quality
Lossless TIFF format available
8 custom preset slots
Best for:
Black and white iPhone photographers

Website: www.brutalityarts.com
---
VSCO
With perhaps the most minimal user interface of all, the VSCO camera app may not be to everyone's taste, however its fans are among the most passionate, as testified by the number of people who've subscribed to the VSCO Community – an Instagram-like social network. It's not the most feature packed camera app, but it works well – and a nice feature is being able to select different regions of the scene to control exposure and focus. It features excellent presets for enhancing your images later, but most of these are only accessible via subscription to the VSCO X "Membership Experience."
Features:
Minimal user interface
RAW shooting
Manual controls
Separate exposure and focus points
Best for:
Photographers who don't like fussy, overcomplicated user interfaces, and who don't need all the whistles-and-bells of a fully-featured camera app.
Website: www.vsco.co
---
Hipstamatic
The original filter app, Hipstamatic, is still with us after all these years. It goes from strength to strength, and remains popular to this day, perhaps because of its novel approach to photography – with a choice of Classic and Pro camera interfaces, its analog-esque filters and excellent editing features. We love how you can select different lens, film and flash simulations, to get a wide variety of results.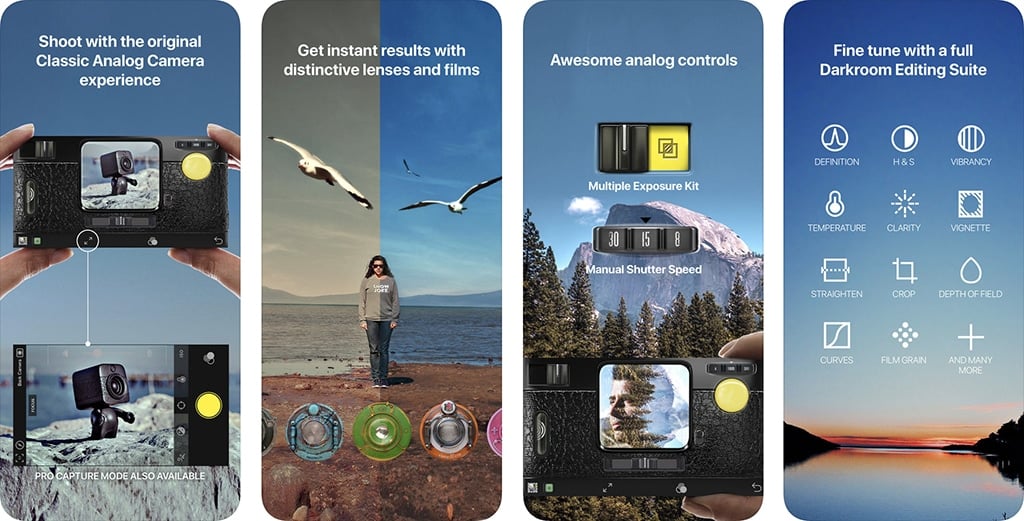 Features:
Choice of Lens, Films and Flash simulations
Manual controls available
Choice of Classic and Pro user interfaces
Multiple Exposure mode
Depth of field control
Best for:
Photographers looking for that analog feel, or who hanker for the days of film cameras.

Website: www.hipstamatic.com
---
Filmborn
With a distinctive minimalist user interface, the Filmborn camera app is all about the film simulations. However, this doesn't stop the app being a very capable camera. It features all the usual tools you'd expect, from manual focus to exposure control. Aside from its great film simulations, a killer feature is the Custom Camera Kits, which lets you build your own camera interface to suit your photography.
Features:
Preview subject with chosen film preset before taking the photo
True-to-film presets
Custom camera kits – create and save pre-configured camera kits for different types of photography, e.g. portrait or street photography
Highlight clipping alerts
Batch Editing
Excellent in-app help
Best for:
Style-conscious photographers who care about analog film treatments or who want to customize the camera app to suit their needs.

Website: www.filmborn.com
---
Provoke Camera
The rather primitive Provoke Camera app is all about analog nostalgia – with film simulations and a classic interface which harks back film cameras of yesteryear. You can even switch between 126 and 35mm film formats! The film names will mean nothing to the uninitiated, but everything to those in the know. It has a large exposure adjustment slider and a distinctive, large red shutter button. Some have complained about glitches and the app crashing, but it works fine on my iPhone X. You can also import photos taken previously (regardless of which camera app you used) and apply the film simulations to them.
Features:
Several classic film simulations – 9 black-and-white & 4 color
126 [1:1] and 35mm [3:2] film formats
Separate control of exposure and focus points
Quirky yet pleasing user interface
Best for:
The discerning film photographer who's happy with a primative, minimal camera interface.

Website: www.tambo.jp
---
Focus [+]
Another slightly quirky camera app is Focus [+]. Its user interface is very innovative, and puts the shutter button slider so that you can control the currently selected feature – zoom (in auto mode), or, in manual mode, exposure or focus, without removing your finger. However, you still have to remove your finger in order to tap the shutter button, so its merits are somewhat muted! In its defence, while you are sliding the shutter button the viewfinder zooms in, allowing you to see the effect of your change to the slider position. This is useful both for manual focus and for checking whether the brightest area of the scene is being properly exposed. You simply move your smartphone camera to ensure the area of interest is in the frame.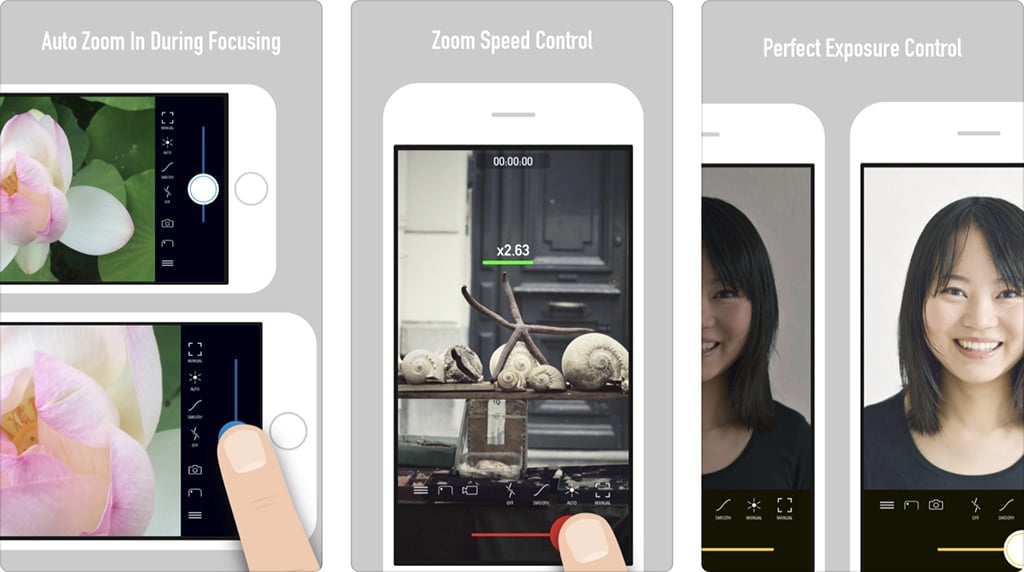 Features:
Innovative if quirky user interface
Auto and Manual modes
Stills and Video modes
Auto-zoom preview when adjusting focus or exposure manually
Best for:
Photographers wanting something a little different but who don't need all the bells and whistle offered by other more popular camera apps, such as filters, effects or other editing tools.

Website: www.yueheapp.com
---
Obscura 2
With one of the most intuitive and aesthetic interfaces, the Obscura 2 camera app is a joy to use and does everything well. The app layout has been carefully thought out and puts the right controls at your fingertips at the right time, depending on what you're doing. It's a fully-featured camera app with the addition of an attractive set of filters. No gimmicks, it's just a well-designed app which is a pleasure to use.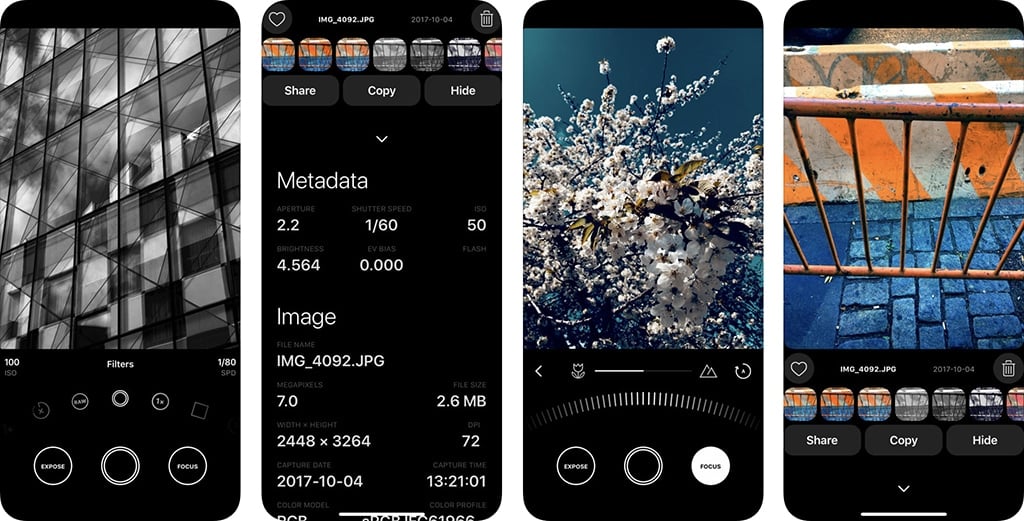 Features:
RAW image capture
Depth capture
Focus peaking to ensure sharpness
Minimal editing but a great set of filters
Siri-compatible – tell Siri to take a photo using Obscure 2
Highly customizable
Best for:
Photographers wanting an excellent camera app, but who perhaps use other apps for editing.

Website: obscura.camera
---
Halide
Another great camera app is Halide which has a really professional feel, and produces professional-looking results. Its killer feature is probably its custom blur which gives a unique bokeh to your portrait images. And considering how many controls they've crammed into the user interface, Halide's developers have done a great job of putting a lot of features within easy reach without compromising either the design or usability. Indeed, it's very easy to use this app with just one hand.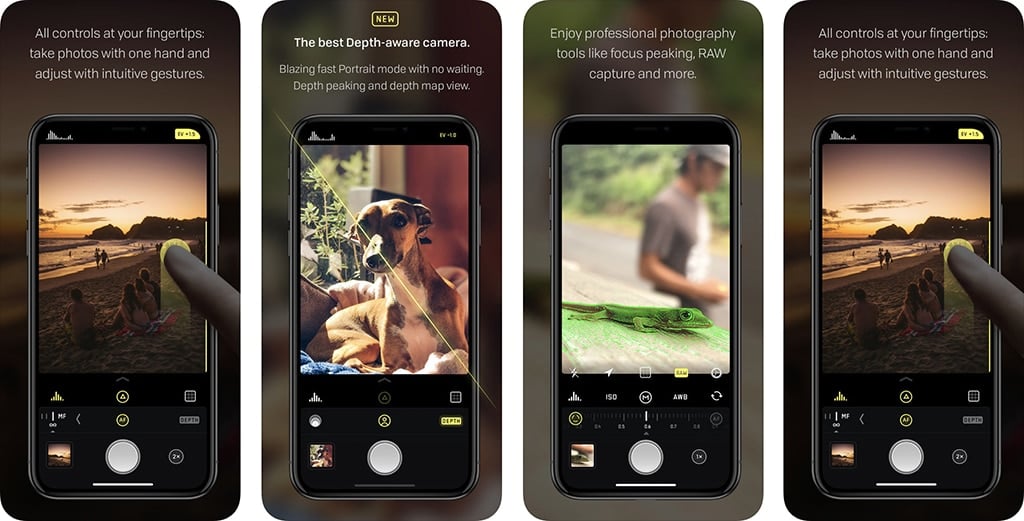 Features:
Depth-aware / Portrait mode
Focus peaking and manual focus
Full manual controls
Live histogram
Best for:
Photographers who want all the controls at their fingertips.

Website: www.halide.cam
---
Tadaa
While the interface isn't as slick as many of the other camera apps listed here, Tadaa does actually work quite well. This is mainly down to how uncluttered the app is, with just the minimal controls on display. Its default filters are a little on the strong side, but you do have the option to tweak the filter strength, as well as creating masks to control which regions of an image the filter affects. Many more filters and several additional editing tools are available as in-app purchases, but it comes with everything you need.
Features:
Simple but clunky interface
Grid lines, aspect ratio, flash and burst mode
Manual focus available
Good editing tools
A limited range of filters with others available as in-app purchases
Advanced mask tool allowing selective application of filters
Best for:
Photographers who prefer an uncluttered user interface.

---
Slow Shutter Cam
Strictly speaking, Slow Shutter Cam isn't a general purpose camera app, but we've included it in our list because it does long exposures so well. Extremely popular, highly configurable yet simple to use, it's an essential app for slow-shutter speed or long exposure work. It works by letting you tell it how many sequential photos you want to take, and how long to wait inbetween shots. The resulting shots are automatically merged into a single photo, yielding amazing light trails, motion blur, light painting, or the ever-popular waterfall photo.
Features:
Slow-shutter speed control / long exposures
Excellent user-interface
Highly configurable
Separate focus and exposure controls
Different mods for motion blur, light trails or low-light
Best for:
Slow-shutter speed work or long exposures, where you want to capture motion blur intentionally.

Website: www.cogitap.com/slowshutter/
Final Thoughts…
We've introduced you to many non-native camera apps – ranging from general purpose camera apps to more specialized ones – such as Blackie with its black-and-white-only approach, and Slow Shutter Cam with its long exposure capability. Each of these apps offer something unique or different to the native app, and while some of them might not be a perfect match for you, it's likely that at least one will be more suitable for your photography than the native app. Hopefully this article has helped you choose which ones to try out.