The advent of mobile photography has given many more people the chance to take many more images. Something like 1.8 billion photos are uploaded to social networks and other online sites every day. Countless more are taken and stored on camera rolls. Yet even on the most high-resolution screens, pixels never seem to make the same impact as ink on paper. This is where iPhone photo printers can make all the difference.
Thanks to inkless printing technology, iPhone photo printers are much easier to use than their office counterparts. What you sacrifice in paper size, you gain in portability and connectivity. Instead of having to transfer images to your computer, you can simply beam them straight from your phone. You can even create stickers, ID photos, and collages with ease.
As smartphone photography has grown in popularity, so have these mobile-friendly printers. There are now many to choose from, each offering something slightly different. To help you make sense of it all, we have compiled the ultimate guide to iPhone photo printers.
Simply the Best
What makes a great printer? Quality and economy are probably the two most important considerations. With compact printers, both print size and weight should also feature highly in your calculations. Each printer has its own app to wrangle with, as well.
Instead of creating an arbitrary ranking system for these printers, we have chosen to list nine models worth your attention. Each has its own strengths and weaknesses, which are described below.
HP Sprocket Portable Photo Printer
HP is a relative latecomer to this printing niche, but the Sprocket is a solid first outing. It weighs just six ounces, and the dimensions are smaller than those of most smartphones. The Sprocket produces wallet-size prints (2 x 3 inches) in around 40 seconds. That's quite a wait if you are printing a batch, but most battery-powered printers work at a relaxed speed.
On the plus side, the Sprocket is almost silent. It also uses the inkless ZINK system, which means you don't need to mess about with ink cartridges. The quality is not spectacular, but perfectly decent for fun snaps. Most notably, the HP Sprocket app makes it really easy to prepare your images for printing.
Polaroid ZIP Mobile Printer
In contrast to HP, Polaroid was one of the first to market. You might expect the former king of instant photography to dominate the portable printer niche. But two years after launch, the ZIP printer is slightly starting to show its age.
It produces 2 x 3-inch prints using the ZINK system, and prints arrive in around 40 seconds. They come out very punchy and vibrant, although this effect is sometimes overly intense. All things considered, the print quality of the ZIP is slightly inferior to that of the HP.
That said, the ZIP is very compact and it comes with NFC connectivity. Along with your smartphone, you can use it with Polaroid's popular Cube action camera. Just be aware that the ZIP app on iOS has received plenty of criticism.
Fujifilm Instax Share SP-2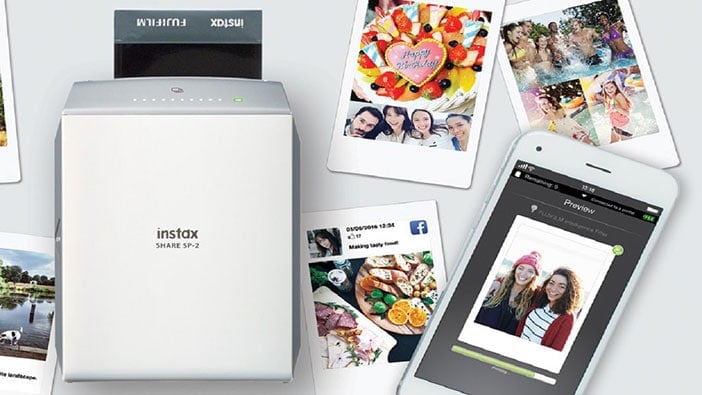 If you are happy to make a slight compromise on portability, the SP-2 from Fujifilm will reward you with improved image quality. Nostalgia nerds will also love the fact that the Fuji prints slowly reveal their true identity, like instant photos of old.
In fact, prints from the SP-2 even have a traditional white border. This makes them easy to handle, but the actual image measures just 2.4 x 1.8 inches. The prints are remarkably expensive, as well. However, this printer delivers on features. The SHARE app offers a nice selection of filters, and you can even print straight from your social profiles. Best of all, the SP-2 produces prints in 10 seconds flat.
Fujifilm Instax Share SP-1
When the SP-2 arrived in late 2016, it looked like the end of the road for the model it replaced. But the SP-1 is still available and still a great printer. It is slightly chubbier than the sleek SP-2 and marginally slower to print, but these Fuji siblings share many good traits.
In fact, the SP-1 uses the same paper and the same app, with very similar results. Prints take around 16 seconds to emerge, and the quality is excellent. It shapes up well with the competition from other manufacturers. However, the newer SP-2 offers significantly higher resolution prints and better colors for a very small price increase.
Prynt iPhone Photo Printer
The compact Prynt case puts a new spin on smartphone photo printing. It actually turns your iPhone into an instant camera, complete with dedicated shutter button. It also offers to "print" video. The companion app grabs a still frame from your footage and puts the image onto paper. You then point your camera at the image to see an on-screen replay of the full video, thanks to the wonders of augmented reality.
It must be said, these innovative features come at the expense of image quality. In addition, you will have to remove the case for regular iPhone use. Still, this printer offers a nice throwback to the instant photography workflow.
Canon Selphy CP1200 Wireless Photo Printer
If you prefer your prints to be bigger than a credit card, you should check out Canon's Selphy range. These printers aren't that portable — a battery pack is only an optional extra — but they produce lab quality 6 x 4-inch prints. In terms of up-front cost, the CP1200 is very competitive.
While you do have to wait 47 seconds for each print to emerge, Canon guarantees your pictures for 100 years. This printer uses dye-sublimation technology, but thankfully the ink cartridge is supplied with the paper.
In addition, the Selphy can connect to your home Wi-Fi network. This means you can print from your iPhone via Apple AirPrint. You can also select from multiple print layouts via the built-in LCD display.
Kodak Mini Mobile Printer
Somewhere between Canon's professionalism and Polaroid's party animal lies the Kodak Mini. As with the Canon Selphy, it uses dye sublimation to provide excellent print quality. Like the Polaroid Zip, the compact Mini produces credit card-sized prints.
More precisely, the Kodak prints borderless images onto paper that measures 2.1 x 3.4 inches. In other words, these prints are slightly bigger than those from ZINK systems. Kodak also guarantees your pictures for 10 years, thanks to a special "photo preservation overcoat layer."
The Mini connects to your phone via Wi-Fi (or NFC on Android devices), and the companion app lets you play with several filters, frames and templates.
Kodak Dock Photo Printer
If you're willing to part with a little more money and sacrifice some portability, the Kodak Dock printer is a worthwhile upgrade. Using the same dye printing and preservation system, it churns out beautiful 6 x 4-inch prints. In most cases, this little printer will outdo your full-size inkjet.
As the name suggests, this printer doubles as a charging dock for your phone. After the initial setup process, you can place your iPhone on the Kodak and start printing with one tap. The prints are guaranteed for years and the iOS app offers plenty of options. The only issue is that each photo takes about one minute to print.
LifePrint Photo and Video Printer
As an Apple Store exclusive, you would expect the LifePrint to work seamlessly with your iPhone. That it does, producing 2 x 3-inch borderless prints using ZINK technology. In addition, this printer can perform augmented reality tricks with videos, gifs, Snapchat messages, and Apple's "living photos."
If you happen to know someone else who owns one of these printers, you can even send them an image to print. It's like a fax machine for the Instagram generation.
The downsides? The print quality is nothing to shout about, and you have to charge the battery after every 20 prints. In other words, you should buy this printer for its digital trickery, not its printing prowess.
Weighing Up the Options
Having seen the options, it's now time to return to our original checklist.
Quality
When it comes to quality, the dye-based printers listed above win every time — that is, the Canon Selphy and the two Kodaks.
The Fujifilm printers are next in line, delivering prints that will please all but the most discerning eyes. All the other printers listed here are based on ZINK technology, which is visibly inferior. It's fine for party snaps, but expect overblown contrast and saturation, with a few colour casts.
Economy
In terms of economy, the Canon Selphy offers by far the best value for money at $0.26 per print. If you are happy to buy paper in bulk, the Kodak Dock ($0.33) and LifePrint ($0.45) fill the other podium places. For smaller quantities, these printers become more expensive to use than the Polaroid ($0.50).
At the top end, the Kodak Mini ($0.60) and Fujifilm ($0.80) papers start to look painfully expensive. But then, you may choose to take that hit in the name of print quality. Note that these calculations are based on the lowest prices we could find at reputable retailers at the time of writing.
Other Features
The choice then comes down to your own priorities. For instance, the Fujifilm SP-2 is speedy at 10 seconds per page, but the ZINK paper has a peel-off sticky back. Meanwhile, the Prynt and LifePrint offer those augmented reality circus tricks.
You could be attracted by the quality and economy of the Canon and the Kodak Dock. However, these printers fall behind on portability. For printing on the move, you should look at the Polaroid, the Kodak Mini, the Prynt, the Fujifilms, or the LifePrint.
Final Thoughts
The printing process turns digital files into treasured possessions. Like a soldier carrying a picture of his sweetheart, you can hold and share the memories that these printers reproduce. Whether you want to decorate your home or fill your wallet with photos, we hope this little guide will help you get started.