The latest issue of the Mobiography Magazine has just been release onto the Apple App Store and Google Play. As usual you will find it packed full of the usual interviews, top tips, tutorials, features and showcases of the very best in smartphone photography.
What's inside issue 32?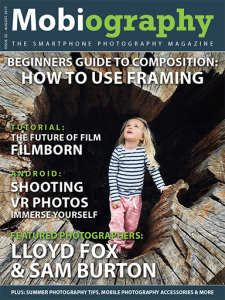 Here in the northern hemisphere, the summer is in full swing and with it comes so many photographic opportunities. To help you make the most of those opportunities Mark Myerson has gathered together his top list of creative summer holiday photography tips to help inspire and improve your summertime photos.
We also continue our series about compositional techniques by looking at framing and how this technique can be used to draw the viewer's eye directly into the photograph and create a stronger connection with them.
We talk to two talented photographers. Professional press photographer Lloyd Fox who has been using his iPhone extensively in his personal work to build a fantastic portfolio of black and white street photography. Meanwhile Sam Burton, a passionate stock photographer from London, talks to us about his travel and stock photography and offers us his views and top tips on taking stock photography that sells.
We also dive into VR Photography using the Samsung Gear 360 and explore what you need to capture photos which have that surrounding third dimension to them. Keeping on the topic of gadgets, there is our line-up of 30 mobile photography accessories that will help to further improve the photos that you take with your smartphone.
As always, don't forget to share your photos with Mobiography on Instagram using the hashtag #mobiography. From there we'll be showcasing the best in our weekly website showcase and also as a daily featured photo on Instagram.
Grab your copy now
In order to grab yourself a copy of Mobiography, head over to the Apple App Store and Google Play and install the app. Single issues are available for $4.99 or you can subscribe to the bi-monthly subscription plan for $3.99 and make a 20% saving or an annual subscription for $21.99, a saving of 26%. There is currently a FREE Trial subscription offer available. Google Play subscriptions are monthly at a cost of $1.99.
Don't forget to join the Mobiography mailing list, follow us on Facebook and share your photos on Instagram using the hashtag #mobiography.
Save
Save