If you've been around for long enough to remember when film cameras were the norm, you'll also recall the joy of picking up your printed photos from the store, then slowly going through them, probably in your car (because you couldn't wait until you got home), savoring every shot.
One of the best things about film cameras was going to have your photos developed, but the fun of getting an actual, real life print isn't just a foregone event of the past. Luckily, there are a ton of services that will print your photos for you in all kinds of interesting ways, from basic prints and framed photos to cozy wearables and home decor.
Here are 15 ways to print your Instagram photos from your iPhone, and each one is a little different from the next.
Artifact Uprising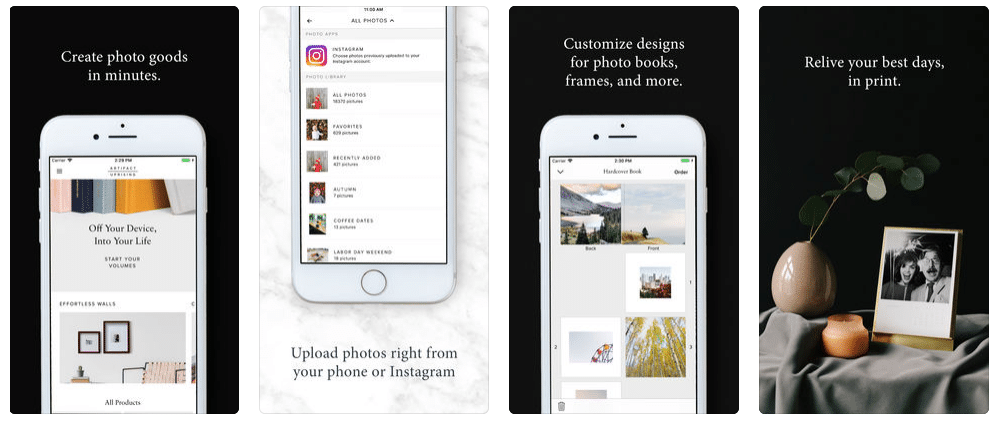 This app has a minimalist feel, similar to what you get with the VSCO app. Order a variety of products, including thank you cards and photo books. You can also get a wood calendar made with 12 photos of your choosing, attached to a wood-finished clipboard, or you can order a changeable wood block photo display. (Some items are made with reclaimed pinewood from the company's home state of Colorado.) While Artifact Uprising's prices are a bit steeper than other options on this list, the quality is better – for example, even basic prints come on high-quality cardstock and with a matte finish.

Blurb
If you miss good ol' photo books, consider ordering one from Blurb. Use your social media photos or images from your iPhone or iPad to create books, then immediately share them with friends through the app. Order soft cover or hard cover photo books in 5×5 inches or 7×7 inches, made with premium luster paper and matte covers. Horizontal and vertical photos can be accommodated thanks to three layout options, or you can choose the auto-flow feature for super fast and easy photo book creation. You can also opt to add captions to further enhance the story your photo book is telling.

Canvas Pop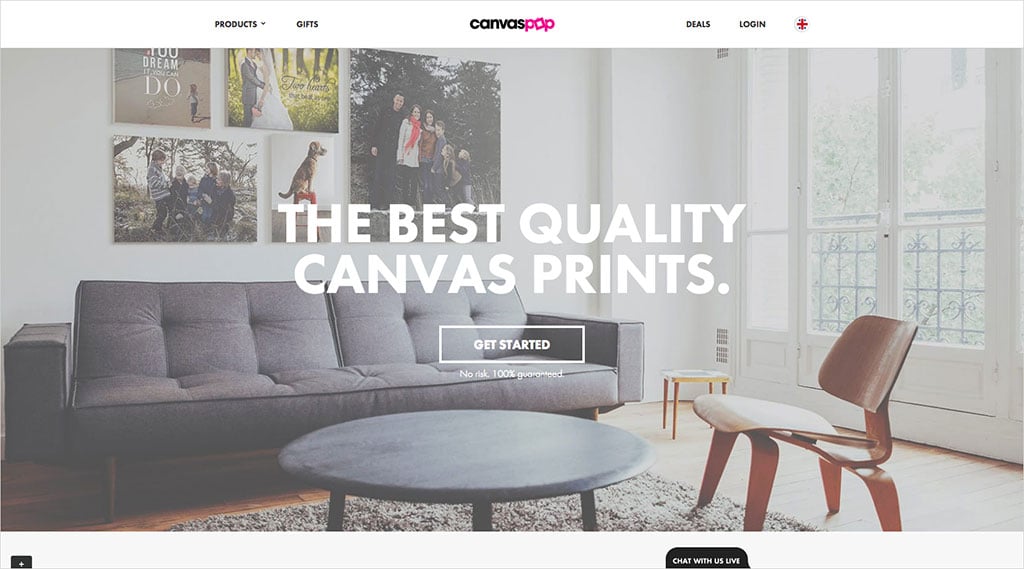 Unlike most of the other options on this list, Canvas Pop is only available via the web, not as an app. Get your photos printed on canvas, choosing from images on Instagram or Facebook, or directly from your computer. Upload your image or start creating your perfect canvas before even adding your artwork. Canvases start at 8×10 inches and go all the way up to 76×38 inches; you can input a custom size as well. (Want to create a gallery wall at home? Order multiple canvases in varying sizes.) Choose your frame depth or color (or opt for a no-frame, rolled canvas), as well as your edge type (white border, black border or photo wrap). You can then request a digital proof to get an idea of what your canvas will look like. There are filters you can choose from, too, including black and white, color isolated (to colorize only certain elements), and comic book. If your photo needs some perfecting, try out one of the design services (touch-up, design enhancement, or design makeover). Canvas Pop also sells framed paper prints with an assortment of size, frame and enhancement options.
www.canvaspop.com
Casetify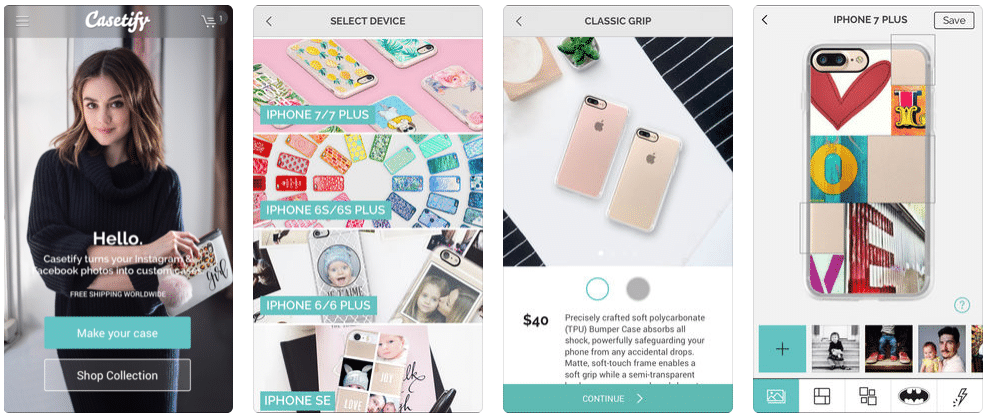 When it comes to customizable photo products, there's almost no end to the many ways you can express yourself. You may already have one of your favorite images as your phone's wallpaper, but with Casetify, you can also showcase your photos literally on your phone (or iPad) by creating a custom photo case. Choose the photos you want for the collage, customize the layout, then pick either a white or charcoal case. Cases are hard and durable, and easy to snap on and take off as needed. The case profile is slim, too, so it won't add bulk.


Chatbooks
Choose your favorite Instagram or Facebook photos and turn them into 6×6 or 8×8 photo books with 60 to 366 photos. Personalize your photo book even more with designer covers. You can also have photo books automatically created for every 60 photos you post to Instagram, Facebook or your iPhone Camera Roll Favorites. You can exclude any images you don't want included in your book (you'll get a notification to edit your book three days before it prints), or you can filter photos with a hashtag.


Fujifilm Instax Share Smartphone Printer SP-1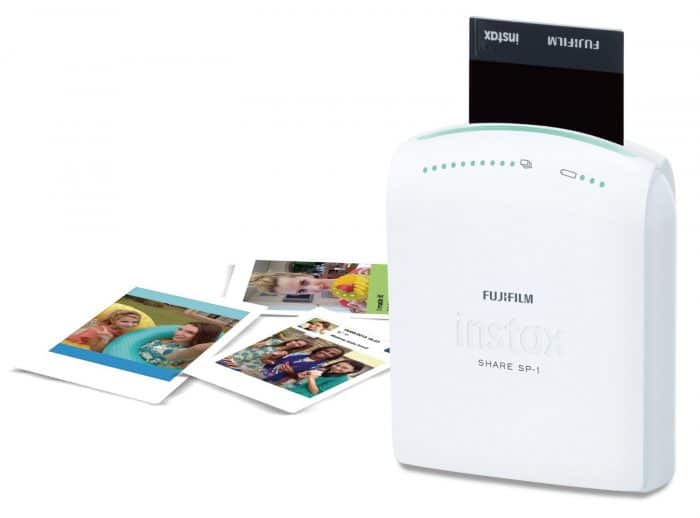 This printer is a portable, hand-held photo printer that pairs with your iPhone, turning your smartphone into a modern Polaroid camera. Photos will print wirelessly in less than one minute. You'll need the Instax Share app, which you'll use to forward the photo to the printer. With the Share app, you can apply filters to your photos before printing. This is one of the pricier printing options on this list, as the printer itself costs more than $180, and the printing paper is purchased separate, but for people who want their photos printed ASAP, it's an excellent tool.
More info on Amazon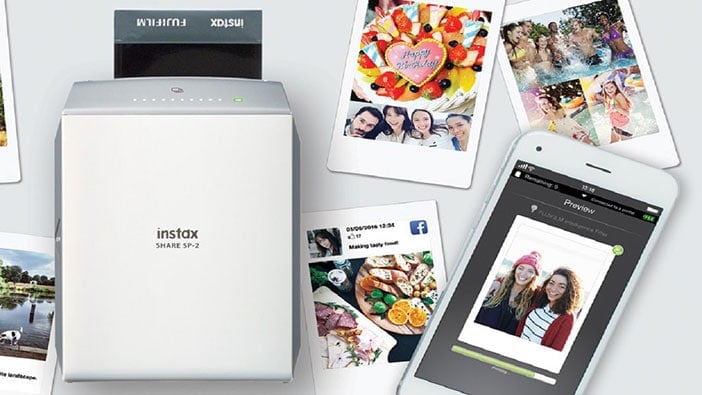 The Instax Share SP-2 is less portable than its counterpart, but the image quality and colors are better, and photos print in 10 seconds, which is slightly quicker than with the SP-1. Fujifilm has also come out with the Instax Share SP-3, which links to more social media sharing accounts than before, like Dropbox and Google Photos.
More info on Amazon about the Instax Share SP-2
More info on Amazon about the Instax Share SP-3
In the market for an at-home or portable photo printer? Check out this photo printer comparison.
FoxPrint
Display your fave photos on your fridge with photo magnets from FoxPrint, or order prints or stickers. Prints and stickers come with a white border or can be in retro style, and you can also choose borderless prints and stickers. Magnets are 2.5×2.5 inches and have slightly rounded corners. Choose photos from your iOS device, Instagram or Google Photos.

ImageSnap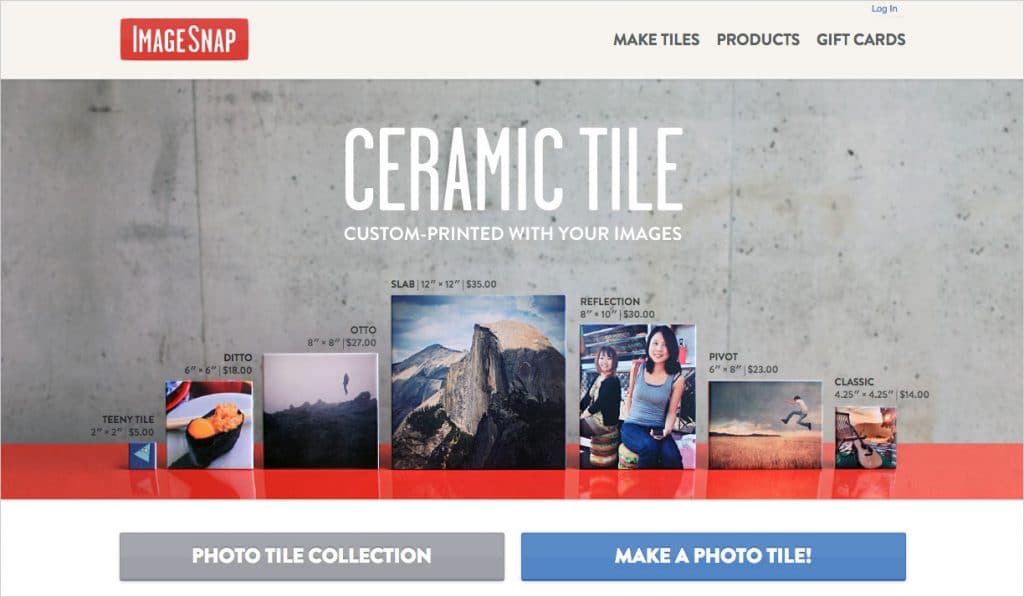 Looking for a more permanent way to display your photos? ImageSnap will turn them into ceramic tiles, which you can install with mortar and grout. Alternatively, order the small two-inch tiles and attach a magnetic strip to the back to turn them into refrigerator magnets.
www.imagesnap.com
Photobox
Photobox has a huge assortment of photo products to choose from, including canvases, photo books, calendars, postcards, phone cases, magnets, coffee mugs and even cushions. They also have regular prints and wall art options, like mounted prints, posters and aluminum prints. Upload your photos from your device or your social media feeds, then create your product.


Postagram
Tell a friend they're on your mind by mailing them a postcard from Postagram, which includes a pop-out Instagram photo and a custom message. The photo will pop out of the postcard as a 3×3 inch print; postcards are 4×6 inches. You'll also be able to customize the card design colors to complement the photo. Include a personal message, then have it delivered to a pal or family member.


PostalPix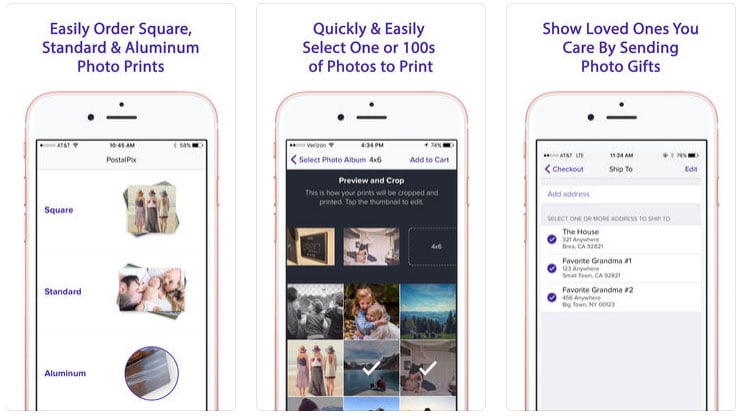 PostalPix offers unique printed items like aluminum prints, phone cases and mouse pads. They offer traditional prints as well, including two-, four-, five- and eight-inch square prints, plus standard sizes (4×6, 5×7 and 8×10). With pro-quality resolution and a matte finish, PostalPix is one of the best apps for ordering basic Instagram prints. Choose photos from your Camera Roll or Instagram account, pick your printing preferences, and then get your photos to your door within 72 hours.

Prinkl
Let's say you want to design your prints, but you don't want to order them and have them mailed. Prinkl will let you design photo prints and posters, then download them as PDFs that you can bring to your local print shop to have printed (you can print them at home yourself, too). Prinkl also has photo products that you can order, including square prints, collage posters in three sizes, and 3D photo cubes.
www.prinkl.com
Print Studio
Choose photos from your Camera Roll or Instagram account, then order prints or printed products, like photo books, framed prints, photo strips, grid posters, greeting cards, buttons, stickers and magnets. They also have metal and wood prints, including panoramic size. Posters can be made from one photo or multiple images. For a youthful vibe in your home, order the three-foot, photo booth-style photo strip.


Printastic
Printastic will help you create high-quality, glossy photo books from your favorite images. You can have as many as 200 pages in your book, with all sorts of page layouts. There are page layouts for multiple photos, as well as certain layouts that have space for you to include captions. You can play with the individual page layouts as well as the page order as much as you like until your photo book is exactly the way you want it.
Want to learn more? We wrote a how-to for creating a photobook with Printastic, and we also tell you about our experience using this service.


Stitchta
Photo memories can provide us with a lot of comfort, and Stitchta takes this to the next level by incorporating your Instagram photos onto a snuggly throw pillow. You can also create infinity scarves, pool blankets, ottomans, zipper pouches and tote bags that show off your best photos.
Whether you're a pro who uses Instagram to showcase your photographer's eye or you fake being an expert with Instagram's fantastic filters, your images are probably print- and display-worthy. If you're dying to gaze at your photos off screen, one (or more) of these printing options will probably be perfect for you.
www.stitchta.com