Here in the UK we are experiencing a short spell of hot and sunny weather (which doesn't happen very often). To celebrate this I thought it would be good for this week's showcase of smartphone photography to look at a selection of summertime inspired images.
From Nicki Fitz-Gerald's simply composed shot of a window in the seaside town of Weymouth to Elsa Alexandrino's pool side photo, all photos in this weeks showcase document some aspect of summertime, be that blue skies, swimming pools, flowers, nature, the beach or sunsets.
Featured photographers this week include; Alfredo Rodrigues, Nicki Fitz-Gerald, Ann Hecht, Cipriano Giuliani, Elsa Alexandrino, imleah_marshall, Julia Nathanson, Luison, memethorne and Marco Lamberto.
Do you have a favourite photo from this week's showcase? Let us know which in the comments section at the bottom of the page. Finally, hashtag your photos with #mobiography for a chance of getting featured in future showcases.
Untitled
'Untitled' by Alfredo Rodrigues – "I took it on a walk by the sea at Cascais, a village in the coastline near Lisbon. It was a beautiful and hot summer morning and I'm with the ESTIO series on Instagram, which means Summer season, in which I capture moments regarding the theme. And it was right in front of me, in the beginning of my walk. "Batatas Fritas" means FRENCH FRIES.
My iPhone is always with me and I use it to photograph more than to talk, by the way! So it's only iPhone 5s + Snapseed + hipstamatic App (öggl)."
Weymouth Harbour
'Weymouth Harbour' by Nicki Fitz-Gerald – "This photo is taken 5 minutes walk away from my home in Weymouth. There are lots of very pretty cottages around the harbour, each with their own character and this is one of them. There is something about windows and doorways; the arrangement of the elements in a ready made frame and the colours that make them very attractive to photograph.
This was a quick shot taken with ProCamera, my favourite app to shoot in because of it's ease of use and advanced controls particularly over focus, exposure and colour temperature. When I reviewed the photo, the colours looked dirtier and more muted than how I had remembered them and there were also some grubby marks on the brickwork here and there that didn't support the vision I had for the photo.
First of all I removed the dirty smudges on the brick work using the magical paint brush tool in TouchRetouch. Then I used Snapseed to brighten the image and also to selectively saturate the flowers and the little blue bottles sat on the window frame. Saturating just the flowers and the bottles without touching the rest of the image ensured these elements popped out from the background.
After brightening the image, the top half looked a little too bright and some of the detail of the bricks was lost so I imported the last edited image from Snapseed (with the popping colours) with the original image into Superimpose and used the Gradient Mask tool to blend the top half of the original image with the bottom half of the last edited image."
A silver sunrise
'A silver sunrise' by Ann Hecht – "We live two steps away from the beach and every morning we go for a walk. Light is becoming an obsession as is catching it with my iPhone. Sophie the spaniel is obsessed with the sea. She swims, wave jumps and we think is learning to surf. That morning everything was silver and I managed to catch her silhouette in the path of light. I have to get on the beach before sunrise to catch really lovely light. There was not much processing with this photo. A little bit of adjustment with instagram's editing tools. I do use snapseed a lot."
Reflection of hearts
'Reflection of hearts' by Cipriano Giuliani – "I like the surprise of what I may find in day. I don't go out with a clear idea of what I'm going to photograph, I get inspiration from many different things such as nature, people, objects or even something particular that creates a kind of pattern. I'd like to make abstract photos but I think I'm better in nature photos.
This photo was taken while I was going for a lunch at a beautiful beach club surrounded by nature. I saw this beautiful small lake with a lotus flower and I thought it was perfect for a photo. I took just three shoots to better study the subject and then found the perfect shot.
I like to modify my photos as it allows me to widen my creativity and emphasize what I really want. In this case I used Snapseed first to resize the photos, increase the details, adjust the colour and put the focus in a certain position. Then I used Mextures app to find some coloured filters.
The particularity of this photo for me is that the little hearts seen of reflection weren't actually wanted. I didn't add them with an app for example BokehCamFX. They appeared after I focused and noticed them, only just in time before posting on Instagram. This is what inspired me for the title of the photo. "
#Blues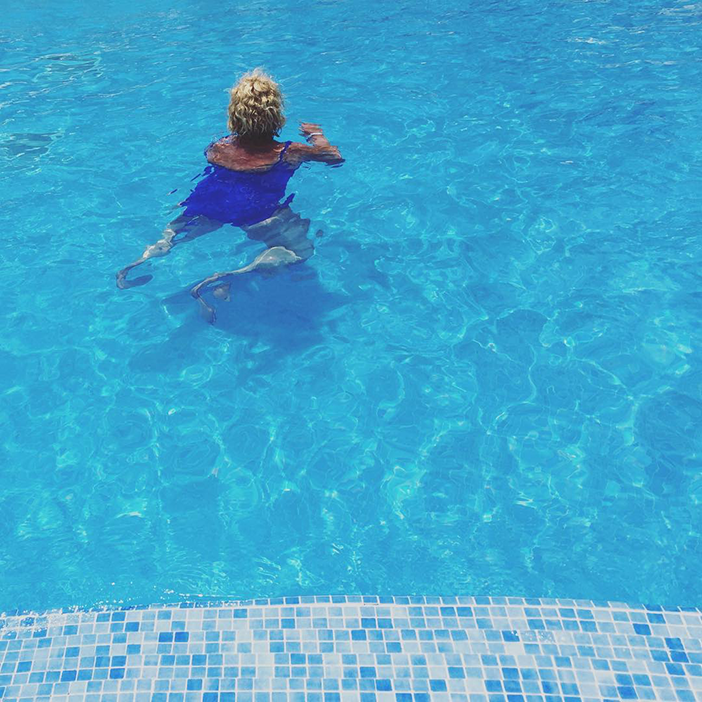 '#Blues' by Elsa Alexandrino – "#blues was an one of those moments; all of a sudden everything was blue. It was taken in a swimming pool while in holidays in Fuerteventura. I have lessen the contrast and forced saturation and light."
Something 'bout you
'Something 'bout you' by Julia Nathanson – "This is my younger daughter, singing to herself and dancing in the sunset on Manitoulin Island, Canada. The photo was shot and edited with Hipstamatic."
Enjoying a beautiful sunset at Isla Canela beach, Ayamonte… Good night!
'Enjoying a beautiful sunset at Isla Canela beach, Ayamonte… Good night!' by Luison – "The picture was shot on my iPhone 6S Plus and edited using Snapseed, Mextures and Filterstorm. The background to this photo is simple: my family and I are currently on vacation in the south of Spain. We went to the beach last Saturday. It was almost sunset time. I went to take some pictures with two of my daughters. When I came across this "stream" of water flowing to the sea, I thought it was worth shooting. I framed it vertically and waited for that woman to pass by. Then I shot."
Untitled
'Untitled' by memethorne
The boys of summer
'The boys of summer' by Polylm
Untitled
'Untitled' by imleah_marshall
Which was your favourite?
Do you have a favourite from this weeks showcase? Let us know your thoughts on the featured photos in the comments below.
If you haven't already done so, follow Mobiography on Instagram and hashtag your photos with #mobiography for a chance of getting featured in future showcases. Don't forget to sign up to the Mobiography email list to get the latest news and updates direct to your inbox.