This weeks showcase of mobile photography from the Mobiography Flickr Group looks at a series of amazing macro photos. Thanks to the growing range of add on lenses that are available for your smartphone, we can create some cool and sometimes abstract images by using the macro lens. All images in this week's showcase illustrate this form of photography beautifully. From Rosa Perry's shot of an ant on a colourful flower to Tinfoilhelmet's abstract image of an ice cube and a tuppaware box – check out this weeks selection and let us know what you think.
Featured photographers this week include Andrew Lucchesi, Firery Broome, Tinfoilhelmet, Alex Paton, Idel Angel, David DeNagel, Rosa Perry and Olycow.
Do you have a favourite photo from this week's showcase? Let us know which in the comments section at the bottom of the page.
Leaf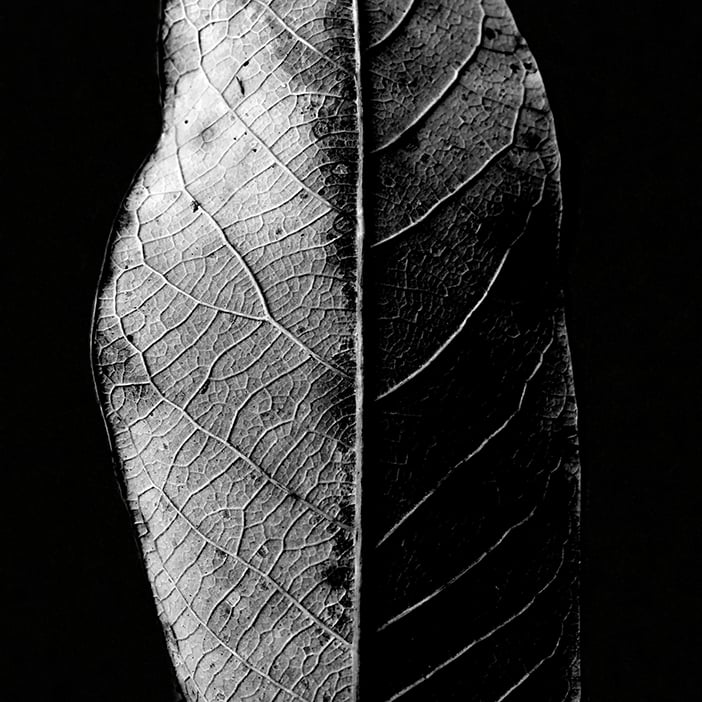 'Leaf' by Andrew Lucchesi – "I was weeding the yard when I came across this leaf. I liked the contrast that the veins made. I set the leaf aside in a planter to photograph it later, then forgot about it. I came across it some days later and finally photographed it. I laid it on the ground and shot it using natural late-afternoon light. I shot it with my iPhone 6 Plus using the Contrast By Hornbeck app. Most of the background behind the leaf came out dark, but I wanted a solid background. So, I superimposed the leaf on a black background using Filterstorm Neue."
Beautyberry Texture
'Beautyberry Texture' by Firery Broome – "Just love these shrubs. All decked out in their smooth glossy berries with their varying shades of purple like little jewels in the sunlight. I can never resist taking photos of them.
Captured with iPhone and Olloclip Macro Lens. Edited in Snapseed.
For those unfamiliar with them, some words from wikipedia: Callicarpa americana is an open-habit, native shrub of the Southern United States which is often grown as an ornamental in gardens and yards."
Red and Gold Map
'Red and Gold Map' by Firery Broome – "I like to collect some colorful leaves in autumn to look at on the gray winter days. They are particularly pleasant in late February when it is usually dark and cold here.
A nice remember that the earth will be putting on her more colorful dressings in a few weeks.
One from my collect, I think this one over wintered pretty well. Captured and processed with the usual kit of iPhone, Olloclip Macro lens, iPad and Snapseed."
Soy sauce on the rocks
'Soy sauce on the rocks' by Tinfoilhelmet – "This photo is of an ice cube, put in a Tupperware box with a piece of white paper under it to light it and a good glug of Kikkoman soy sauce to give it a bit of colour. I had hoped the soy would freeze a bit onto the ice but I`m happy enough with the pic anyway. Shot with an iPhone 6s with a dodgy and (very distorting) 21x clip-on macro lens I bought off amazon. Taken with native camera app, hand-held. I think this version is actually processed with the flickr app for iOS.
Coffee bean ball sack
'Coffee bean ball sack' by Tinfoilhelmet – "I found a lonely coffee bean on the floor, leftover after a badly sealed packet jumped out of the cupboard a few days previously. My son is convinced the image is of a scrotum (?!?) and refuses to look at it. This photo was shot with an iPhone 6s with a dodgy and (very distorting) 21x clip-on macro lens I bought off amazon. Taken with native camera app, hand-held and processed in Snapseed. "
Snow on Fallen Leaf
'Snow on Fallen Leaf' By David DeNagel – "This image was taken after a snow in January. I visited a state park in DeSoto Missouri which is located at the foothills of the Ozark mountain range. There were many leaves lying on the ground, most partially covered with snow.
I used an iPhone 6s Plus and a macro lens attachment. Macro images, like general photography, benefit greatly from two things: proper lighting and compositional strength. However, because of the limited depth of field due to the large magnification of macro lens, one has to also be very patient about achieving the proper focus.
This composition pleased me due to the snow playing a peripheral role against the texture of the fallen leaf itself. I post processed the shot only within VSCO, making manual adjustments and using the HB2 preset. In closing,the image seemed to represent a summary of Winter."
In this tiny world
'In this tiny world' by Rosa Perry – "I record my days with my iPhone camera just for the sheer pleasure of capturing colour, light, shapes and the unexpected. On this particular day on a walk I saw this vine with tiny pink flowers growing on a brick wall. The flowers were so delicate that I wanted to capture their delicacy and colour. As my iPhone is equipped with a Ztylus case 4 in 1 lens attachment I flipped my macro lens up and took some shots of these flowers.
One of these flowers had a tiny black ant scurrying on the petals and I wanted to photograph the ant but found the ant difficult to focus on as it was so busy. Then another ant appeared on the same petal and they turned to face each other. What happened next amazed me because the ants started to groom each other. That's what it looked like to me because they were taking turns grooming and it definitely didn't look like fighting. Then the second ant left and the original ant turned around and faced the centre of the flower and just stood perfectly still. I wondered what it was thinking. My own thoughts at that moment were how each and every one of us has a role to play in this world, whether humans or nature. Even those tiny ants on that flower have a role to play in their own tiny world! Hence my shot – 'In this tiny world'.
I used my iPhone 6 with a Ztylus macro lens using the Camera+ App on the macro setting. I then opened the image in Snapseed applied a minimal crop and made some minor adjustments in the Tune Image setting."
Untitled
'Untitled' by Alex Paton
Dew at the edge of leaf!
'Dew at the edge of leaf!' by Idel Angel
And then there's today
'and then there's today' by Olycow
Which was your favourite?
Do you have a favourite from this weeks showcase? Let us know your thoughts on the featured photos in the comments below.
If you haven't already joined the Mobiography Flickr Group then head on over and join in the fun. Alternatively, sign up to the Mobiography email list to get the latest news and updates direct to your inbox.