This weeks showcase of iPhone photography from the Mobiography Flickr Group looks at a series of photographs that use focus in on the subject of flowers and fauna. From Rebecca's beautifully coloured Hipstamatic styled, macro shot to the painterly image of a peony flower by Gianluca Ricoveri, all of this weeks images show to best show off the beauty of flowers.
Featured photographers this week include Rebecca, Geri Centonze, Rosa Perry, Jenneke Tesselaar, Mkosmowski, Gianluca Ricoveri, Maria Georgiadou, Andrew Lucchesi, Jim Hansen and Edith Meier.
Do you have a favourite photo from this week's showcase? Let us know which in the comments section at the bottom of the page.
The opposite of winter
'The opposite of winter' by Rebecca – "This is a macro shot of a mum from a bouquet I bought at the market. I'd been stuck in my apartment for a couple of days because of the blizzard that struck Washington in January (nowhere to go, no way to get there), but on the third day I was determined to get out, and I found the landscape transformed by snow. At the market I found buckets of flowers that were half-price because they had been sitting since before the blizzard struck. The flowers were so brilliantly colored they could only be "the opposite of winter".
I did a lot of experimenting with my olloclip macro lenses and came up with this one. I processed it first in Hipstamatic, with the Jane S lens, Love 81 film and some film grain. Then I took it into VSCOcam, and added the kk2 preset. Finally, in Instagram I added the Ludwig filter and then uploaded through Instagram to Flickr."
Untitled
'Untitled' by Geri Centonze – "This image of one of my succulent plants was shot with my iPhone 6S. After a lot of experimentation with different genres of mobile photography I have gravitated back to my first love…painterly (in fact I recently launched a new hub on Instagram to feature these images done by various photographers @the_painterly_way.
First I opened the image in Tangled FX and applied one of my custom formulas. Then I did three separate versions of the image using Pikazo. Pikazo is an interesting app that combines your image with one of the images in the app or any image you select from your device. I used three custom images to combine it with my succulent image. Pikazo only saves images at 500×500 pixels but I normally blend a Pikazo version with another version in the Sketch Club app and this process will upsize the image for me to the size of the image I create in Sketch Club.
As mentioned, I layered the three Pikazo versions over the original using Sketch Club and blended them together erasing various parts of each layer. Next some fine tuning of this result using Snapseed. The final step was to add some texture using the Photocopier app. "
Be a Standout! Speak up for what you believe. Illuminate your talents. Be true to who you are
'Be a Standout! Speak up for what you believe. Illuminate your talents. Be true to who you are' by Rosa Perry – "I was walking through the local hardware store looking for a ceramic pot in the gardening section when I was captivated by this magnificent majestic flower standing tall above the rest of the plants and seedlings. I thought how wonderful this little flower is, standing proud, parading its beautiful colour and style for all to see. Standing there looking at this flower made me realise that no matter what the colour trend of the day is, that I will always will stay true to how nature inspires me because nature knows how to wear her colours and I will always honour my love for bright and bold colours, even in photography.
This Dahlia was taken with my iPhone 6 using Camera+ on the Macro setting. I then brought the image into Snapseed adjusting contrast and shadows and a tiny bit of sharpening then cropped and saved the image. I opened the saved image in iColorama so I could bring out the blue colour in the Dahlia and I did this using masks in Color Lab and Luts."
H y d r a n g e a
'H y d r a n g e a' by Jenneke Tesselaar – "The Hydrangea is one of my favorite flowers. Not only for its beauty but also because it looks very attractive in both summer and winter.
So that day I took one from my garden and started experimenting with the new Manchester HipstaPak from Hipstamatic that came out the week before.
The pink vintage feel from the new pak turned out to be a good combination with this delicate nostalgic flower.
I shot it with Hipstamatic on my iPhone 6s Plus using the Smith-lens and Cheshire-film, no further adjustments."
Window-sill colors
'Window-sill colors' by Mkosmowski – "The story behind the photograph is rather simple: the other day we had one of these really sunny late afternoons, where the sun almost burns your curtains down. I have a few plants on the western window sill and all of them looked great but one looked particularly interesting backlit and flooded by the sunlight. I took the photo looking up, making sky a backround, even and cloudless. Then I made some basic corrections in Snapseed (exposure, contrast, saturation) and since the photo was originally tightly framed I used Handyphoto's Magic Crop feature to gain some extra background around the plant. This also allowed me to rotate it a bit to improve the composition. The last step was Mextures and adding some of its beautiful radiance backdrops."
Tutte le foto
'Tutte le foto' by Gianluca Ricoveri – "The peony is my favorite flower that I love photographing in all its moments from the bud to the dead. Here I used Hipstamatic and then I've edited in Snapseed, Mextures and Stackables."
March!
'March!' by Maria Georgiadou – "The photo is shot with iPhone 5c and the editing was done later, in the Hipstamatic editing suite with filters Chivas lens, Love81 film and Juicy Orange Gel flash, plus some additional editing on vignette and texture.
I am currently trying to do a Still Life project so I just picked some flowers from the street and gave it a try… I used a white t-shirt as background because I liked to have some texture behind the flowers…
Natural light only was used here."
Life is like a tray of succulents…
'Life is like a tray of succulents…' by Jim Hansen – "I was walking through a greenhouse and found a section of succulents. It was my friend, John's 71st birthday, so I shot this in his honor… He loves to grow succulent at his home in California. Happy Birthday, John. This tray is for you…!
Shot with iPhone 6 Plus, image processed with Apple Photos and Aviary on Flickr."
Chrysanthemum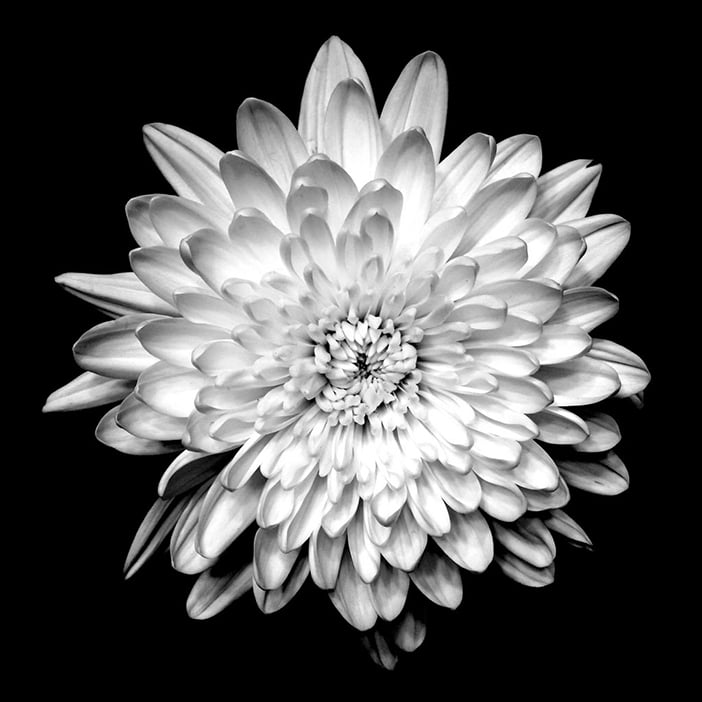 'Chrysanthemum' by Andrew Lucchesi
Tulip
'Tulip' by Edith Meier
Which was your favourite?
Do you have a favourite from this weeks showcase? Let us know your thoughts on the featured photos in the comments below.
If you haven't already joined the Mobiography Flickr Group then head on over and join in the fun. Alternatively, sign up to the Mobiography email list to get the latest news and updates direct to your inbox.