The final installment of Octobers 'Capturing the Moment' showcase features photographs from Geri Centonze, Albion Harrison-Naish, Joanna Dunford, Anthony Hutchinson, Leon and Armineh_H from the Mobiography Flickr Group. Once again thank you to everyone in the Flickr group who contributed this week. I hope you enjoy this weeks selection.
The Frog Prince
'The Frog Prince' by Geri Centonze – "While in Nashville recently I photographed the ground beneath some trees. I thought the green poking through the brown leaves looked interesting. But when I was editing the photo, I thought it needed more. I went to the Photocrash app where I found and added the frog. I wanted to add a little movement to the frog which I did using the motion blur adjustment in Effexy. I layered the blurred image under the original image in Sketch Club and erased part of the in focus image to allow the blurred image to show through. It still looked very fake like the frog was sitting on top of the image – it was missing the natural shadow that would have been below the frog, so using Sketch Club, I painted in a shadow to make the scene look more natural. I then used Distressed FX to add a little texture. The final adjustments to tune the image and add center focus were done in Snapseed.
I guess I accomplished my goal because when I posted this photo most people commented "great capture"! This is why I love mobile photography. You are only limited by your imagination!"
portals II
'portals II' by Albion Harrison-Naish – "Once or twice a week I get a lunch break in the city and that is when I get the large majority of my photos taken. This day I took my luncheon earlier than usual and when I noted that the sun was still high in the sky I thought I'd take the opportunity to venture into some of the narrow lanes that don't get much light at any other time.
For this shot, I was mostly just taken with the strong diagonal shadow and the tones of the old brickwork. That and I knew the doorway and windows would come up black and that idea of nothingness behind the throughway always gets me. To top it off here, the sign gave it another dimension."
London Life
'London Life' by Joanna Dunford – "I was visiting a friend in London for the weekend and we went on an inpromptu photo walk near Tower Bridge. Whilst turning a corner, this guy cycled past and initially I missed him. I had my camera ready and waited and then he came back! I really loved that it felt like I had stepped back in time because of his penny farthing & outfit he was wearing. Especially with the London backdrop.
This was shot using the iphone5 native camera. Converted to black and white with Noir Photo, cropped into a square using Snapseed and sharpened slightly. "
Indoor treasures
'Indoor treasures' by Armineh_H – "This photo was taken at my friend's apartment in San Francisco. This is a flying goddess mobile which hangs from the ceiling in the hallway and welcomes everyone as they enter. This piece has been a favorite of mine for years and it always brings a smile to my face. It's the perfect addition complementing the structure of the area. The image was shot with an iPhone5s using Oggl John S Lens +D-Type Plate film."
Marilyn's Curves | Exploration #3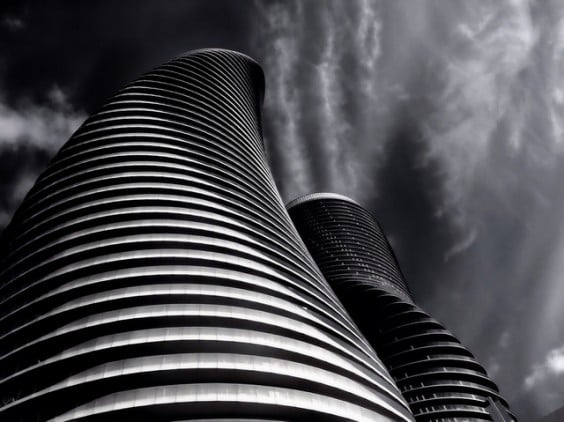 'Marilyn's Curves | Exploration #3' by Anthony Hutchinson – "This is an image of the Absolute World Towers in Mississauga, just outside my hometown of Toronto, Canada. Nicknamed "The Marilyn Monroe Towers", these are two twisting high-rises, likely inspired by Calatrava's Turning Torso. They are absolutely stunning. I have wanted to photograph them for a while to try and capture the wonderful curves of these structures and I finally took the opportunity recently, dragging my understanding family along for the ride.
Having seen many photos of these structures (taken with DSLRs), I wanted to do something different. Working with my iPhone would force me to find different angles but would also be a challenge in trying to capture the twisting nature of the two towers which was my main goal. I spent about an hour taking a very deliberate approach in exploring different vantage points and only ended up taking shots from three different vantage points. I ended up with four images that I liked with this one being my favorite because it captured the essence of what I was looking for, the curves of both towers. I still have to go back and explore the other side of the towers!
I took this shot using the VividHDR camera so that I could capture the full range of exposure and enhance the clouds. I then used the editing feature in ProCamera to "boost" the color before converting it to black and white, again using the ProCamera B&W filters. I then finished it off in Filterstorm with some "dodging and burning" to get the contrast the way I wanted it."
White Door
'White Door' by Leon – "White Door was taken inside the Auckland War Memorial Museum, this is a recent internal addition that looks like a giant wooden UFO to me. Taken on a tripod using HDRpro, then processed in Snapseed, Handyphoto and Phototoaster."
Do you have a favourite?
Do you have a favourite from this weeks selection? Let us know your thoughts on this weeks featured photos in the comments below. If you haven't already joined the Mobiography Flickr Group then head on over and join in the fun.