The quality of photographs submitted to the Mobiography Flickr Group this week has been very high. Choosing a small selection to include has been tough. This week featured mobile photography comes to your courtesy of Mark T Simmons, Rob Pearson-Wright, Louise Fryer, Davide Capponi, Susan Tuttle and Myself (I'm not usually one to blow my own trumpet but I am proud of the included shot which has attracted a fair few comments on Flickr).
"Nobody Realises That Some People Expend Tremendous Energy Merely To Be Normal"
"Nobody Realises That Some People Expend Tremendous Energy Merely To Be Normal" by Mark T Simmons
– "This image was taken last week at Canary Wharf. If the sun is out, the light hits the tube station escalator perfectly and all the city workers just seem to emerge from the shadows on their way to their jobs. It's a great place to shoot.
While standing behind the main figure in my image I suddenly thought about how we all have to try and fit in at the places we work. Although colleagues may be interested in what you like to do outside business hours, we are all still very careful about what we divulge to avoid being seen as "different".
This is an unedited Hipstamatic image using my favourite combination of John S Lens and BlacKeys SuperGrain film. The title is a quote taken from the book "The Outsider" by Albert Camus as it just seems to fit with what I wanted to express with this image. All of us trying so hard to fit in where we are."
No means no!

No means no! by Rob Pearson-Wright – "I was recently on a friend's stag do and it had come to that time of the evening when it's traditional to visit a lap dance club. The party travelled there by canal boat and were dressed as Jedi Knights with the soon to be Groom dressed as Princess Leia. Upon arrival at the club, it was obvious the bouncer had seen it all and didn't bat an eyelid. He proceeded to explain the house rules to us and I thought it was the perfect time to take a photo. It was at that point that he reached the rule about there being absolutely no photography permitted. So I sneaked off one shot and he gave me the steely eye which meant, 'that means you especially sunshine!' As I like my face the way it is, I put my iPhone in my pocket where it remained for the rest of the night. I used Snapseed to add some brightness and contrast, BigLens to blur out the background to protect the clientele's identities, and finally Noir to convert the image to black and white and add some vignetting."
Untitled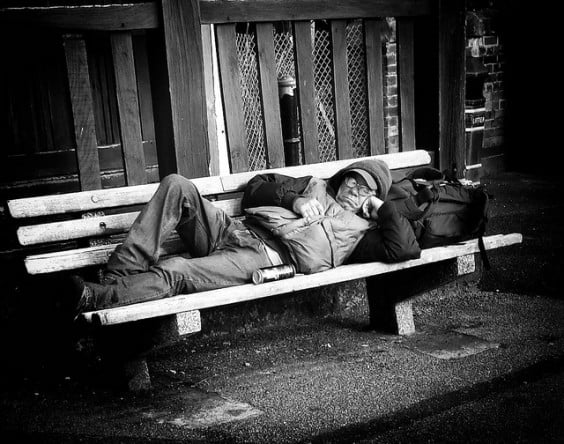 Untitled by Louise Fryer – "This photo was quite unexpected, I shot it as I was walking by St Mary Magdalene's church in Bexhill on sea, this is an unusual sight to see in a small seaside town and he seemed quite oblivious to the noise of the traffic and people passing by. Shot with Samsung Galaxy S4."
Dizzy Street
'Dizzy Street' by Davide Capponi – "This is a classic street photo taken from the hip to keep a candid attitude from the subject.
The man had a confused look and I thought he was a bit dizzy, so when later I postprocessed the shot I used the warp fx from iColorama to deform slightly the background and reflect his subjective view of the scene.
I then gave to the background a painterly look using Glaze and Repix."
Shafts of Sunlight
'Shafts of Sunlight' by Andy Butler – "This shot was taken at a childrens play park inside an old ship structure whilst on a recent family holiday. It was a sunny day and the shafts of sunlight were streaming through the gaps in the deck above created an amazing pattern on the posts and walls below. The effect was amazing and just had to be photographed.
The photo was taken using Oggl with the Jane lens and AO DLX film combination."
the pianist poised his hands over the keys
'the pianist poised his hands over the keys' by Susan Tuttle – "There is not much of a story to tell. I generally like to leave interpretation open to viewers. I am both a DSLR and iPhone photographer. This piece is rendered purely with iPhone. I explore portraiture through my mobile photography and often use myself as the subject. However, I don't tend to think of these pieces as self-portraits. It is more like I am playing the part of a character in a play. In this particular piece I am playing the part of a dancer.
In terms of my process, I generally will run any given piece through 5+ apps before it feels complete."