The past 12 months have been a fantastic journey. Along the way I have had the privilege of meeting many talented mobile photographers and have been inspired by so many more.
As we approach the festive season I thought it would be interesting to invite 24 mobile photographers who have inspired and supported me in one way or another and ask them to offer an insight into their photography, to reflect on their year gone by or plans for the coming year ahead.
Each day until Christmas Eve we will be featuring one photographer in a sort of online advent calendar so to speak.
Today's featured photographer is Alon Goldsmith.
Alon Goldsmith is a mobile photographer whose work capturing urban street life scenes and the quirky characters that are set against harsh shadows and vibrant colours. Alon has been the featured in several of our Capturing the Moment Showcases, on the cover of Issue 2 of the Mobiography iPhone Photography Digital Magazine as well as 'The Photo I Am Most Proud of' series.
One incredible encounter or story that has been part of your photographic journey this year  is…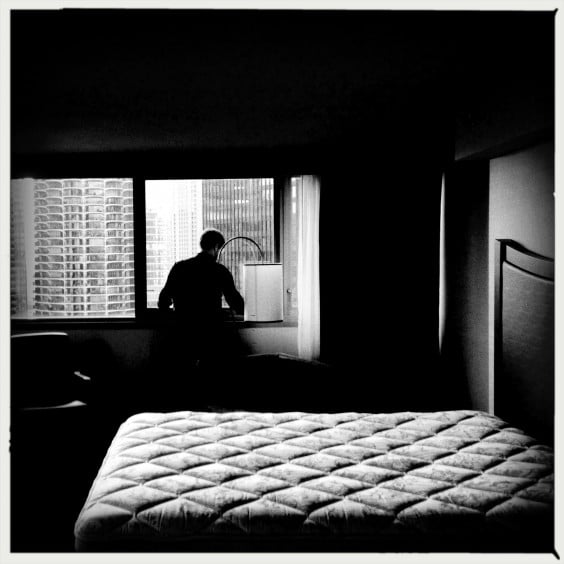 In addition to being a fabulous photographer, my friend Brandon is rather a gutsy fellow. The last time I was in Chicago he enlisted me in one of his crazy adventures, which involved sneaking into some of the city's finest architectural masterpieces for an escapade of the highest disorder – taking illegal elevator rides, climbing infinite staircases and scrambling through windows onto tiny ledges for the purposes of photographing his fair city from dizzy heights.
I've always had a pathological fear of trespassing, so the escapade was a bit of a nerve whacker. By the time we were done with the Hard Rock Hotel, my thighs were quivering, my chest was burning and my heart was thumping. Of course, the 30 flights of stairs in the northeast tower didn't help. That's up and down I might add.
No, we weren't done; Brandon had one more encounter up his sleeve – an abandoned ballroom being renovated in Hotel 71. Fortunately this journey was undertaken in an elevator. One flight of stairs deposited us in a giant-window enclosed room with incredible 360 views of the city.
After an hour or so, we decided to vacate. On our way out we passed through a floor of rooms in the process of being built out. Brandon ducked through a door and called for me to follow. Upon entering the room, I saw him standing by the window. On impulse, I raised my trusty iPhone and shot Bedtime Story.
On our way out of the construction zone, we passed a crew of workers on the stairs. Cool as you like, we greeted them and ducked into a waiting elevator that whisked us back to earth and back to my comfort zone.