Once again I am pleased to present this years '24 Mobile Photographers Til Christmas'. It is a series that has been run throughout December for the last couple of years and has always been successfully received. In part, it is to celebrate the forthcoming festive season but also to celebrate another year in the timeline of Mobiography.
In the series I ask 24 hand picked mobile photographers to offer an insight into their work, to reflect on their year gone by or plans for the coming year ahead. Each featured photographer is someone who has inspired or supported me in one way or another during the course of the past year. One photographer will be showcased each day until Christmas Eve in a sort of online advent calendar so to speak.
Today's featured photographer is Armineh Hovanesian.
Do you have an incredible encounter or story that has been part of your photographic journey this year?
In 2015, I had the great privilege and honor to be a part of an incredible art installation in Los Angeles. This epic installation was called iWitness 1915.
iWitness was a large-scale temporary site-specific public art intervention made up of an inter-connected network of photographic sculptures installed at the Music Center and Grand Park in downtown Los Angeles. Each sculpture was composed of an asymmetrical metal frame and wrapped with massive portraits of first-hand eyewitness survivors of the Armenian Genocide of 1915. Audiences were invited to walk amid, through and beside these towering and larger-than-life sculptures that seem solid but their irregular angular shapes imitate an unbalanced world, continually at risk of war, ethnic cleansing and genocide. At night, each sculpture was illuminated from the inside, like a lantern.
I spent many days and evenings with these sculptures and had the chance to take many photographs from various perspectives. I learned more about experimenting with depth and polished my framing and composition. Nighttime mobile photography without a flash is still challenging however I managed to sneak in a very good shot.
My heartfelt thanks goes to Andy Butler and Mobiography for giving me this opportunity to share my experience.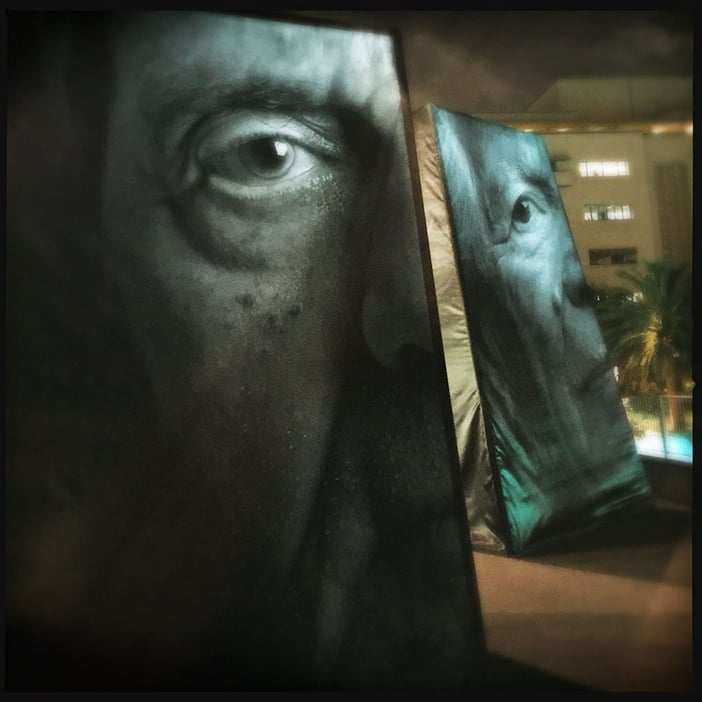 Connect with Armineh Hovanesian
Armineh-Photography.com | Facebook | Instagram | EyeEm | Flickr