The latest issue of the Mobiography magazine has just been published onto the Apple iTunes Store and Google Play. The mobile photography community has been a buzz over recent weeks with chatter of events such as the release of the iPhone 6 and iOS 8 as well as the Eyeem Festival and Awards.
What's inside issue 13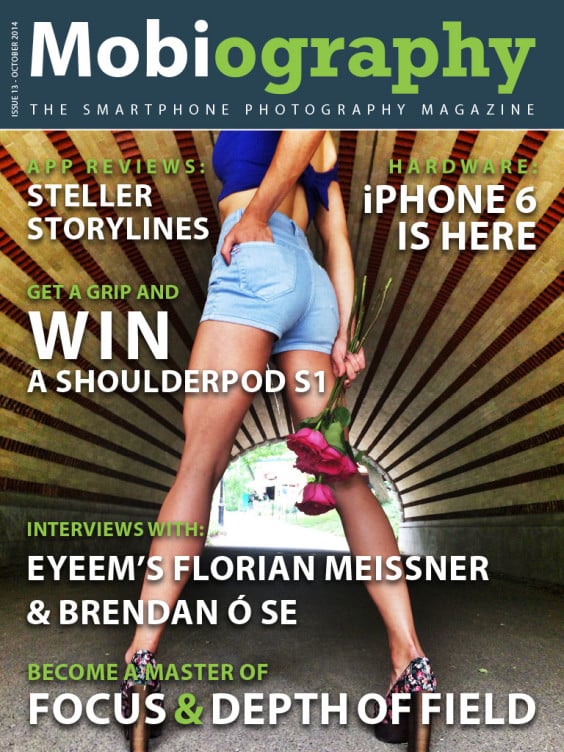 Consequently, issue 13 takes a closer look at the much anticipated iPhone 6. We look at the phones capabilities, performance, features and what it offers the iPhone photographer. We see how it compares to the iPhone 5s for picture quality and how it compares against a DSLR daddy, the Nikon D7100.
Following on from the success of the first Eyeem Festival and Awards, Eyeem founder Florian Meissner talks to Mobiography about Eyeem and the future direction of smartphone photography.
Award winning photographer, Brendan Ó Se tells us about his unique style of blurred photography which brings us nicely onto our beginners guide section, which look at the key fundamental of photography that is, focus and depth of field.
As if this wasn't enough, we get the low-down on several innovative apps and accessories currently available on the smartphone market including one of my favourites at the moment, Steller. We also take a closer look at the Shoulderpod S1 smartphone grip the perfect accessory for photographers, videographers and visual storytellers and look at some simple tips and ideas photographers can use to avoid photography block. There is the usual Flickr Group Gallery and much more.
Win a Shoulderpod S1
Mobiography is running a special give away competition where one lucky subscriber who signs up to the Mobiography mailing list from issue 13 will receive a Shoulderpod S1.
There has been so much happening and changing in the world of smartphone photography it has been hard at times to keep up. I hope you enjoy this issue.
The Mobiography Tag Challenge on Instagram
Following on the from success of issue 10's Mobiography Tag Challenge on Instagram, Issue 13 contains details of how to enter our next tag challenge competition. A special one off subscriber only edition has just been released that showcases a selection of the best entries.
To enter simply tag your photos on Instagram with the new hashtag and the best images will be showcased in our next issue.
Grab Your Copy Now
In order to grab yourself a copy of Mobiography, head over to the Apple newsstand or Google Play and install the app. Single issues are available for $4.99 or you can subscribe to the bi-monthly subscription plan for $3.99 and make a 20% saving or there is the new annual subscription. Google Play subscriptions are monthly at a cost of $1.99.