This week I caught up with Joanna Dunford (ThisisJoanna) to find out more about her photographic work and her passions. Joanna lives near Bournemouth, on the south coast of England with her husband, two children and dog. This seaside location has heavily influenced her work which consistently delivers superb quality, black and white images, sharp perspective lines, beautiful seaside vistas and low point of view shots.
Joanna started out on her photographic journey a few years ago and since then her obsession has grown extensively, She has since been fortunate enough to have had work exhibited in London, Madrid & Seattle and as well as in the first issue of #Photography Magazine. She also blogs for www.wearejuxt.com.
How did you first become interested in iphone photography?
I first got interested in photography after using Instagram and it grew from there. I've had no formal training, I'm self-taught, learning everything from watching others and constant practise.
How often are you out taking photo's? Is it a daily exercise or something you do when you feel the need?
I used to go out every day and take photos but time is a big factor so now I try for once, maybe twice a week. I get quite antsy if I haven't been out for a while. It's like an itch that won't go away unless I take photos regularly.
Your work is predominantly black and white and features seaside views, sharp perspective lines and lone figures. Tell us about your approach and how much emphasis do you put into your post production process?
When I am out shooting, I'm normally listening to music and that heavily influences how I feel when I look at the images after and how I may process them. I'm drawn to lone figures and wide open spaces, I think they make for more emotive subjects. I want to be able to express some emotion though my photos. It doesn't always work but it's nice when I can capture it.
Would you say you are a bold street photographer or someone who prefers to blend into the shadows and avoid being seen?
When I'm shooting street photography I like to think I am confident. I use to be discreet and avoid being seen but over time, I found it was better to just be bold and get the shot I want rather being sneaky.
What apps do you regularly use and which are your favourites?
It's funny because I have folders and folders full of photo apps but I always end up using the same ones! I use Noir Photo, Vintage Black & White, Snapseed & Hipstamatic. My favourite is Noir Photo.
Are there any photographers that have influenced your work or have inspired you in some way?
There are so many photographers that have influenced my work. The community on Instagram has always influenced me and more recently the photography community I have discovered on Tumblr too. There are too many to mention individually. I see so much talent on-line that it's hard not to be inspired.
What would be your 5 top tips for taking the perfect photograph?
Um. When I find out, I'll let you know! Ok, seriously, I'm not sure I ever take a 'perfect photo' but to try and get the best shot possible my tips would be:
Stop. Don't take the shot whilst moving.
Think about the composition.
Bend down low (I love taking shots from ground level)
Take at least three so you can pick the best
Take the shot from several angles.
If you could spend the day with any photographer past or present, dead or alive, who would it be and why?
I'd like to spend the day on a photo walk with all the guys and girls who are part of We are Juxt. It would be nice to meet them all in real life.
Could you tell us the story behind a few of your favourite photos
Wonders of my World

The sun had just set and I was back in my car just about to head home after taking some photos when this guy walked out into the harbour with his bike. The fading light along with his reflection was just too perfect to turn down so I jumped out of my car and walked back out into the harbour to capture this moment. I am glad I did too.
Light in the dark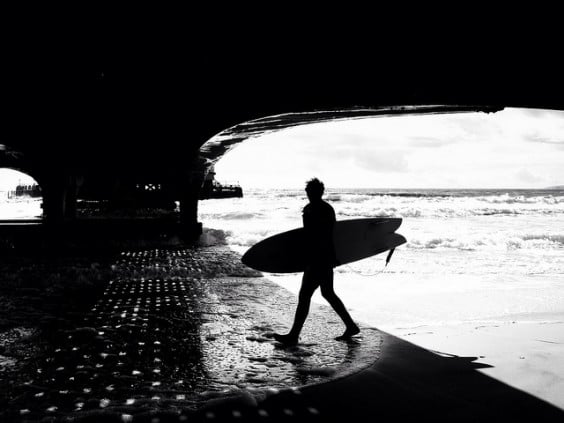 I was underneath the pier and was fascinated by the light coming through the boardwalk above. I managed to capture the silhouette of the surfer as he passed me. I liked the contrast with the overhead light.
Magical Forest
We had snow in January and I headed out to the New Forest and was amazed by the trees covered in a dusting of snow. They just looked like they should be in Narnia and it felt so magical. This is one of my favourite shots from the winter.
Where can people connect and follow you online?
Instagram: http://www.instagram.com/joanna
Flickr: http://www.flickr.com/people/thisisjoanna
Tumblr: http://streetiphoneography.com
Twitter: http://twitter.com/justjo
And lastly on We Are Juxt