Roy Pan is a street photographer who is currently living in Paris, France but previous to this he spent a lot of time in New York. Silhouette's, solitary figures and dark shadows are common elements in his images which help to give his photos a sense of isolation. A number of his photos have been featured by Apple on their Instagram feed as will as their #ShotoniPhone campaign.
I caught up with Roy to find out more about his approach to the photos he takes with his iPhone.
Could you tell me a bit about your photographic journey and how you discovered smartphone photography?
I started taking photos with my phone about ten years ago. I'm a foodie, so in the beginning, what got me interested was how to take photos of food that would look interesting and attractive. As time went by, I discovered street photography and later on light and shadow, which allowed me to have more fun.
What inspires you about taking photos with the smartphone and what compels you to raise the camera to grab a shot. What sort of things are you looking out for?
I love taking photos with my phone because it's super convenient and accessible. I can pull my phone out of my pocket and capture a moment within 3 seconds, which isn't the case with DSLR cameras. Also, my phone is much lighter, more durable than my camera. I'm constantly looking for moments that tell stories. Moments that are self-explanatory and interesting.
Tell us about the lightbulb moment you had when your understanding of photography and light changed forever. What did you learn in that moment and how did you go on to apply it?
Before I understood light, I was only looking for objects that could bring geometry into my photos' composition. But in that lightbulb moment, I learned that I could use light to create geometry and make compositions more interesting.
What advice would you give others about how to capture good light? What should they look for?
I always look for strong light and shadow contrast. It could be natural light, neon light or LED. I try to make the background as clean as possible, which means I would change my position to gain a better angle sometimes. When I see light, I will look around and see what would be interesting to put together with light to create an image.
What is your approach to composition and what advice would you give people to better improve the composition of their photos?
I try to leave as much empty space on my photo as possible or put it another way: less is more.
I also try to take advantage of objects that help create geometry in the photos.
What apps do you use to shoot and edit your photos? And do you do much post-production editing?
I actually don't use many apps to edit my photos. Most of the time, I just turned the photo into black and white with the iPhone's own editing tools.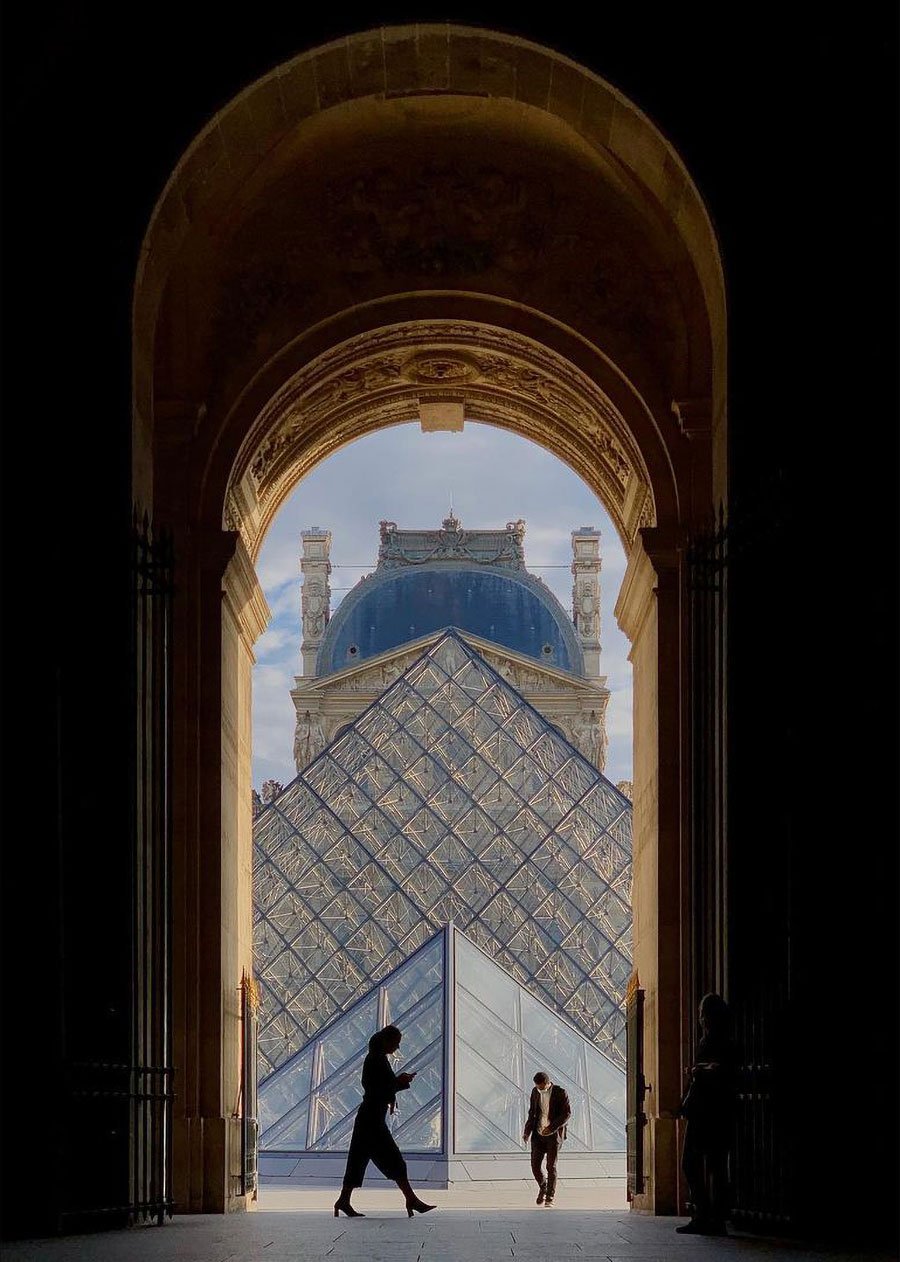 One of your photos was featured by Apple in their #ShotoniPhone campaign. Tell us about the images they featured, the story behind them and what it meant to you to be part of the series.
My photos have been featured by Apple a few times. Four of them were featured by Apple for Chinese New Year in 2020. The first two photos were taken at my grandparents' place, a small coastal village in the north of China. The moment I captured in the first photo was my grandpa preparing ingredients for lunch. It was the first meal I had at his place after I moved to New York.
Looking at this photo now brought me much complicated emotions as my grandpa is no longer as healthy as he was in the photo after a long stay at the hospital. Nor could he hold the knife and prepare the meal anymore. The 2020 Chinese New Year awakened me to the reality of his physical condition.
The third photo was one of the first dumpling meals I had at home after living in New York. My family is obsessed with dumplings. It's what we did every Sunday dinner when I grew up. It was also the dish that I missed the most when I was away from my family. It is the taste of home. The process of making dumplings equals family bonding time as my parents and I would each take charge of the three steps of making them. I couldn't think of anything that could better represent Chinese New Year than dumplings. This post carries enormous meaning to me.
How has the COVID pandemic changed your approach to photography or the way you shoot?
Yes. Due to the lockdown, I didn't go out as much as I would like. So I took far less street photos than before. But I took a lot of photos of food since I cooked more.
Are there any photographers that have been a big influence or inspiration to you?
Absolutely. There are a lot of photographers that I find inspiring, such as Fan Ho, Henri Cartier Bresson, and Cocu Liu. I love the simplicity as well as the emotions in their photos, which is something I try to achieve with mine.
Could you choose three of your favourite photos and tell us the story behind them?
Yin Yang
I took this photo in New York. There are two shadows in this photo, which makes it look like two parallel worlds. I named it "Yin Yang". The shadow on the left is from the sun, the right one is from the reflection of the sun on the building in front of the camera. It was such a magical moment that I was really glad to capture it.
1, 2, 3
I took this photo not too long after I moved to Paris last fall. The COVID cases were surging in Paris back then. Yet one day, during the sunset, I saw a family of three holding hands and walking around in the park. I was touched by that image and I saw their shadows on the ground and captured it. Family is always something we can rely upon during times of difficulty.
Greater than you think
This photo was the first time that I was featured by Apple. Personally, it means tremendously. I was jumping up and down when I saw the post from Apple. The photo's backstory is that I was walking around in New York with a friend of mine during sunset, which is my favourite time of the day, and I saw a long shadow created by the sun on the wall. I captured the moment while my friend was walking. It was a very interesting image because my friend is pretty skinny, yet his shadow looks much stronger than he actually is. And hence the name "greater than you think". I believe everyone has greater potential than their expectations.
Connect with Roy Pan
Instagram: @roypanphoto