Nadine Funke lives in the beautiful German capital, Berlin, which as her Instgram name (@detailsofberlin) suggests, is the main subject for her photography. When Nadine isn't working in her day job as an HR professional, she is walking the streets of Berlin, documenting the streets and architecture that surround her. One of Nadine's main challenges in this busy city is capturing them with as few people present as possible. Consequently, Nadine's portfolio of photography on Instagram features a mixture of contemporary architecture, leading lines and curves, stairways as well as vintage cars set in empty streets, all presented in a VSCO retro style.
I caught up with Nadine to find out more about her approach to the photos she takes with her iPhone.
How were you first introduced to the idea of iPhone photography?
It took me a while to get a smartphone but in the end, I couldn't resist anymore and bought my first iPhone 3s about 8 years ago. At first, I took photos just to document my life for myself and share the photos with friends which my friends would often say how much they liked my photos. About 2 1/2 years ago I won a local photo marathon and thought about how I could display my photos and ended up opening my Instagram account. I started reading articles about photography in general and iPhoneography specifically, and started to play around with all the features an iPhone camera offers.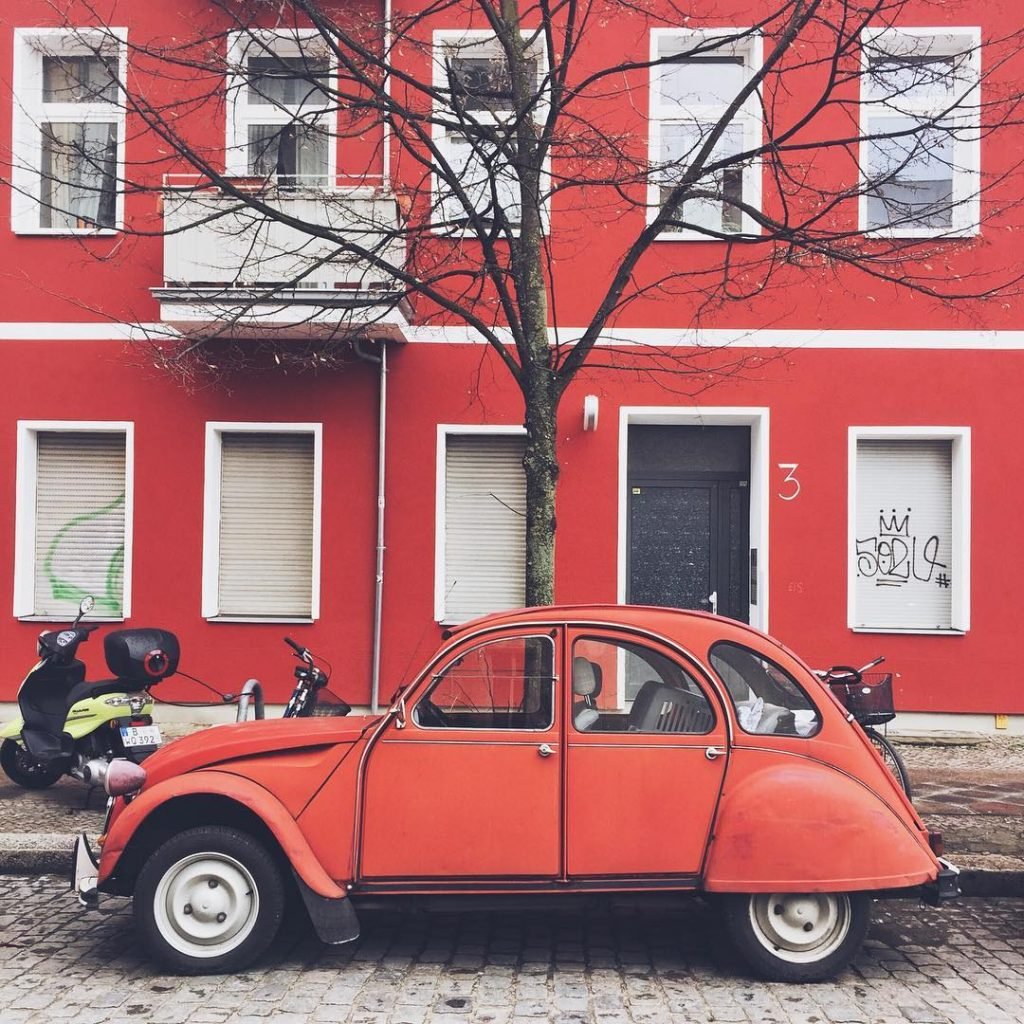 How would you describe your style and approach to the photos that you take with your iPhone?
I am not sure if I have a particular style, but if I do have one I would probably describe it as straightforward. I like clear lines a lot, I like strong colors and I don't do heavy editing. I try to keep my photos as natural as possible. I try to show a mixture of typical Berlin sights (like the Brandenburg Gate and the eastern TV tower) and Berlin scenes that you might not expect from the biggest city in Germany.
What sorts of subjects inspire you the most and why?
I have a thing for architecture in general and spiral staircases in particular, so you will find this a lot in my photos. My personal challenge is to shoot photos from places in Berlin that are usually crowded by tourists with as few people as possible, preferably no people at all.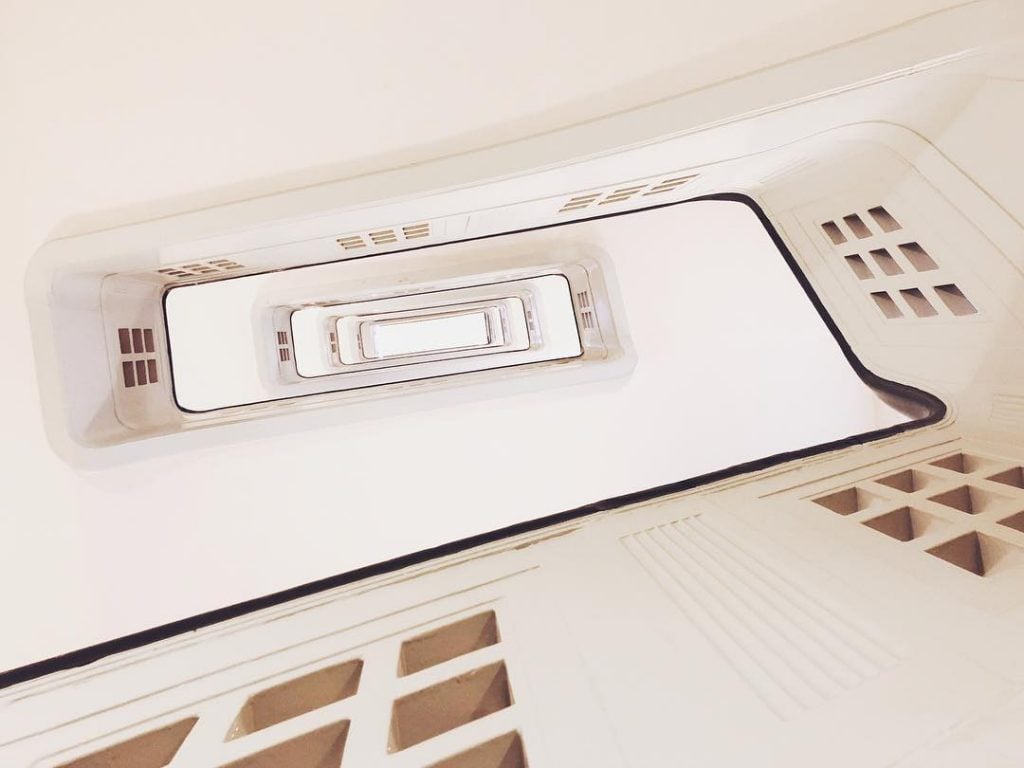 My Instagram friends are already laughing at me when we are out together taking photos because they already know that and I always ask them to step out of my photo. I also constantly look for vintage cars because there is this thing called #sundaycarpic on Instagram where you try to post vintage cars. It's amazing what cool cars you can find when you start looking for it.
Are there any conscious decisions you make regarding the composition of your photos?
Well, of course I know the basic rules of composition like rule of thirds etc. and I apply them when it feels right and suits the object. But as usual: rules are there to be broken so you will also find photos that do not use the rule of thirds. I usually search for the best perspective with my screen in order to find the best photo and take a lot of photos when I am at the location. This way I can check which photo is the best when I am selecting the photo for editing.
I always try to get a photo as perfect as possible so that I have minimal editing to do, like a small amount of straightening. I strongly believe that it´s better to make a good photo and edit it lightly that the other way around.
What apps do you use and is there a process or methodology that you apply to your post production editing?
I usually start with Enlight and adjust the frame, brightness and use my favourite filters. I love the Crisp and Vivid option and usually combine them with Steel or Greige filter, but sometimes I use different options, depending on the photo. After that I change to VSCO and apply the last settings and again my favourite filter and I also fade every photo a bit.
Are there any photographers that have been a big influence or inspiration to you and your work?
Yes, there are: I love Joerg Nicht's photos (@jn) of Berlin and from around the world. I also love the photos from @zerletti and @instalyrik_, both from Berlin as well. The best is that I met all of these 3 Instagrammers already in person and I am especially proud that Joerg commented on some of my Sundaycarpic photos, which is awesome given his huge amount of followers. He assured me that he's still commenting on photos himself despite being one of the biggest German and Berlin instagrammers. I also love the photos from Henri Kallio/ @detailsofhelsinki and would love to visit him one day in Helsinki and explore his city together with him.
Staircases and old cars are a common theme in your work. What is it about these subjects that inspire you so much?
Before I joined Instagram I honestly had no idea that I have this thing for staircases and vintage cars. But when I look back at my photos before joining Instagram I always had a passion for architecture in general and I consider staircases as a special part of architecture. It's just fascinating to discover new staircases or to interpret staircases that I have already seen on other accounts in my way.
The same is valid with old cars, I've always liked them which is funny because I don't even have a car here in Berlin. But it's fun to spot them and I sometimes think about what impression people would get from my account and the cars we have here in Berlin. You could think we have heaps of old cars but you really have to search for them. Usually, I am lucky and spot a new car about 2-3 times a month.
In my opinion, these old cars still have a soul and a character, I just don't feel that with modern cars, they don't have the same spirit and somehow, they all look the same. Earlier you could recognise if it's a Mercedes or an Audi or an BMW, nowadays I often can't see a difference between the different car brands.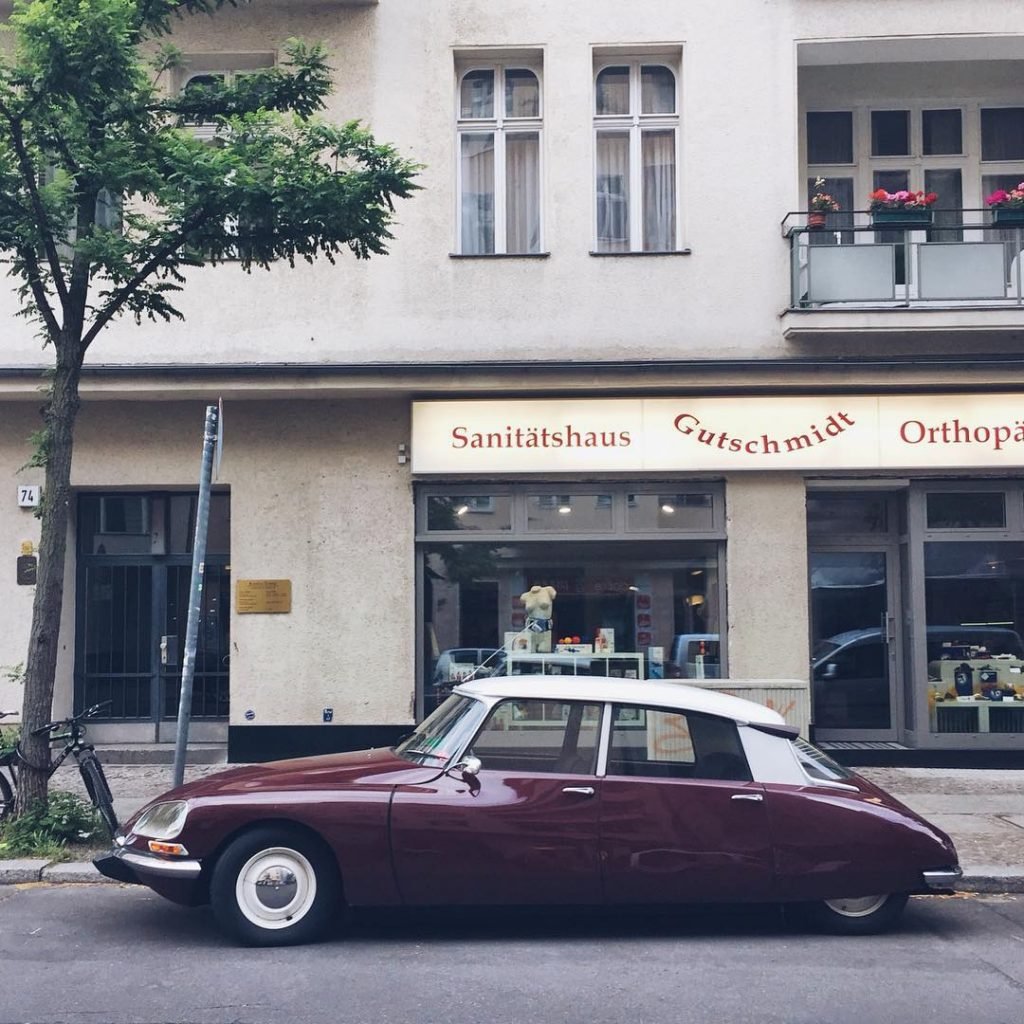 You visited Cuba this year. How did you find Cuba from a photographic perspective?
Oh yes, I went to Cuba twice this year, I spent 6 weeks in total there and this is the place to be if you are a salsa dancer and a photographer, especially when you have a thing for vintage cars and architecture like I do. I fell in love with Cuba immediately, and I know I will be back soon!
The thing about Cuba is: it almost doesn't matter where you point your camera, it will always be a great photo! I would definitely recommend Havana, especially Old Town of Havana. In every city which is located on the coast there is a so called "malecón" (pier) where Cubans meet and spent their evenings with friends and usually as well a bottle of rum and for sure loud music will be involved too.
So back in Cuba I consciously try to have people in my photos (which I usually don't like). I especially remember finding this beautiful staircase at the main bus terminal in Havana and there was this older Cuban man sitting on the staircase directly under the sign saying "do not sit in the stairs".
I also loved the reflection of palm trees and people enjoying themselves at Cienfuegos malecón, I got this shot just a couple of days after Irma hit Cuba and it's one of my favorite photos from Cuba. So, if you are one of the numerous persons who want to go to Cuba I can say: Do it, you will love it!
What would be your top tips or words of wisdom for other mobile photographers to help them take better photos?
I would recommend reading a lot about mobile photography to get started, there are great free resources out there that explain the mobile phone cameras in detail. You need to have a good knowledge of the rules of composition and photography, so try to learn as much as possible about basic rules of photography. Next, find a way to display your photos. I find Instagram a great platform for that and share your photos there and interact with other mobile photographers and learn from them.
I find it inspiring to be able to talk to fellow Instagrammers and I love to explore new areas together, or I get inspired when I see a photo that I really like which makes me want to shoot this for my own feed.
I would also recommend joining a community of photographers. I personally joined 52Frames about 2 1/2 years ago and they will send you a theme each week which keeps me going to want to shoot. We also have a great Facebook group where you can ask every question about photography and you will always find a lot of inspiration and a lot of great photography. I can also recommend following @jj_mobilephotography on Instagram because they display only mobile photos and offer regular challenges as well.
In the end, it's important to take photos as much as possible and just keep shooting. I recommend looking at other photographer's photos and analyze them, why do you like them, is it about the composition, the edit, the storytelling etc.
Tell us about a three of your favourite photos and the story behind them?
I was in Stuttgart (a city in the south of Germany) for a salsa festival and there was not much time to explore the city during this weekend. As usual, I checked Instagram to see what interesting places could be found in Stuttgart. I remembered this beautiful library which I had seen so many times before and knew this was my chance to photograph it. Lucky me, the library was pretty close to my hotel which meant I could make it to the library in about half an hour. What can I say: it is as beautiful as it appeared on the photos that I had seen before. I spent about half an hour in the building trying to get no people in my photo which was really difficult because it had so many different levels and there were always people walking into the shots. Eventually, I made it and got a photo without people during opening hours.
I am a salsa dancer as well and this year in March I finally flew to Cuba to dance Salsa there. On my first day in Havana I met with a friend from Berlin who was there as well and we explored the city by walking around. Since I have this thing for vintage cars, Cuba is my personal photographic heaven and when I saw this blue beauty I couldn't resist and needed to photograph it. What I especially like about this photo is that you can see a whole street scene with the typical Havana buildings. I got this photo printed and it's now in my living room together with another photo of a Cuban vintage car.
I took this photo on my way to work, it's one of the most important sights here in Berlin, the Brandenburg Gate. It symbolizes the Fall of the Wall in 1989 and I still can't get enough of getting different versions of the Gate (you will find it frequently on my Instagram account). This photo was inspired by another Berlin Instagrammer called @zerletti who invented the so called "Zerletti leaf", it's a joke amongst Berlin Instagrammers to take leaf photos during autumn and again I couldn't resist when I saw the scene. It appears like autumn, but it was taken in February which is winter here in Germany.
Where can people connect and follow you on the web?