Jim Perdue is an award winning iPhone photographer who lives in Monterey, California. By day he works in Interpretive media, installing interactive museum exhibitions. Looking through his portfolio of work Jim captures a varied range of subject matter in a variety of differing styles, most notably the beautiful images he captures of aquatic sea life. Jim is also the founder of the App Lab mobile photography community.
His work has seen him win several awards including four honorable mentions in "The Darkness" and "Nature" categories in the 2014 Mobile Photography Awards. He received the Leica Mark of Excellence from ishotit.com Black and White photo competition and won the iPhotographer Magazine cover contest in July 2015. He has also had his work featured in gallery exhibitions including the Mira Mobile Prize "Streets of the World" 2015 gallery show, the mDAC 2015 – Mobile Photo Art Exhibition and the "Avatars" Self-portrait exhibition curated by the smART Gallery and Mobile Camera Club of Paris.
Here Jim talks to us about his photography what inspired him and his approach to the sea life photos he takes.
How were you first introduced to iphone photography and what has driven your interest in mobile photography since then?
I was an early adopter of the 1st generation iPhone in 2007. People who have been in mobile since the beginning will remember how bad the 1st gen camera was with it's fixed focus and 2MP resolution. In addition, the App Store didn't even exist, so there was no post processing back then. That early camera didn't do us any favors, but I could certainly see the potential.  Then, in 2008, I upgraded to the iPhone 3G, the App Store opened, and my mobile photography really took off from there.  Since then, I've owned every model of iPhone right up to my current iPhone 6.
How would you describe your photographic style?
I would describe it as "Experimental Mobile". Almost all of my photo results are achieved through post processing in apps. However, I tend to use my apps in ways that they probably weren't meant to be used and I'm constantly trying new things. As a result, I end up with a lot of one-offs and short series photos. In other words, I'm all over the place. I would also describe myself as a mobile purist: Everything I do is done using only my iPhone. I never use computers, tablets, or desktop software like Photoshop or Lightroom. When I finish a piece, I upload it directly from my phone, so my process remains mobile from start to finish.
Looking at your portfolio of work on Instagram and Flickr there is a series that looks at jellyfish and several other aquarium based images. Tell us about this series?
That is my "Living Art" series. An ongoing collection that I have compiled over the last few years.  Here's the backstory; I'm extremely lucky to live near a really great aquarium. About four years ago I started photographing the jellies and posting them to social media. At the time I had no idea how popular it would become. Today, they are some of my most liked and shared images.
Did you face any challenges such as low light levels when shooting that series?
There was definitely a learning curve to shooting jellies. The iPhone doesn't do well in low light, and to make matters worse, the subject is in constant motion as it pulses through the water. Over time I developed a technique where I am able to single out a jelly and track it through the water while shooting. Using this technique I am able to get photos that are fairly well focused. However, for every photo that I publish, there are probably 100 that I deleted because they just didn't come out well. The real work in these photos is done in post processing.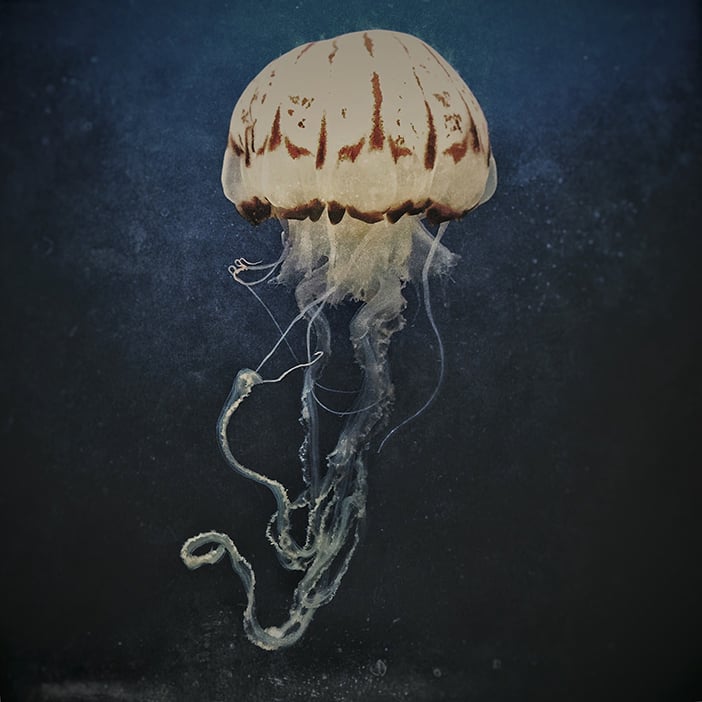 Tell us about the post production editing?
I shoot with the native iPhone camera. Post processing varies greatly through the series but one constant is SnapSeed. It's the first app I use on almost all on my photos. I do basic light and color enhancement, spot repair, and blur effect in SnapSeed. Then, I decide how I'm going to stylize and finish the piece. For photos where you see a bokeh or light ray effect, I'm using LensLight and LensFlare by BrainFeverMedia. For more textural or painterly pieces, I'm using a saved formula in either Mextures or Stackables. I use one or the other depending on what I'm trying to do. The formulas are a starting point and get adjusted for each piece. I almost always finish a piece with dodge/burn in PhotoToaster.
Are there any photographers that have been a big influence or inspiration to you?
There are so many that the list would be extensive. I'm constantly being inspired by what people are doing in the mobile community.
Tell us about a few of your favourite photos and the story behind them?
Sole Survivor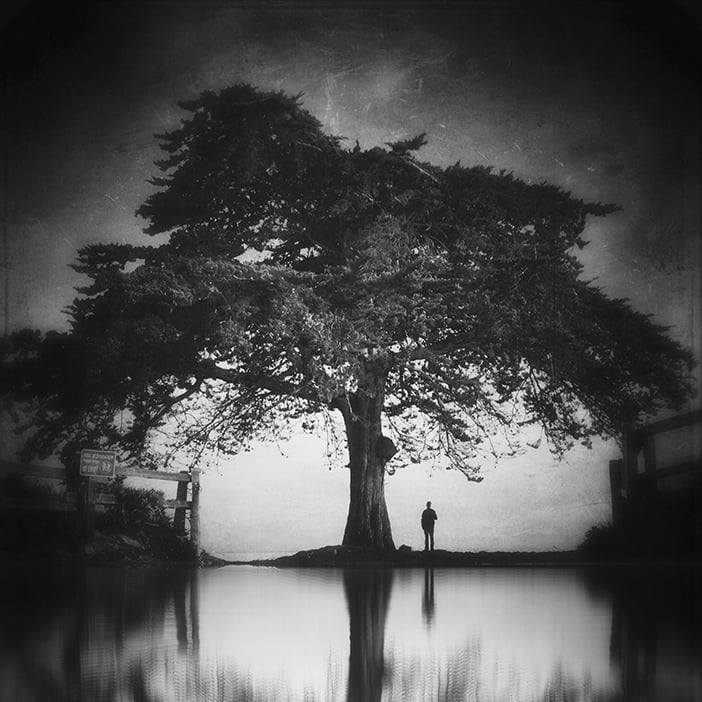 This piece titled; "Sole Survivor"  is one of my favorites. It's  a composite image created using Superimpose and Reflect app. The texture was added in Stackables. There's not really a story behind it, I was just going through some photos in my camera roll and noticed that the silhouette of the man on the hill and the shot of the oak tree fit together perfectly. I love the bent perspective.
Dark Carnival

Here's another one of my favorite pieces titled "Dark Carnival".  I used Superimpose to create a pseudo "Color splash" effect. The blur and dodge/burn effects were done in PhotoToaster and the texture was done in Mextures.
Minimalist 3

This photo is part of a series of minimalist pieces that I did last year. The paper boat was shot on a white background then processed using SnapSeed. The water effect was done using Reflect app. The result is a very simple composition with a Zen-like quality.
What would be your top tips or words of wisdom for aspiring mobile photographers or artists?
Find your niche. Find your voice. Develop your style and be consistent. Find your community and contribute on a regular basis.
Connect with Jim Perdue