Tripods have always been an handy piece of photographic equipment. They provide a steady and stable hold on the camera making them essential for shooting long exposure, in low light or situations when you just don't want the camera to move.
Don't think though, that the tripod is for sole use with a big DSLR camera, there are a growing number of iPhone tripods and mounts which now make it possible for iPhone photographers to capture light trails, low light conditions or the odd impromptu selfie. When taking a self portrait, an iPhone tripod will let you position the phone farther away from you than you could hold it, and you can also tilt it to the perfect angle. Capturing a shot in low light requires the phone to be kept as still as possible, and a tripod cuts down on camera shake. Tripods are also great for positioning your phone in a hard-to-reach angle or for taking long-exposure photos.
When you're photographing with an iPhone, you'll want a portable tripod instead of a more heavy-duty model designed specifically for DSLRs. At the same time, you need a tripod that will keep your iPhone safe – you likely rely on your phone for much more than photography, and you can't risk it for the sake of a photo opportunity.
With so many iPhone compatible tripods to choose from, and with each tripod option offering something slightly different, it's difficult to narrow down what is right for you. Here, we have compiled a list of 11 of the best iPhone tripods available and a guide to choosing the right tripod for your iPhone photography.
Simply the Best
What makes a great iPhone tripod? Durability and quality; portability; and custom features, like quick release levers and range of adjustability. We've listed several models worthy of your attention. Each has its own set of pros and cons, so check out our run down of 11 of the best iPhone tripods and camera mounts on the market at the moment.
Square Jellyfish Jelly Grip Tripod Mount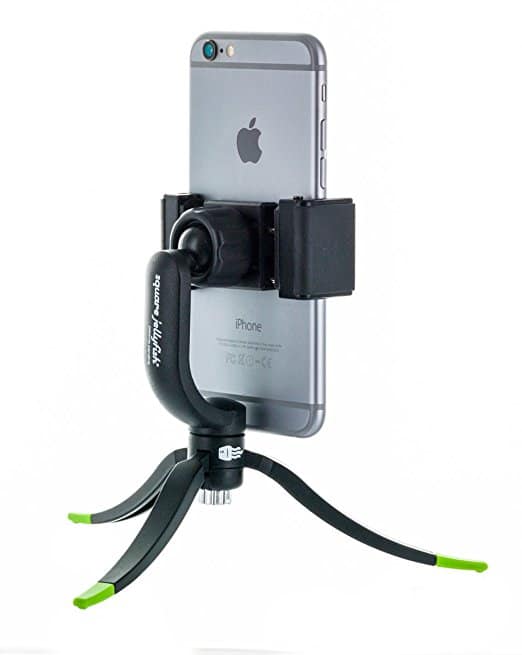 The Square Jellyfish Jelly Grip Tripod Mount is small and light enough to stash in your backpack or pocket. This is Square Jellyfish's third generation tripod mount, and they've moved the ball joint from the mount's base to the center of the phone for improved balance and positioning. The ball joint tension can be adjusted, too.
The main drawback of this product is that the plastic threads can cause reliability problems, which vary between customers and smartphone models. The more frequently you use the mount, the more of a problem it can become. The company has an alternative mount made from metal that some users have better luck with.
More Info on Amazon
JOBY GripTight ONE Micro Stand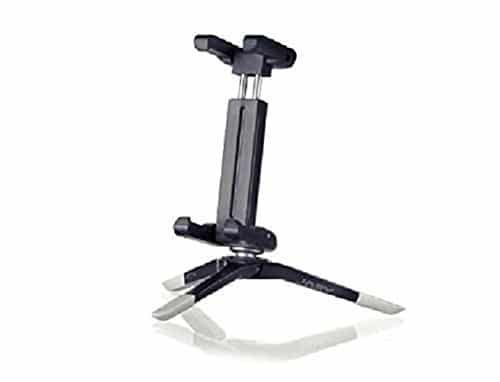 The JOBY GripTight ONE Micro Stand can be used on smartphones with or without a case in order to keep your phone upright in any shooting situation. Compact and foldable, the mount is small enough to fit in your pocket or attach to a key ring. The spring-loaded grip makes it easy to get your phone into or out of the mount in seconds.
Though this stand is durable and comes with a warranty, larger phones (like large Android models) may be more stable with bigger tripods, like the Square Jellyfish Jelly Grip Tripod Mount. You can also try removing your phone case if it's too overpowering for the stand.
More Info on Amazon
JOBY GripTight ONE Tripod and Mount System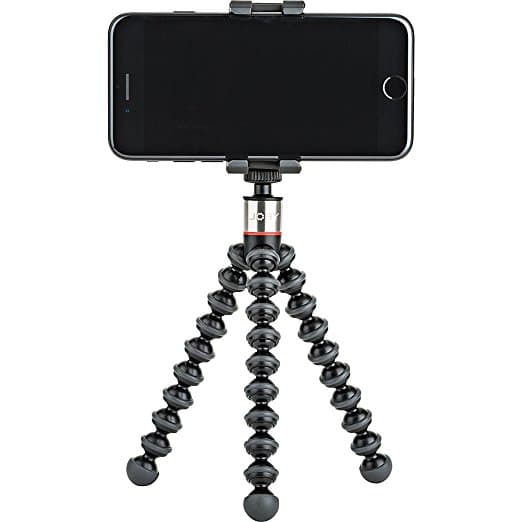 The JOBY GripTight ONE can be used with your iPhone whether you have a case on it or not. This universal phone holder system has a variety of mounting options, including the magnetic GorillaPod (a tripod with adjustable legs) and the Micro Stand. The tripod's rubber foot grips and the mount's wide jaws make it possible to stabilize your iPhone on practically any surface.
Order the mount only (which can attach to just about any tripod) or get it bundled with other tripod options. JOBY is know for its quality tripod and mounting products, so the only drawback with the ONE system is that you can't get everything bundled together.
More Info on Amazon
JOBY GripTight PRO Phone
The JOBY GripTight PRO Phone clamping mount and optional tripod will securely hold your smartphone in any shooting situation. The difference between this JOBY product and the others on this list is its higher quality – the premium build is made from ABS plastic, TPE grip pads and stainless steel plates.
Though this tripod and mount system isn't as small as the others on this list, its slightly larger size is what makes it a bit more reliable and durable. Plus, it can even support some DSLR models if you need a tripod in a hurry (note that frequent use with a DSLR is not suggested).
More Info on Amazon
Manfrotto PIXI Mini Tripod
Lightweight and portable, the legs of the Manfrotto PIXI Mini Tripod even look sturdy and durable. If you need to move your camera around while shooting, close the legs to use the tripod as a grip. A key feature of this tripod is the rapid push button lock system for head adjustment, which lets you position and lock the ball head in one movement.
Even though the PIXI is undoubtedly a solid tripod for flat surfaces, its main disadvantage is that it's not adjustable in the same way the GorillaPod is. We love this tripod so much, though, that we'd suggest getting it even if you need a second tripod with wrapping legs.
More Info on Amazon
Manfrotto Befree Aluminum Travel Tripod
The Manfrotto Befree Aluminum Travel Tripod is both lightweight and durable, perfect for photographers on-the-go. The tripod can handle up to 4 kilograms of weight, which means you can mount your camera even if you're using an add-on iPhone lens (and it can support some DSLRs as well).
This tripod has a couple of key features, one of which is the quick folding system for easy setup and break down. The quick release plate allows for immediate setup, and when you're ready to pack up, the legs perfectly fold around the head. It also comes with a padded shoulder bag for comfortable transportation.
More Info on Amazon
Pocket Tripod
The Pocket Tripod is even smaller than it sounds – it can fit in your wallet, not just your pocket, and is the size of two stacked credit cards. Store it flat, then twist and flip its modules to transform it into a tripod. It can be used whether or not your phone has a case on it, and it will hold your device in either portrait or landscape position.
The website is serious about finding the right fit, and if you can't seem to make heads or tails of the many options to choose from, request a "fit card" for measuring. Meant for flat surfaces, it may not be a great option for travel or adventure photographers, but it's possibly the most convenient tripod for traditional use.
More Info on Amazon
Weighing Up the Options
Now that you've seen what's out there, let's take another look at our checklist for narrowing down your options.
Quality
JOBY tends to corner the market when it comes to quality tripod products, particularly for smartphones, but if you have a larger phone, like a big Android model, you may want to opt for the Square Jellyfish product instead. However, if you're going to be using the tripod mount frequently, consider upgrading to the metal version, or purchase either the JOBY GripTight PRO Phone or the Manfrotto Befree Aluminum Travel Tripod.
Economy
If you have a small budget to work with, the Square Jellyfish Jelly Grip Tripod Mount and the Manfrotto PIXI Mini Tripod are both worth considering. Both products are sturdy and allow for great positioning, though they can only be used for regular mounting as they don't have adjustable legs that wrap around different surfaces. For a few more dollars, you can have the Pocket Tripod, which is also intended for flat surfaces and is the most portable option.
Features
The Manfrotto Befree Aluminum Travel Tripod has the best folding mechanism, which is ideal for photographers who need to get setup for shots quickly and head off to find the next one immediately after. It also comes with its own carrying case, which is useful if you know you won't have extra room in your luggage. If you tend to shoot from difficult angles, or if you want a second tripod just for flat surfaces, we can't think of anything more convenient than the tiny, flat Pocket Tripod.
4 iPhone Camera Mounts For Your Tripod
Shoulderpod S1 Professional Smartphone Rig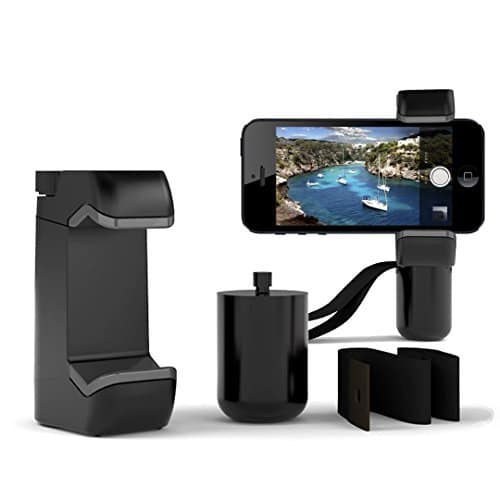 The Shoulderpod S1 Professional Smartphone Rig has three distinct elements and functions: Tripod Mount, Filmmaker Grip and Traveler Stand. The adjustable pressure screw and wide rubber pads hold just about any smartphone model snugly; the rig can connect to virtually any tripod; and the black matte finish cuts down on glare.
Unlike some of the other tripods on this list, the Shoulderpod S1 is on the bulky side, making it too large to carry in your pocket. It also doesn't have a quick release mechanism. If space isn't an issue, though, and you don't mind taking a little extra time to setup your shot, this rig is one of the best multi-use mounts available.
Best For: Professional, carefully-composed iPhone photography.
More Info on Amazon
Glif from Studio Neat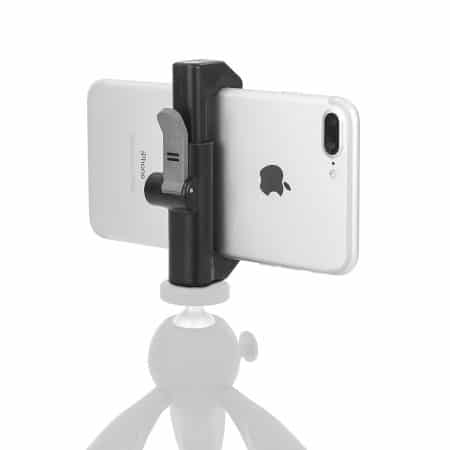 The Glif tripod mount for smartphones will hold your phone in either portrait or landscape position, and it can be used with or without a case. The quick release lever lets you quickly load or remove your phone, and when you close the lever, it will automatically tighten around the device to secure it.
Instead of just one tripod mount, it comes with three, letting you either play with phone orientation or attach additional accessories, like an external flash. If you opt for the Full Set from Glif, you'll get two extra products to make shooting on-the-go easier: a hand grip and a wrist strap.
Best For: On-the-move photography and videography that requires add-on tools.
More Info on Amazon
Manfrotto Mount for Universal Cell Phone
This universal mount from Manfrotto has silicone rubber pads for a safe, secure grip, plus a self-standing bracket along its back. Any smartphone up to 3.2 inches wide can be used with the clamp.
While the mount can be used with a smartphone case, some customers have trouble with extra-thick cases. It also doesn't have a quick release mechanism, so you'll have to manually remove your phone from the clamp.
Best For: Attaching your phone to a tripod for day-long shooting (since removing it from the clamp isn't as easy as having a quick release), or setting it up as a table base.
More Info on Amazon
JOBY GripTight ONE Mount
The JOBY GripTight ONE Mount is similar to the Manfrotto Mount for Universal Cell Phone in that it's a simple, straightforward monopod, tripod and selfie stick mount with a standard attachment. The main difference is that the JOBY Mount has easy in-and-out access thanks to the spring-loaded grip.
The JOBY mount is highly portable, its patented design folding flat and attaching to a camera bag or key ring. Like the Manfrotto mount, it can also be used as a sturdy table base if you don't need to attach it to a tripod.
Best For: GorillaPod owners who want to upgrade to a larger stand (for many customers, the stand that comes with the GorillaPod is too small for larger phones).
More Info on Amazon
Final Thoughts
Professional photographers aren't the only ones who can use expert-grade tools. Whether you're starting to experiment with iPhone photography or you're ready to go all-out on a major equipment upgrade, we believe these are some of the best iPhone tripods and smartphone camera mounts that will help you find new ways to setup and capture your shots.
*All product prices came from Amazon or the manufacturer and were correct at the time of writing.