One of the things I love the most about smartphone photography is the way that you can shoot, edit and share your photos all from one device.
When it comes to editing photos, sooner or later, you'll find yourself needing to retouch a photograph. For this, you'll need to turn to a photo retouch app to help you remove unwanted distractions from your image or apply enhancements.
In this article, I'll be taking a look at some of the best retouch apps available on the App Store and Google Play Store, which will allow you to make photo editing simple on your mobile phone.
TouchRetouch
TouchRetouch is one of the most popular photo retouch apps for iPhone and Android. I've personally used TouchRetouch for many years and found it to be a great tool for removing unwanted elements from my photos with just a few taps.
The Lines tool allows you to remove simple lines such as telegraph wires or fences. The clone stamp function lets you replace parts of your photo with other sections from the image – it is a great tool for retouching photos. Meanwhile, the Meshes function will detect objects like mesh fencing and remove them.
Pros
Easy to use
Excellent at removing unwanted elements from photos
Lines tool for removing simple lines like telegraph wires or fences
Clone stamp function allows you to replace parts of your photo with other sections of the image
Meshes function to detect complex objects such as fencing and easily removes them
Cons
Free (but with in-app purchases)
Limited editing functions compared to more powerful apps
TouchRetouch is a dedicated retouch app, so doesn't offer any other filters or tools, such as color correction.
Adobe Photoshop Express
Adobe Photoshop Express photo editor is one of the most comprehensive retouch apps available on iPhone and Android. It includes all the retouching features you would expect from the desktop version of the program, including tools such as blemish removal, saturation editing and red-eye correction. The mobile version provides the same features in an easy-to-use manner.
As well as the usual editing features that you'd expect from a photo-editing app, the app version of Photoshop also offers tools such as curves and layers, which allow you to make highly detailed retouching adjustments and selective editing to your photographs.
The Photoshop app has a wide range of photo editor features, making it one of the best options for editing your photos on the go. Using its Lighten tool and Smooth tool, you can easily whiten teeth, brighten skin tone or quickly even out the skin making it silky smooth. Meanwhile, the Healing brush will make getting rid of spots and blemishes simple.
Pros
Intuitive user interface
Comprehensive retouching features such as blemish removal, saturation editing and red-eye correction
Curves and layers allow for highly detailed retouching adjustments
Lighten tool and Smooth tool to whiten teeth easily, brighten skin tones or even out the skin texture
Healing brush to get rid of spots and blemishes quickly
Cons
Limited filters compared to other photo editing apps
Not as user-friendly for beginners
AirBrush – retouching made easy
AirBrush is a great retouch app for both iPhone and Android users that offers an array of retouching options that can be used to quickly and easily retouch any photo. With Airbrush, you can remove blemishes, smooth out wrinkles and retouch skin, whiten teeth, adjust lighting, retouch eyes and much more. This makes it a perfect choice for the selfie lover or those who need to retouch portraits.
The app is really easy to use thanks to its intuitive interface and the fact that it's free to download makes it a popular choice amongst users.
Pros
Intuitive user interface
Comprehensive retouching features such as blemish removal, saturation editing and red-eye correction
A decent selection of filters
Cons
More geared towards the selfie lover rather than more serious photographers
Free to use but does require in-app purchases to unlock more editing features and save your photos
Facetune
Facetune is another cool photo retouch app developed by Lightricks, the guys behind apps like VideoLeap and PhotoLeap. Facetune is available on iOS and Android and is an incredibly powerful retouching app that allows you to retouch portrait photos with ease.
Using Facetune, you are able to retouch skin tones, remove blemishes, retouch eyes and teeth, even out the hairline as well as smooth out wrinkles. Basically, anything that will help you look pretty again.
One of the stand-out features in Facetune is the Relight tool, which lets you adjust the lighting in your photos to create dramatic effects.
If you are a selfie lover, then Facetune is a must-have tool.
Pros
Intuitive user interface
Comprehensive retouching features such as blemish removal, saturation editing and red-eye correction
Ability to adjust all aspects of a face such as the nose and jaw-line, even out the hairline, smooth out wrinkles and retouch skin tones and more
Includes an AI Enhancer tool
Cons
Free to download and try, but a subscription is required to use the app fully
Pixelmator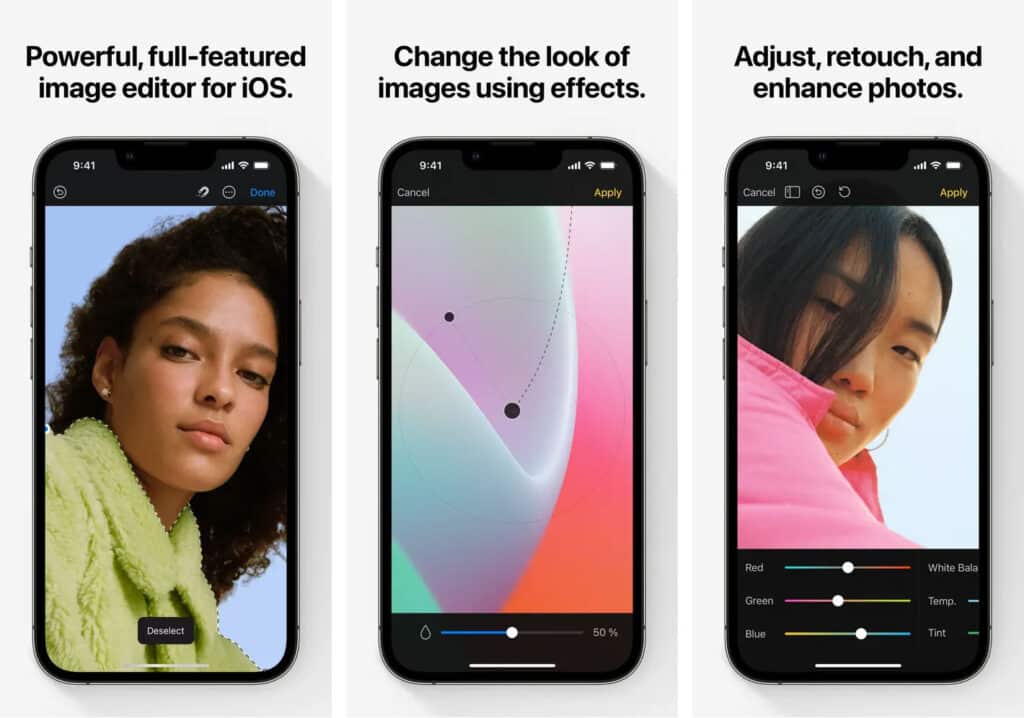 Pixelmator is a retouching app that is available exclusively on iOS devices. It retouches photos like a pro and helps you to quickly retouch your images without having to learn complicated retouching techniques.
Pixelmator has a cloning tool that allows you to remove unwanted objects or blemishes easily. The app also has an AI-driven auto colour correction feature that will quickly make color adjustments to an image. Pixelmator also includes over 30 pre-defined filters that will give your photos an instant new look.
Pros
Offers a range of advanced photo editor tools, including cloning tool, pre-defined filters and AI-driven colour correction.
Easy to use
Cons
Only available on iOS
Requires a subscription to get unlimited access
Download: iOS
Snapseed
No list of the best photo editing and retouching apps would be complete without including Snapseed. Snapseed is a photo editor app that has been developed by Google and is available on both iOS and Android devices.
Snapseed is one of the most popular photo editing apps out there. There are 28 tools and filters to choose from, which allow photographers to adjust all aspects of their images.
In terms of retouching tools, Snapseed has a number of tools that will help to remove unwanted objects and enhance portraits.
The built-in Healing tool is particularly useful for removing objects or blemishes, although if you need to remove more complex elements, then you might be better off using an app like TouchRetouch.
Snapseed also includes other retouching tools, such as the Glamour Glow filter, the Portrait tool and Head Pose. These will help to alter the shape of a face, lighten the skin tones or whiten the eyes and teeth.
Snapseed is the perfect all-round photo editing and retouching app.
Pros
Snapseed is completely free to use
Easy to use
28 tools and filters for adjusting aspects of images
Includes Healing tool to remove unwanted objects or blemishes
Glamour Glow filter, Portrait tool and Head Pose for retouching faces, lightening skin tones or whitening eyes and teeth
A great all-round photo editing and retouching app
Cons
The Healing tool can be tricky to use for the removal of more complex elements
There are many more photo retouching apps available in the app store but these are just some of the best retouching apps that I'd recommend checking out first. But what features do you need to consider when choosing a photo retouch app to use?
Choosing The Best Photo Retouch App For You
When deciding which photo retouch app is right for you, you need to consider a few factors. Firstly, what type of retouching do you need? Do you just want to make simple edits, or are you looking for more advanced features such as cloning and colour correction? What types of photos will you be retouching? Selfies, portraits or landscape scenes?
You should also consider the cost of the app. Many photo editing apps offer their basic features for free, while more pro-level features may require a subscription. And
Ease of Use
Next, you'll need to consider how user-friendly the app is. Even if the app offers top-notch features, if it's difficult to use, you won't make the most out of its potential. It's advisable to look for an app that provides clear instructions and tutorials to help you get up and running as quickly as possible.
Features
Different photo retouch apps come with different features, so it's important to think about what you require from the app beforehand. If you're doing basic colour correction and touchups, then less advanced apps might suffice. However, more sophisticated users may want to opt for more detailed programs, such as Adobe Photoshop Express or Snapseed, that offer more powerful tools for enhancing photos, like reducing noise, graininess and adding preset filters.
Price – Free or Paid
Finally, cost should also be taken into consideration when looking at photo retouch apps. Most simple apps are free or offer a basic package with limited features in exchange for affordability. However, there are apps out there that offer more comprehensive subscription plans which are tailored specifically to hobbyists and professionals alike.
Do your research beforehand on the different pricing models before making a decision. If an app is likely to be a staple component in your workflow, then it may be wise to invest in a premium plan. Especially if it means that you gain access to better performance in terms of both usability and the choice of more advanced editing tools.
However, if your photo editing requirements mean that you'll only need retouching tools once in a while, then going for a free photo editing app may be a better choice for you.
So, Which Are The Best Photo Retouch Apps?
With so many photo retouching apps in the app stores, it can be difficult to know which is best for you. The above list will hopefully make it a little easier to make that decision. To help you a bit more, my recommendations would be as follows.
If you are looking for a good overall photo editing app with photo-retouching capabilities that are more geared towards professional photographers, then you can't go far wrong with Adobe Photoshop Express.
For something that offers a comprehensive set of tools but is free and easy to use from the get-go, then Snapseed should be your go-to app.
If you are looking at retouching selfies or portraits, then you may be better served by photo retouching apps like Facetune or Airbrush, with Facetune being one of the most popular photo editing apps in this category.
If you are looking for a good photo editing app that will allow you to remove objects, then I highly recommend TouchRetouch. It is an excellent app that is solely dedicated to the task of removing an unwanted object from a photo.
One final thing to say is that out of this list, the app that's right for you will depend on you and your requirements. The best way to discover the answer to this question is to try them all out and see which one best suits your needs.