The theme of this this week's showcase challenge was 'Beauty'. Beauty is something that comes in many forms and as they say; Beauty is in the eye of the beholder. This week's selection illustrates a varied mix of images that show how different photographers have approached this theme. From Armineh Hovanesian, Dina Alfasi, Rahul and Richard Donelan's portraits to Joseph Cyr and @lajateja's landscapes or @shaw13218's macro shot that perfectly shows the fine detail of an autumnal leaf. All photos in this week's selection (and all those submitted to this weeks challenge), perfectly illustrate the theme of beauty.
Featured photographers this week include: Armineh Hovanesian, Elaine Taylor, @shsserg, @shaw13218, Sarah Diamond Vale, Richard Donelan, Rahul, Dina Alfasi, Zoya_zen, Joseph Cyr, Lou Ann Marks, Laurence Bouchard, @lajateja, Evelyne Sieber, and @detailsofberlin.
Take part in next week's showcase challenge
The theme of next week's showcase will be 'Curves'. For this challenge think arches, spirals, and winding roads or pathways. So start sharing your best smartphone beauty inspired photographs by using the #mobiography_challenge_9.
The best ones will be featured in next weeks showcase, so get sharing now.
"It's quiet now. So quiet that can almost hear other people's dreams." ~ Gayle Forman
'"It's quiet now. So quiet that can almost hear other people's dreams." ~ Gayle Forman' by Armineh Hovanesian – "This photo was taken at a photo meet I go to here in L.A. This meet is amazing since it has all sorts of models, smoke bombs, fire eaters, performers, etc.  This photo was taken using my iPhone 7 Plus using the native camera. The editing was done in Snapseed to give it a more dramatic look."

We will start today with a lookup from Gropiusbau
'We will start today with a lookup from Gropiusbau' by detailsofberlin – "I was invited by the museum "Martin Gropius Bau" to check out their exhibition about Martin Luther and when I entered the building I saw this beautiful lookup. I was trying to capture an interesting angle and needed to wait for the people in the second floor to walk out of the way because I wanted no people in my photo. I edited the photo first using Enlight, I remember I also corrected the inclination on this photo and adjusted the brightness more than I usually would. After that, I went into VSCO and applied my favorite filter A5 and faded the photo just a bit. "

Untitled
'Untitled' by Evelyne Sieber
Sunrise at the Lake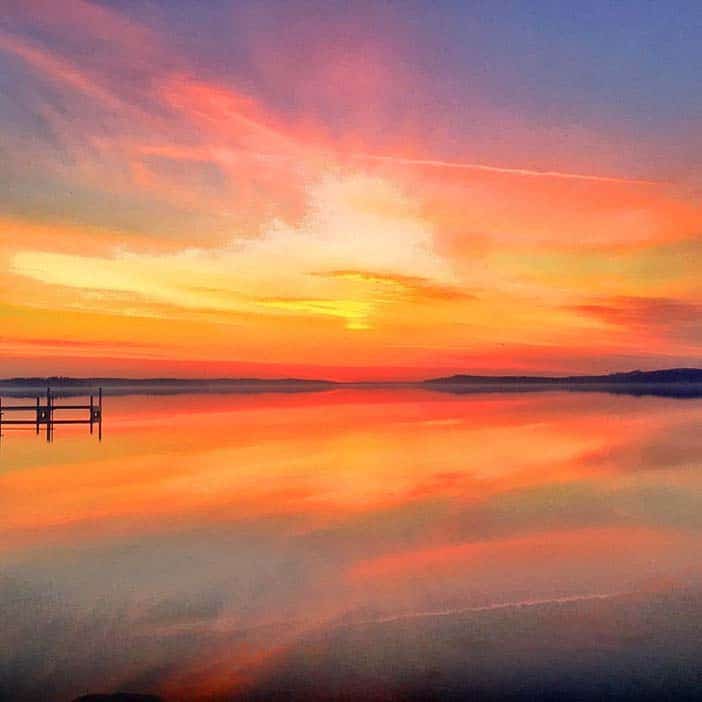 'Sunrise at the Lake' by lajateja – "This photo was taken in the early morning at Lake Geneva in Wisconsin. A group of us had gone on a women's weekend retreat to a wonderful spa there. I was doing a 365 iPhone photography challenge at the time, and my friends happily agreed to join me before dawn to take photos. The setting at the lake was so serene and tranquil, with the sunrise reflecting on the water, and with hardly anyone else there so early in the morning. Whenever I look at the photo, it reminds me not just of the beauty of the sunrise but also of the beautiful friendships in my life.
I used the vividHDR app on my iPhone 6 to take the photo. I then edited it with the Enlight, Snapseed, and Instagram apps on my iPhone to draw out the colors and ambiance a bit more. "
Pink wall
'Pink wall' by Laurence Bouchard – "'Pink wall' was shot in Tokyo. It`s kind of a famous wall amongst Tokyo's Instagram community. I wanted to catch either a businessman or someone with an umbrella passing by. The good thing about Japan is umbrellas are used pretty much all year round by women – I think it's got something to do with the "Geisha" thing and not wanting to get a tan. For me, it's strange because it's the opposite in the uk.
Anyhow, on this particular day I waited quite a while and hardly anyone passed. Just before I had to leave, this young lady started to walk towards me. Amazingly, she stopped directly in front of me, pulled out an umbrella and just as she was extending it and walking away I snapped this shot. It's funny as she was wearing these pastel colours which perfectly complimented the pink wall backdrop.
I remember reading a Mobiography blog back in December 2013 (24 Mobile Photographers til Christmas: Richard Koch Hernandez) where Koci described this kind of thing as `a gift from the photographic gods above` and, for me, it certainly felt like it. 99% of the time it doesn't happen so when it does it feels great. I then made a few edits in Snapseed."
Thistle Flower at Sunset
'Thistle Flower at Sunset' by Lou Ann Marks – "When I went out to take sunset photos one evening I noticed this thistle blossom on the bank of our lake shore. I got up close and set my focus on the blossom so the sunset in the background would be softened. It has minimal editing, only a small amount of color enhancement on the native iPhone app. I have a passion for sunsets and take all of my photos on my iPhone 6."
Cottonwoods
'Cottonwoods' by Joseph Cyr – "I took this photo while on an evening run after work. There's a spot in the desert, near where I live, where cottonwood trees line a seasonal creek that flows out of the mountains. Instead of the usual cactus scenery, this group of trees stands out as an unexpectedly pastoral change from the more typical Arizona desert landscape. Autumn colors peak late here – usually in late November through December. For several years now, I've observed the change of seasons in this particular stretch of desert that has become one of my go-to running spots. The evening light glows here, and the proportions of these trees are just so pleasing; I breathe more deeply every time I pass by here. I took the photo with my iPhone 6s, and just used Snapseed for slight exposure correction and vignetting."
Orange mood on rainy Friday!
'Orange mood on rainy Friday!' by Zoya_zen – "This shot was taken almost by accident. We had several hours in Kyiv, in the Ukraine, between our trains and we went to our favourite place. This place is well known, but a very few people notice it. I was attracted by simplicity, geometry and, of course, the color. The mood was really great. The orange color of this wall perfectly expresses that mood. I think being in a good creative spirits is the best recipe of success in photography."
Roots, The color version
'Roots, The color version' by Dina Alfasi
My clicks
'My clicks' by Rahul – "Nashik is an ancient holy city in Maharashtra, a state in western India. It's known for its links to the "Ramayana" epic poem. On the Godavari River is Panchavati, a temple complex. Nearby, Lord Rama was thought to have bathed at Ram Kund water tank, today attended by Hindu devotees. These photo is taken at the same place Ramakunda… The smile on the face of the Saint/Saadhu represents that happiness, peace lies in mind, not required branded clothes or luxury to live. I took this photo with the Apple iPhone 7 and used Snapseed for editing."
Exploring Dublin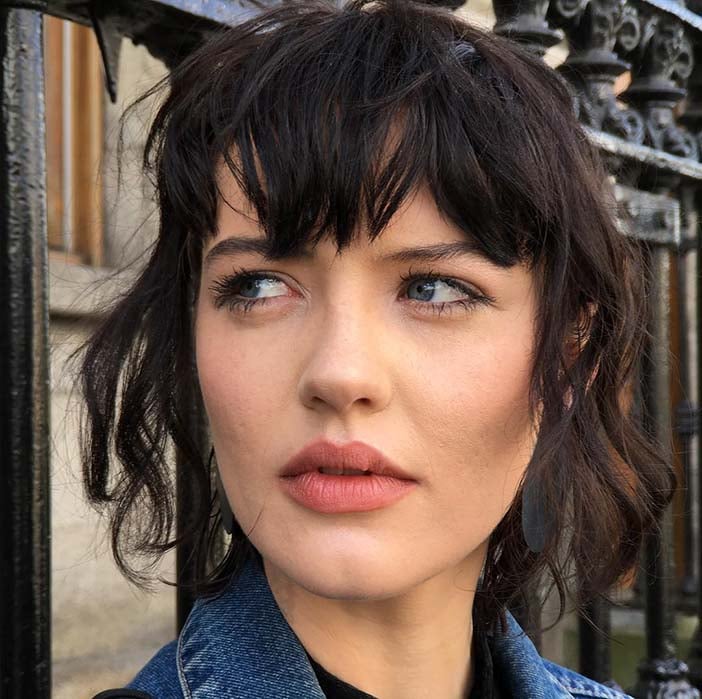 'Exploring Dublin' by Richard Donelan – "Fresh from speaking at Glen Mulcahy's, RTE Mojocon 2017, I took to the streets of Dublin early the following Sunday morning for a smartphone photowalk. I'd just switched back to using my iPhone after a couple of months full frame DLSR use relating to a project I'd done for Canon. Ambling along the Dublin quays, I happened upon the most striking vision standing at a very busy bus stop. It transpires that this was Artist and Model, Hazel Farrell (@hazeface on Instagram). Explaining that I was testing out the Zeiss Exolens 2.0x (thanks Zeiss), I asked her for a photo.  Rather than telling her how to pose, I suggested she might simply just forget that I was there and I'd snap away. I was amazed by how well the photo came out. This was snap 10 of 10 and her look suggests that she'd fully relaxed and forgotten about me by then. The quality of the natural light meant the photo only required minimal adjustments before posting it square to Instagram. Given the nature of the situation I could never have taken such a photo with a DLSR because it would've attracted way too much distracting attention for both me and the subject!"
Untitled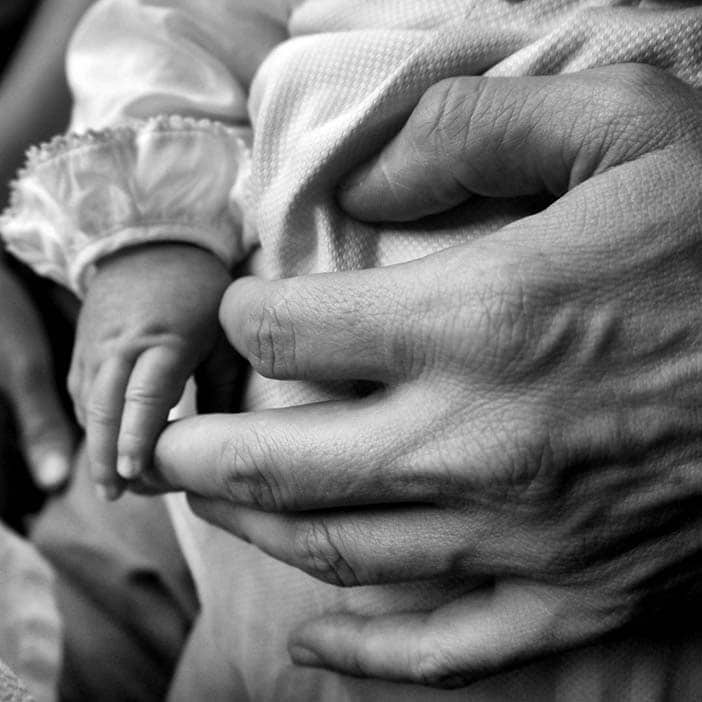 'Untitled' by Sarah Diamond Vale – "I love this photo. It has a big significance for me because the hands are from my younger brother and my neice on their baptism day. The name of the photo is "Generations"
I used a Huawei P10 to take it. In September this year, I entered it into the 24 hours in Bristol competition and won the first prize, and 3 other photos were on the honorable mentions. "
You're so vein
'You're so vein' by shaw13218 – "I've been taking advantage of the beautiful clear days and autumn colours to get out and about with a camera. Rather than the tree filled landscapes I had in mind when I ventured out this particular day, this was the stand out image for me.
Taken in the grounds of a local park, the warm tones of the leaf stood out against the almost black tarmac path and grabbed my attention. Closer inspection revealed the greater detail. I love how the veins create a pattern, and how the droplets magnify this in areas. I wasn't sure if I could capture this. I used the Camera+ app on a macro setting to take on iPhone 7 Plus and am really pleased with the detail. I enhanced the colour slightly to highlight the vein structure using the phone's basic editing tools."
On the beach
'On the beach' by shsserg – "It was a wonderful and unforgettable day. My wife and I went to the seaside for a weekend. It was early autumn. There were practically no people on the beach. We climbed up to the top of the cliff to see the sea from above. It was so adorably! The sea, a deserted beach, the sun that shined through the fog and relaxed people with colored umbrellas. I had no choice but to capture this moment. This day remained in my memory also because of this frame. Photo edited in Snapseed and VSCO as usual."
Billy. Bath time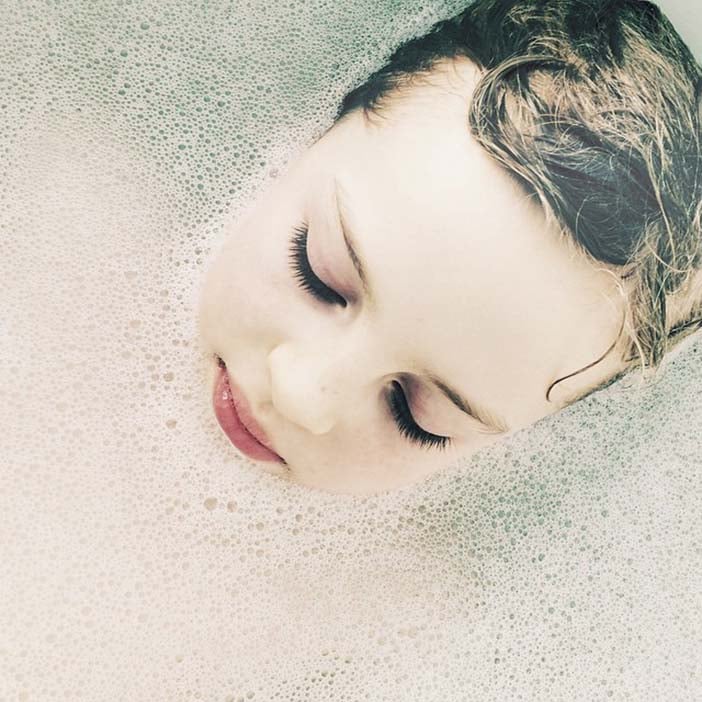 'Billy. Bath time' by Elaine Taylor – "This is my youngest son, Billy.  It doesn't seem that long ago that we would chat about his day as he took his nightly bath. Precious moments. Moments that are few and far between now.  I love this photo of him. He looks so beautiful with not a care in the world.
I shot it with an iPhone 5s through the Hipstamatic app and then cropped the border and made some minor adjustments in Snapseed."
Don't forget…
Remember, the theme of next week's showcase will be 'Curves'. Think arches, spirals, and winding roads or pathways. So start sharing your best smartphone beauty inspired photographs by using the #mobiography_challenge_9.

The best ones will be featured in next weeks showcase, so get sharing now.
If you haven't already done so, follow Mobiography on Instagram and hashtag your photos with #mobiography. Don't forget to sign up to the Mobiography email list to get the latest news and updates direct to your inbox.