The theme of this week's Mobiography Showcase Challenge was 'Reflections', and boy did you guys in the Mobiography community, once again deliver. This week's selection is just a small glimpse at the fantastic examples of reflection photography submitted of the challenge. The featured photos this will illustrate how reflections are everywhere; in water, windows, on the floor, in puddles, in fact all around us. As photographers we just need to open our eyes to the creative potential that can be had by incorporating them into our pictures.
Featured photographers this week include: Janet Hartmann, Agnesnoyer, Ann Hecht, Malani M Jones, Camhaynes, Charles Read, Chris_iPhone, Dany Gualtieri, Dina Alfasi, Eoin O Neill, Evelyne Sieber, iphonecameragirl, Jonathan Leahy, Karina Wisz, Laurence Bouchard, Liesbeth D Montreal, Lou Ann Marks, Marta Spencer, Fabio Morbec and Tikoi Kuitenbrouwer.
Take part in next week's showcase challenge
The theme of next week's showcase will be 'Beauty'. For this challenge think about people, animals, nature and the landscape that surrounds you. So start sharing your best smartphone beauty inspired photographs by using the #mobiography_challenge_8.
The best ones will be featured in next weeks showcase, so get sharing now.
Reflection in the Round
'Reflection in the Round' by Janet Hartmann – "While doing some errands about town, I turned the corner and there sat Herbie the Love Bug! I had been taking photos (with my iPhone, of course) of various Volkswagen Beetles that I happened upon. Herbie was thoughtfully parked on a busy corner of an auto repair station, right next to a line of red curbing. Begging to be admired. I parked my car and leaped out to take a few shots of Herbie, who was skillfully painted with daisies. This one is all about the red and roundness and reflections. Shot with an iPhone 6s+ and an Instagram filter."

Reflections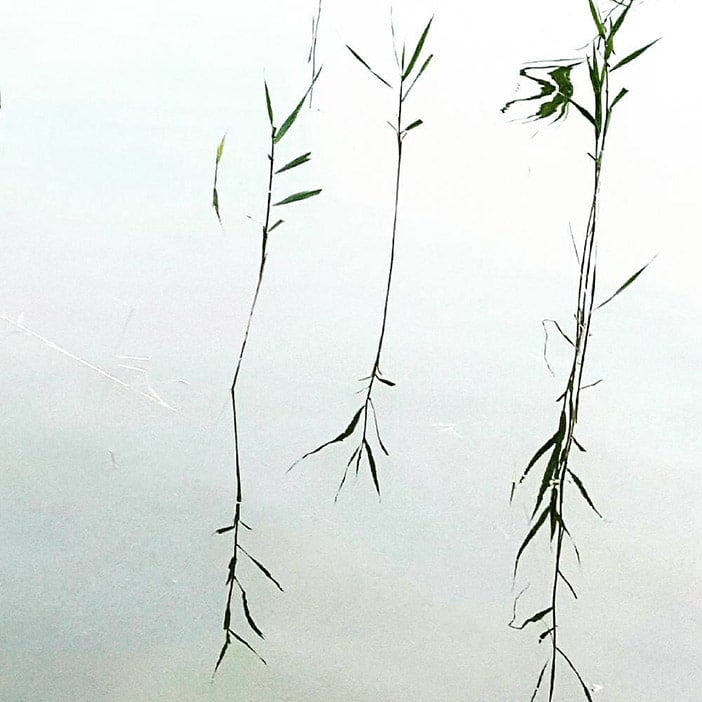 'Reflections' by Agnesnoyer – "We live surrounded by lakes and vineyards in Vully (Switzerland). With my little girl, I go every day out and the playground is next to the lake. So while she is throwing stones into the water, my eyes absorb the view of the water, the reeds, the light, the change in reflections, the sunrise, the sunset, the wind moving the waves, the rare stillness of the water and so on. I will take out my phone (S8) and try to take some pictures. A child makes you slow down in a fabulous way. I want to enjoy it.
In this picture, I cut out for the square picture these three reed, I enhanced the brightness and the contrast a little, not too much. I wanted to keep it as natural as possible, maybe with time, I'll develop a bigger need for colors or abstraction, I don't know. For the moment, my need is for monotones, for grey, for macro, for fog, for water and for mountains. "

This morning
'This morning' by Ann Hecht – "The gram of the day challenge was get low so that is what I did with an incoming wave with Tom in the distance. I do a lot of bending over. It helps to get people's heads above the horizon as the sun has moved out over the ocean. In the summer the light comes from the side. I edited the image in Snapseed to bring out the bubbles and emphasis the lovely light."

Happiness is…the beach and a dog
'Happiness is…the beach and a dog' by Malani M Jones – "This image was taken at Isle of Palms Beach in South Carolina in December 2016. On the weekends my son Jackson and I head to our happy place to experience and capture the sunrise and after the sun has come up we usually spend a couple of hours on the beach. On this particular morning, there was no sunrise to be seen as there was a terrible fog that had rolled in but it didn't seem to keep anyone off the beach! This silly dog ran up and down the beach at full speed and trying to capture him had become a personal challenge, I was so intent on capturing his movement that I didn't realize until we were home later and noticed I had  also gotten his reflection and that felt like a little bonus. Taken on my old phone an iphone 6S plus without any edits except for a square crop, a bit of repositioning for composition and a touch of lux added with the native IG editing tools."

Green light…
'Green light…' by Camhaynes
Water dissolving
'Water dissolving' by Charles Read – "There's a stretch of Atlantic coast at New Smyrna, Florida, where the beach is wide and flat, and the sand is packed densely enough to drive one's car at the shore's edge in a straight line for miles. On most days, broad sheets of water left by receding waves mirror sky-high clouds – perfect conditions for reflection on so many levels. Even after all these years of making photographs, I am still amazed how a fixed, two-dimensional image can reveal patterns of water and light too ephemeral to "see" with any real clarity in real time, moment to moment. On a recent visit here, I reflected on how these millimeters-thin miles of water, warmed by a hot sun, are perfect conditions for water to evaporate, dissolving into the atmosphere to create new clouds above, to be revealed again in the the endless movement of water below."

One Two Glitch – Part 1 of 3
'One Two Glitch – Part 1 of 3' by Chris_iPhone
Seyðisfjörður
'Seyðisfjörður' by Dany Gualtieri – "During my trip to Iceland I had the opportunity to visit this small and pretty village: Seyðisfjörður.
I was lucky: that day the lake was motionless. The mountains surrounding the village on three sides and the cloud-filled sky mirrored sharply in the water. To compose the photo I chose to put the horizon exactly in the center to emphasize the symmetry of the image. The photo was taken with an iPhone 6s and totally edited with VSCO, one of my favorite apps, to enhance exposure, contrast, and apply the A5 filter for better colors"

My favorite Guy
'My favorite Guy' by Dina Alfasi
Steamy windows
'Steamy windows' by Eoin O Neill – "I was in Galway in March and taking part in an organised photo walk armed with my iPhone 6. We had been on the streets for a couple of hours in the rain. Feeling soaked and slightly miserable I happened upon a cafe shop with a large front window. The window had steamed up from all the people inside and the cold wet weather outside. I snapped the photograph wanting to show the difference to inside and outside using the reflection.
I edited my photograph in snapseed leaving only the girl in the window in colour in complete contrast to the reflection of the outside world in grey. "

Untitled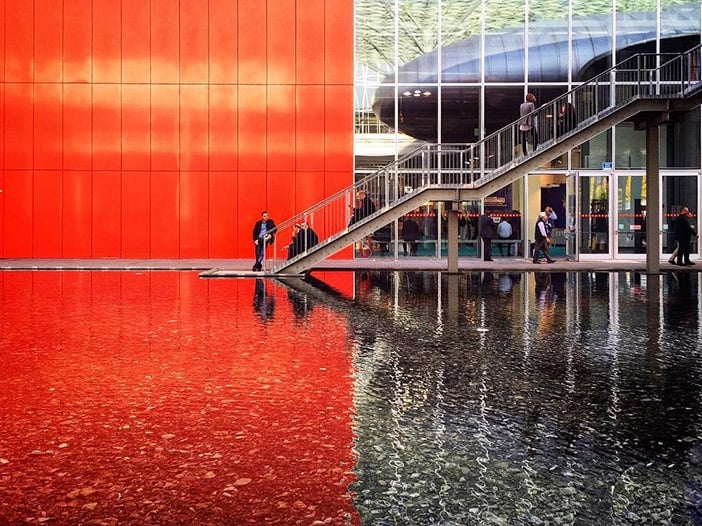 'Untitled' by Evelyne Sieber
Finally on the train
'Finally on the train' by iphonecameragirl – "I was on the subway which was stopped for a long time at the station. I didn't have a seat and was standing by the door, looked out and realized I could see the people across the platform and at the same time there was a reflection of the people inside. Quick…phone out and snapped right as the train pulled out. Iphone 7plus. Cropped and tuned in Snapseed. "

When you were the brightest star
'When you were the brightest star' by Jonathan Leahy
Krosno, Staszica – Cat
'Krosno, Staszica – Cat' by Karina Wisz – "This image was taken using Hipstamatic application (my preferred photo tool) with multi exposure effect on my iPhone 7 and gently processed with Snapseed. It is one of my favourite from an experimental cycle of photos published on Instagram taken in various cities around the world, taken when it gets darker outside but without using any flash support. "

Untitled
'Untitled' by Laurence Bouchard – "This was shot at Tokyo's metropolitan building in Tokyo – one of my favourite locations in Tokyo.  It had been raining and there were some cool puddles on the floor.  I saw these 4 guys approaching and quickly got down and shot in burst mode as they approached.  I then edited in Snapseed – increasing the contrast to get a silhouette effect and flipping the image to give it a surreal look."

Untitled
'Untitled' by Liesbeth D Montreal – "The shot was taken in Montreal and was taken with my iphone 6 plus and edited with snapseed.  I blended two shots. I was a passenger in a car. I saw the lit store advertisement and hoped someone would walk by in the few moments we were stopped at a stoplight. Et voilà!"

Sunset in my Crystal Ball
'Sunset in my Crystal Ball' by Lou Ann Marks – "I do all of my photography with my iPhone 6. I had seen Crystal Ball photos which inspired me to purchase one and give it a try. The only editing on this photo was color enhancement on the native iPhone app. I set the Crystal Ball directly on our dock so as to get close to the water at Sunset.  I am retired and have a passion for taking sunset photos! We are fortunate enough to live on a small lake in central Minnesota and most evenings I am on the shore taking photos. "

Fog and reflections
'Fog and reflections' by Marta Spencer – "It's not too often that you see thick fog where I live. On the morning that I took this photo, there was fog everywhere. I was excited!
I decided to explore a park I've never visited. The path was hard to see because I arrived before sunrise. When I could see pretty well, off I went.
Staying on the path is not for me. I find better treasures off the trail. I saw a lake through the fog, and decided to investigate. As I stood on the beach, I could see the lake and the fog, but no sky. There was no division between water and sky. It was breathtaking. I couldn't see trees or the islands out in the middle of the lake.
I had the place to myself. It was perfectly still and quiet. No wind at all. The lake looked like glass. This fishing boat was quietly floating in the lake. It appeared to be sitting on a mirror. I felt so lucky to have found such a wonderful capture. I stood there for quite a while, just enjoying the beauty before me. Sadly, the sun soon burned through the fog, and the magic of the moment disappeared.
I shot this with an iPhone 7+. It was first edited with the iPhone, and another slight edit with an Instagram filter."

Untitled
'Untitled' by Fabio Morbec – "I was in Rotterdam with my wife for a weekend. We are looking for the ticket machine at the Blaak station when I noticed the reflection of the Cube houses on one side near the entrance to the station and after some tries, I finally found a composition that I was happy with.
I captured the photo with ProCamera app and processed it using VSCO (B3 filter + adjustments) then Snapseed (to bright the reflection) and finally shared on Instagram where I applied the Inkwell filter as well."

Dare to jump into the unknown
'Dare to jump into the unknown' by Tikoi Kuitenbrouwer – "I was walking the dogs with my second oldest daughter. It was a nice sunny day but it had been raining a lot so the were big puddles everywhere. She was jumping in the puddles with her new blue rubber boots, when I noticed the perfect strong reflections in the puddle. I took two shots of her with my Iphone 7 using the native camera. One standing very still so the water wouldn't wrinkle and mess up the reflection, then I took the second one of her jumping. I opened up both shots in Union app and simply masked out the lower part of the first photo.
Because I shot the two photo's right after one another i didn't have to tweak any lighting what so ever. Luckily, I had a pretty steady hand so the two photo's overlapped perfectly. My daughter who is 5 years old was all amazed of her magically jumping reflection.
After saving it from union app I opened the mixed shot in Lightroom Mobile and gave it some more contrast, color vibrance, sharpness and made the sky look a little more dramatic by playing with the color settings."

Don't forget…
Remember, the theme of next week's showcase will be 'Beauty'. For this challenge think about people, animals, nature and the landscape that surrounds you. So start sharing your best smartphone beauty inspired photographs by using the #mobiography_challenge_8.
The best ones will be featured in next weeks showcase, so get sharing now.
If you haven't already done so, follow Mobiography on Instagram and hashtag your photos with #mobiography. Don't forget to sign up to the Mobiography email list to get the latest news and updates direct to your inbox.