The theme of this week's Mobiography Showcase Challenge is Autumn. Over the course of this past week the Mobiography community has been sharing their best autumnal photos on Instagram.
From @11Burgers beautiful still life to the vibrant colours in J Cyr's forest scene. All photos in this weeks showcase illustrate how different photographers have approached this subject of autumn and how they have captured the mood and colours at this time of year (assuming you live in the northern hemisphere)
Featured photographers this week include: 11Burgers, J Cyr, Doodle Hedz, Evelyne Sieber, garaymusic, iliseharris, iphonecameragirl, Leandro Selister, Maureen Ruddy Burkhart, and Elaine Taylor
Take part in next week's showcase challenge
The theme of next week's showcase will be 'Blue'. Share your best smartphone photos that are inspired or include the colour blue by using the hashtag #mobiography_challenge_2.
The best ones will be featured in next weeks showcase, so get sharing now.
Untitled
'Untitled' by 11Burgers – "Still life photography is one of my favorite forms of photography. This photo happened because I found the sweet copper watering can at a tag sale and paired it with some fall pumpkins and flowers."
Looking up at aspens… Colorado? Nope—Arizona!
'Looking up at aspens… Colorado? Nope—Arizona!' by J Cyr – "I took this scene in the Aspens, just north of Flagstaff, Arizona with my iPhone 6s; I used snapseed to balance the exposure.
Just a few hours' drive north from where I live in Tucson, AZ, the San Francisco Peaks are the highest mountains in the state, a different world from the desert. These ancient volcanoes, rising to 12,000 feet, are covered in evergreens and aspens—like a little piece of Colorado rising from the more arid plateau lands around them. Hiking through the warm light, among the white trunks of the aspens, with a constant gentle rain of golden leaves is truly magical. I looked up and saw this group of trees aligned just so, with their tops illuminated in the afternoon light of a flawless sky—I had my other camera with me in my backpack, but my iPhone was already in my hand—a spontaneous capture while hiking in the forest. "
Summer in the air, Fall on the ground
'Summer in the air, Fall on the ground' by Doodle Hedz – "My bike is my happy place. I ride all over NYC until the weather gets unbearable as I'm on a fixed gear. I love being on my bike (Maurizio) and riding all over the city because it affords me the views that you can only get from being outside while moving and experiencing all of the joys that come with that. Feeling the seasons change, the pulse of the city and the bike paths and the vibe and energy that comes from there. The streets speak and show you things from a different perspective and that's really what I try to capture in all of my mobile photography and that's The city from a different perspective. This particular photo was shot in Riverside park en route to the Hudson River Greenway. I noticed the leaves changing and falling off the trees and because it's safe and there are no cars I can grab my camera with one hand and hold on with the other and capture life and the seasons as they happen in that moment.
I also do all of my editing on my iPhone using apps like Snapseed and VSCO. I shoot with the native camera and then depending on what tweaks the photo needs I usually go into Snapseed first as it offers a zillion more editing options and edit there. I don't use the presets they now offer but go directly into the TOOLS option and don't spend an exorbitant amount of time editing. When it looks right to me I export it and post it. No waiting. Not to many #latergrams unless I travel which isn't as often as I'd like.
I fell in love with mobile photography when Instagram fist launched and although I get really frustrated at all the SLR pics over-edited on a desktop and then uploaded to Instagram I stick to my roots and the challenge of shooting & editing on my iPhone which is why I use the hashtag #instapurist "
Autumn in the City
'Autumn in the city' by Evelyne Sieber – "The colorful autumn leaves against the colorful red wall and crisp blue sky attracted me instantly and the clean architectural lines completed the picture. I slight cropping, straightening and increase in saturation in my favorite editing app Snapseed gave the image the finishing touch."
The trees behind mom's Home in Akron, OH
'The trees behind mom's Home in Akron, OH' by garaymusic – "I shot this photo with my iPhone 7. It was about 6pm Eastern Time and had just finished dinner. Mom's house has too many trees in the back and the leaves are a pain to rake once winter comes. But for this shot, I love how the sun is setting and resting on the branches gently, so I took the shot. I use Snapseed to edit my shots. I edit my photos at night or in a dark room, so I can truly appreciate the vivid colors in the frame. I brought down the exposure and upped the contrast a bit then cropped it to my liking then brought down the saturation and increased the highlights. That's all."
Untitled
'Untitled' by iliseharris – "I love magical realism. Imagery that seems real, but takes the viewer across a bridge to another dimension. I like making portraits with a collaborative spirit, where the subject is engaged in the process. Julia is a beautiful young cousin with a fierce and spirited nature. On the annual family reunion weekend, we went out to play with a pair of dear antlers, and a can of fog spray. Julia is like a young deer, about to grow her own antlers. I shot in Hipstamatic, then processed with stackables and Snapseed. "
After the rain….
'After the rain….' by iphonecameragirl – "I was in NYC for a weekend smartphone workshop with Ed Kashi through NatGeo and he would give us assignments to shoot. This day it was raining and we had several assignments including the weather and water, our own interpretation of course, always thinking of what we had learned about composition etc. The rain had stopped and as I was walking back to the classroom I noticed how all the leaves stuck to the grey pavement and they just popped! I was so struck by the contrast of color and texture so had to capture it. I just cropped and slightly tuned the image in Snapseed. It was shot on an iPhone 7 Plus. "
Outono XXVII | Autumn XXVII
'Outono XXVII | Autumn XXVII' by Leandro Selister – "This photo is part of a series I made called Autumn and was made with iPhone 7 Plus. I used Snapseed for editing and just made corrections accenting the contrast of the yellow of the sheet that was already on the floor. I like to photograph simple things that go unnoticed. Daily Poetry."
Autumnal Equinox
'Autumnal Equinox' by Maureen Ruddy Burkhart – "This image, as in many of the images I shoot, is a partial-pano. I set the native camera to pano, begin to shoot and then end it when I have the image coverage I want. With this particular image, I shot quite a few images of birds, reeds and trees before the sunrise lost its lustre. Using Stackables app, I added some texture. Using Image Blender, I blended two landscapes (I wanted the trees and the reeds) and also the birds from that same morning. I don't like to add texture to the final composite but rather in specific layers.
My objective for the final image was to convey the most peaceful, quintessential aspects of that early fall morning."
Day 264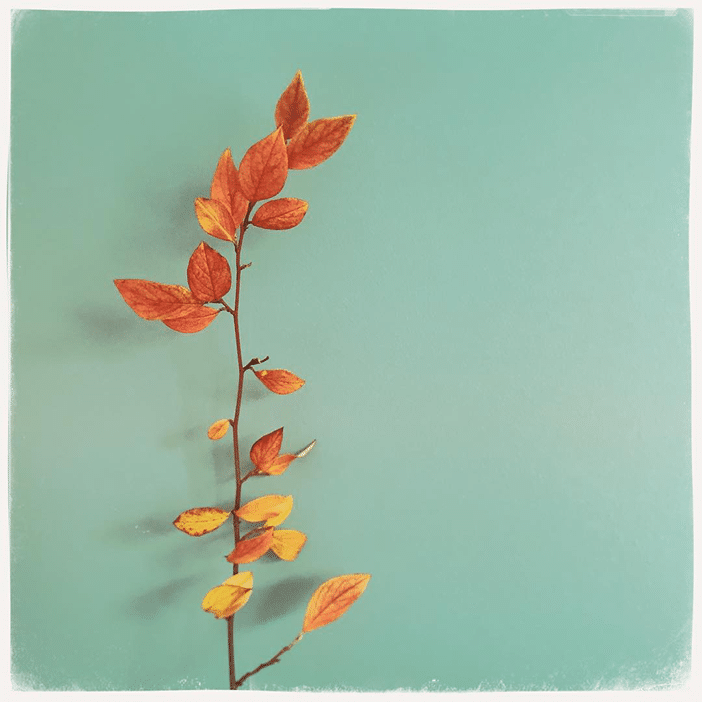 'Day 264' by Elaine Taylor – "I took this with my iPhone7 Plus through the Hipstamatic app (Florence/Dreamy).
I shot it on day 264 of my Hipstamatic 365 project. The date was 21st September. I dedicated the post to my mother, whose hand I had held during her last few hours before she fell into her final sleep on that same day 10 years ago. I knew I wanted to dedicate that day's post to her and I deliberately sought to create a simple, delicate image in her memory."
Don't forget…
Remember, the theme of next week's showcase is 'Blue'. Share your best smartphone photos that are inspired or include the colour blue by using the hashtag #mobiography_challenge_2.
The best ones will be featured in next weeks showcase, so get sharing now.
If you haven't already done so, follow Mobiography on Instagram and hashtag your photos with #mobiography for a chance of getting featured in future showcases. Don't forget to sign up to the Mobiography email list to get the latest news and updates direct to your inbox.
Save
Save
Save