This weeks showcase of mobile photography from the Mobiography Flickr group highlights ten images that feature portraits of people on the street. From Marco Lamberto wonderfully candid (yet a bit sinister) portrait taken on the streets of Venice to the striking dark silhouette of a passing figure by Alejandro Cendan Rodriguez.
Featured photographers this week include Nick Kenrick, Luisón, Marco Lamberto, Gunjan Karun, Alejandro Cendan Rodriguez, GaryA101, Giannis Drakos, Paolo Berni and Shel Serkin.
Do you have a favourite photo from this week's showcase? Let us know which in the comments section at the bottom of the page.
Faces of India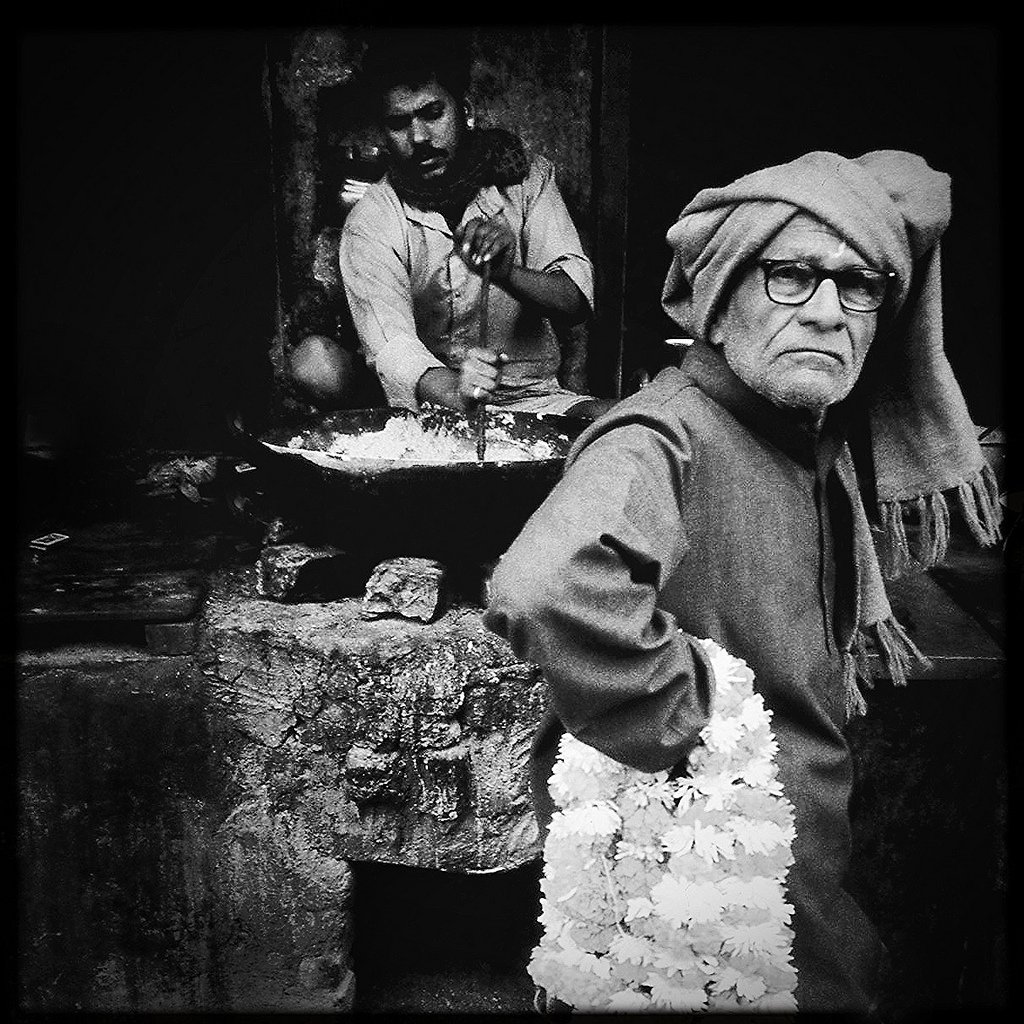 'Faces of India' by Nick Kendrick – "I love India and especially the street for images, people are so fascinating. I often point and shoot in street images, this creates a natural facial expression before the person smiles. I processed the image in Hipstamatic and chose a dark mono mood, so its an old and new image."
Lady in black
'Lady in black' by Luisón – "This pic was shot a couple of weeks ago, during my visit to Ischia, an island near Naples, to which I was invited by igersnapoli. It all reminded me of the ancient black and white Italian films of the 60's.
I had decided to shoot a series of pictures of the native people of the island, so I wandered around the streets with my iPhone and Hisptamatic ready. I saw this woman coming, found her extremely interesting and decided to approach her and take a couple of shots. So that's what I did, and this one, in particular, is the one I like most.
It was shot using Hipstamatic app (Jane lens + BlacKey SperGrain film) and used Snapseed to crop the border and get some sharpness. That's all."
Tough
'Tough' by Marco Lamberto – "I took this picture in Venice while walking near the Rialto bridge. I spotted this man waiting in front of a door, getting closer was quite easy since it was a really crowded place, I let the flow drive me. I just stopped in front of him and pressed the iPhone shutter three times. It was really difficult standing still there, the people just forced me to move on and I wasn't able to thank properly this guy for being my unaware subject.
After choosing the picture I've preprocessed with Adobe Photoshop Express (clarity, shadows, a bit of noise reduction and sharpening, reduced contrast, increased vibrance) and made the final bw conversion with Snapseed 2.0 (a bit of vignetting, selective adjust, contrast, ambient, structure)."
Peek-a-boo
'Peek-a-boo' by Gunjan Karun – "I have two super active sons… one is 6 years old and the other is 9 months. This photo is just another day at our home when they are having fun and messing things around. It is my elder son, helping me to pacify his cranky younger brother by playing peek-a-boo and making funny faces.
I captured this using my iPhone 6+. This being the bedroom, the photo was a bit dark.
I love the new Snapseed and use it exclusively for my post processing needs.
For this photo, these are the steps that I did.
increased the exposure,
made shadows brighter by a bit
used selective adjustments to make the face of my elder son even more bright
used selective adjustment to add some contrast on the eyes
used grunge tool to add some texture
then used the brush tool to clean up the texture from the faces and reduced the intensity of texture near the edges of the photo
converted it to black and white."
Beaudry
'Beaudry' by Alejandro Cendan Rodriguez – "This photo was taken at the exit of "Beaudry" Montreal subway. A fine sunny day and the street was overflowing with people enjoying a nice day. I looked for a silhouette and took a little time to place myself in the ideal position until I Captured the shot I was after. I processed a little in Snapseed and finally the passing Oggl (Lucifer VI + BlacKeys XF)."
Untitled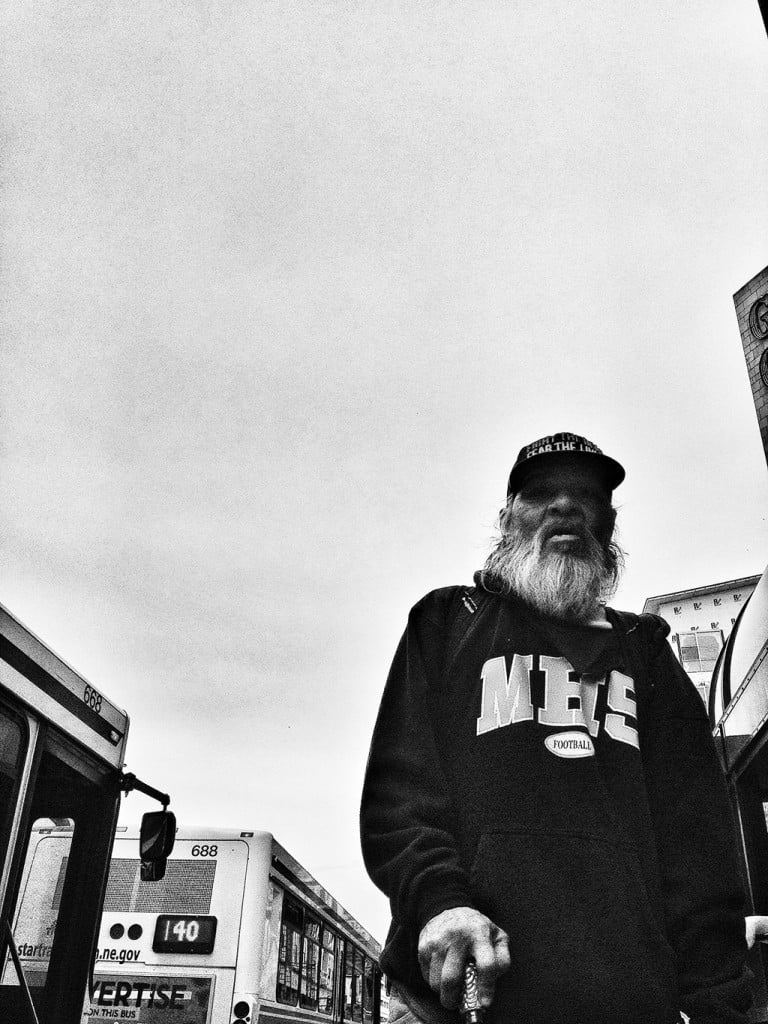 'Untitled' by GaryA101 – "This picture was processed with my "go to" software Snapseed. I took this candid portrait as I got off my bus. I find a bus stop full of potential photographic subjects. A lot of people waiting, talking, people deep in their own thoughts etc. I saw this gentleman and was drawn to his interesting face and stance. I also like that he is silhouetted against a white sky."
See Through
'See Through' by Giannis Drakos – "For this photograph, I used an iPhone 5s, set on Noir mode and before uploading it, the radiant setting of the Flickr app. Thus, everything was done on a mobile!
I remember the day fondly: I met the lady of the photograph while traveling on the greek underground. She was gazing outside the window almost frozen in stillness; a photograph even before being captured. What or whom could she be thinking of, I wondered as I raised my phone intuitively. But before the shutter clicked, she turned her gaze on me, piercing me right through with her melancholic x-ray stare. I smiled at her and she smiled shyly back before getting off at her station. And I don't know if I am to see her again, but she managed to see me forever."
Enzo
'Enzo' by Paolo Berni – "Enzo is a long time family friend from Italy who's been living in London for years. He's s an artist and cartoonist but also an architect and is responsible for the original look and design of the Pizza Express restaurants. I took his photograph at the blue over cigarettes and espresso after lunch one afternoon, he just happened to strike the pose. "
Chris, Portobello Road.
'Chris, Portobello Road.' by Paolo Berni – "With Chris's pic we were both at street party in Portobello Green with friends one afternoon when I snapped him. He's a musician friend of mine and I thought he was looking rather cool at that moment so I just asked him to point his finger at me. There was an interesting light at the time and I liked what was going on around and behind him.
Both pictures were taken using Hipstamatic and the Ray Mark II / BlackKeys SuperGrain combo and in the case of 'Chris' I cropped it into a rectangular format. I tweaked both portraits slightly using Snapseed."
Randall
'Randall' by Shel Serkin – "Here's a subject I saw from the other end of a crowded subway car. I left behind my tactful strategies, pushed my way to him and literally got in his face to shoot. He caught on immediately, turning his back to me so quickly that I was sure I missed the shot. I hopped off at next stop, checked the camera roll and smiled. Shot on an iPhone 6 with Oggl and processed with two lens/film combinations, blended into one in filterstorm."
Which was your favourite?
Do you have a favourite from this weeks showcase? Let us know your thoughts on the featured photos in the comments below.
If you haven't already joined the Mobiography Flickr Group then head on over and join in the fun. Alternatively, sign up to the Mobiography email list to get the latest news and updates direct to your inbox.