The theme of this week's Mobiography Flickr Group showcase looks at a selection of photographs that use minimal composition in order to create some really powerful and interesting images. From Lee Atwell's photograph of an empty street and solitary cyclist taken from a high level vantage point to Arijana Gurdon's simple harbour-side scene. All photos featured this week illustrate how composition doesn't have to be busy to be effective. They can also be simple.
Featured artists include David Nieuwenhuis, David Welsh, Lee Atwell, Alex Visage, Arijana Gurdon, Shel Serkin, Nicolas DECOOPMAN, dinalfs and nhec?.
Do you have a favourite photo from this week's showcase? Let us know which in the comments section at the bottom of the page.
Mobiography on Instagram
Also if you aren't already following Mobiography on Instagram then head over there now and click Follow. As of this coming week I will be showcasing a photo of the day from the hashtag #Mobiography. There are also some photographic challenges planned in the coming weeks so stay tuned.
To get involved first follow Mobiography on Instagram, then tag your favourite photos with the hashtag #Mobiography. Each day a winner will be selected and reposted with a chance of being featured on our weekly showcases in the future.
Santorini Form's XV
'Santorini Form's XV' by Alex Visage – "When I arrived in Santorini, I saw this unusual architectural, smooth form, harmonious combination of white and blue colors. In this series, I wanted to capture these visual forms of the small cities on the island of Santorini, it Imerovigli, Oia and Fira."
These Colours
'These Colours' by Arijana Gurdon – "Taken in Croatia last month, this is the view I would see every day on my way to the beach – looking down from a small bridge onto moored little boats. Ah, the beautiful calmness of the Adriatic sea, that Sun's shimmer and those blues and greens with contrasting orange buoys. Always a pretty sight.
I took this with my iPhone 5. Minimal post processing – adjusted contrast and sharpness in VSCO app."
Alice
'Alice' by Shel Serkin
Juillet 2015
'Juillet 2015' by Nicolas DECOOPMAN – "This photo was taken on the beach of the city of Dunkerque with the 645 pro treatment via lightroom."
I bet you're smiling now too
'I bet you're smiling now too' by dinalfs – "This is a picture of my son – Guy. This photo is part of "Traveling Frames Project" – #ive_been_framed That started with @dark.slide in Instagram. It was a great moment with a bunch of laughs with Guy. It was taken with iPhone 6, App: TinTipe and filterstom."
Looking Forward
'Looking Forward' by dinalfs – "This photo is one is part of #MyDTrainMoments – series of photos taken during my travels by train. It was taken with iPhone 6, App: Snapseed & VSCOcam."
Running
'Running' by David Nieuwenhuis – "The image was taken on a dark cloudy and rainy day. I was visiting the Frisian Museum in my hometown Leeuwarden. From the museum you have a great view over the Wilhelmina square. I was on the lookout for people with umbrellas. Suddenly I saw this man came running so I had little time to choose a composition. Despite that the photo is not sharp I still like it because of the running man and the body postures from the other figures plus the reflections."
Vancouver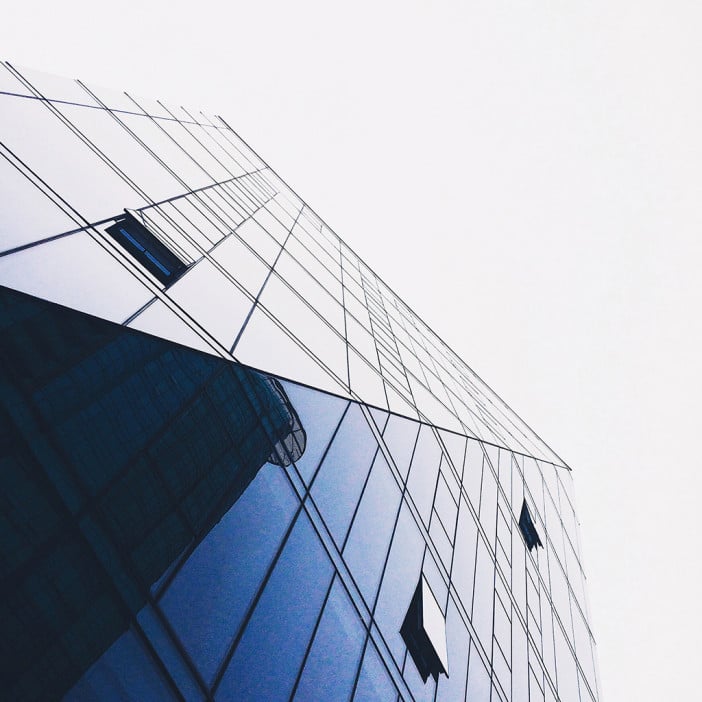 'Vancouver' by David Welsh – "I was taking pictures with the iPhone in downtown Vancouver, Canada close to Coal Harbour. I found a building with an unusual form, had on its facade a division as a structural axis angle diagonally joined by two large glass slanted walls crosslinked. Besides being fascinated with the modern design of residential building saw the reflections of buildings across the street.
The Process for this photo used an iPhone 5S native camera, on format 1×1, Processed with VSCOcam with E7 preset. "
Midday sun
'Midday sun' by Lee Atwell – "This was one of those times when I noticed an interesting pattern on the patio below the viewpoint from where I was standing, and as I was about to take the photo, the biker literally rode into the scene – and into the photo. I used the Hipstamatic Oggl app with the Akira Lens and AO BW film."
Untitled
'Untitled' by nhec? – "I took this picture on the central square of my city. In the picture shows a monument to Soviet soldiers who died in WWII. This was taken with iPhone 4 using Hipstamatic's John S Lens and AO DLX film. Some edits were made using Snapseed."
Which was your favourite?
Do you have a favourite from this weeks showcase? Let us know your thoughts on the featured photos in the comments below. If you haven't already joined the Mobiography Flickr Group then head on over and join in the fun. Alternatively, sign up to the Mobiography email list to get the latest news and updates direct to your inbox.