One of the most powerful features about mobile devices is the endless choice of photo editing apps that are available in the App Store. Once you have skilfully mastered these apps it is amazing what can be created from a simple photograph. So this week's showcase of mobile photography looks at a selection of images that are brilliant examples of iPhone art.
Featured artists include Siegfried Ferlin, Brett Chenoweth, Carolyn Hall Young, Diana Nicholette Jeon, Jo Sullivan, Bobbi McMurry, Mike Bowers and Susan Rennie.
Do you have a favourite photo from this week's showcase? Let us know which in the comments section at the bottom of the page.
Lady in black
'Lady in black' by Siegfried Ferlin – "I saw this woman dressed in black walking in front of the white building whilst taking a walk with my dog. Luckily, I had my iPad with me and so I took this shot, because I liked the strong contrast of black and white.
Later at home I processed it by using a few apps. Snapseed for cropping and adjusting contrast and color. With the app Repix I created the artistic flair, then I blended the two copies together in Superimpose. Finally the picture got the final touch with the app Stackables."
Crossing
'Crossing' by Brett Chenoweth – "All the work from this image was done in Procreate. Crossing began with two images of a man on a bike waiting at a stoplight near a construction zone. The painted part, also done in procreate, is in response to and counter to the pedestrian crossing lines at the light. I mashed, painted erased and un-mashed images so it was no longer about the man on the bike. I was left with the final image and all the crossing lines."
The Third Act- Give It All: Meri Walker
'The Third Act- Give It All: Meri Walker' by Carolyn Hall Young – "This is an iPad painting, made with a beta version of iColorama. I used several of Meri Walker's photographs as sources to build this. I know Meri from the mobile arts community on Facebook. Our work had been shown, together last Fall, in the New Era Museum Exhibit in Kansas City, and have become friends, talking on the phone, and sharing perspectives on Facetime.
In this one, The Third Act, another source I used was one of Meri's digitally altered black and white images, an enigmatic image of a young girl, titled: "Daughters Will Love Like You Do", from July 2014.
I used it on the left side, with a more "straight" photo of Meri layered over it – mainly for the eyeglasses, and the top of her head. Another source was a sepia cubist styled image from Meri, used as texture. I added a queen of hearts, from a deck of cards, which was in keeping with our recent conversations about the recent Florence International Photography Awards, in which I was honored to receive 'The Gates of Paradise Award'. Meri was a part of the FIPA team.
You can see the remnants of the card in the subtle rectangle that encloses the two figures, in the pattern on the lower left, and in the eye and forehead of the figure on the left.
After compositing, I painted with a number of brushes in different categories, masking and re-layering in blend modes, returning to paint with the newer iColorama bristle brushes several times. As always, I was working with the foreground and background color tones and textures, and different levels of reality, allowing the underpainting to show through, as I would in natural media.
I am combining a lifetime of natural media painting, and thirty years of working in digital media on Macs, with the power of the nimble tools in iColorama, as a new medium. I am reveling in the possibilities!
A second version of this is here, using only the hotel room photograph: flic.kr/p/vfK3wF
I did the beginning of the second version as a simple introduction to using brushes in iColorama, on my iPad Air 2. Meri was teaching a mobile photography class at Idlewild Arts Summer Program, and had invited me to show some of the possibilities of the iColorama brushes via Facetime. I also showed-off a printed book, which I had recently made with the wonderful Nowvell book app, and some postcards I had made with Bill and Sioux Atkinson's PhotoCard app.
The main source photograph, from Meri Walker's collection, was an out of focus, whole figure shot of Meri. It was taken at night, with an iPhone, in a hotel room. After cropping, the resolution was pretty limited. It was not an ideal source to work with, but the body language was so beautiful, and it left plenty of room for the imagination. Sometimes, the more challenges you have, the more opportunities appear for you."
Tourists #67
'Tourists #67' by Diana Nicholette Jeon – "This is from a series of street photos I shot in Waikiki in August 2014. I tend to shoot a lot there because tourists are relaxed and unguarded, and there is lots of activity!
I saw a rather large woman heading for the water. She towered over those around her, and it was made more prominent by the fact that she stood at the top of the slope that stepped toward the sea. I made one painterly image of her walking through the crowd, and then decided to make one of her alone.
Unfortunately, partway through I felt like it wasn?t working out. I?d started the second version using Pixel Blender and after I finished in that, it needed something more, but I wasn?t sure what.
I let it sit for almost a year. The other day I went back to it, and it all came together quickly the second time. I took the base I had created, then used iColorama, to shift the colors and create texture in my brushstrokes. From there I used Mextures and Stackables to give unity and a scratched appearance to the entire piece."
Solitude of Space
'Solitude of Space' by jo sullivan – "I call this piece "Solitude of Space or Hellbound toward Adolescence" The first part of the title is from an Emily Dickinson poem and the second part? Rather self-explanatory. This is my 12 year-old step-daughter in full-on angst mode. I used several apps including Superimpose and iColorama, I also did several versions in Stackables and used the masking/brush techniques in iColorama to get the look I was after. Finally, I took the almost completed piece through Aviary for lighting. I used three photographs which I masked and blended several times for the initial piece before using special features with the above apps. The sense I was working toward was one of self-isolation while pondering an uncertain future."
Turning Point
'Turning Point' by Bobbi McMurry
Self Portrait
'Self Portrait' by Mike Bowers
Morning on the Deck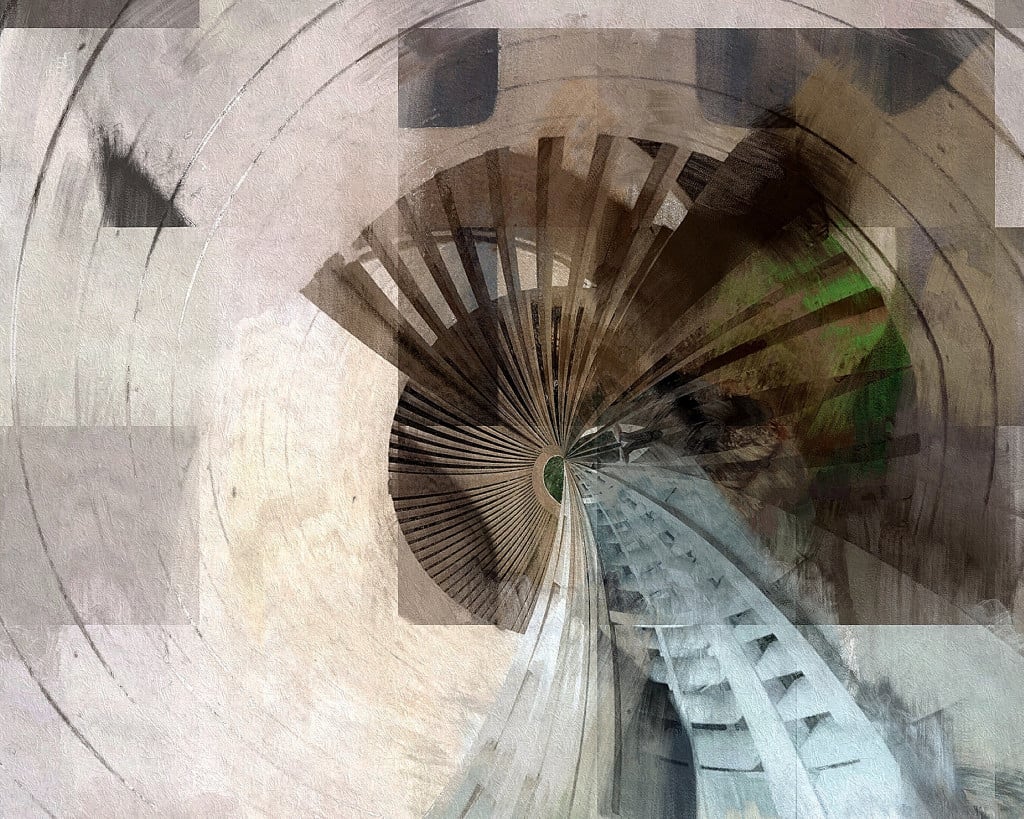 'Morning on the Deck' by Mike Bowers
They gave him a Lifetime Achievement Award
'They gave him a Lifetime Achievement Award' by Susan Rennie
Which was your favourite?
Do you have a favourite from this weeks showcase? Let us know your thoughts on the featured photos in the comments below. If you haven't already joined the Mobiography Flickr Group then head on over and join in the fun. Alternatively, sign up to the Mobiography email list to get the latest news and updates direct to your inbox.