It's been another excellent week of submissions in the Mobiography Flickr Group. Once again below is the weekly round up of just some of those images that have caught our eye along with a slice of background story to the photo in question. This week we feature iDieuwke, Nick James Adams, Thisisjoanna, David O Welsh and the unique style of GianlucaRicoveri.
Join the Mobiography Flickr Group, we will be featuring the cream of the crop in the 'Capturing the Moment' series each week.
Untitled
Untitled by GianlucaRicoveri – "The picture was taken at Lake Massaciuccoli near Lucca, Tuscany in the afternoon, the light was perfect and the sky filled with breathtaking clouds. This is one of my favorite places where I find some subjects that I prefer. The photo was taken using Hipstamatic with the last C-Type Plate, editing was done before with Photogene and then with Snapseed. Then I use a lot of layers in Procreate to create the watercolour effect."
Still Snowing in March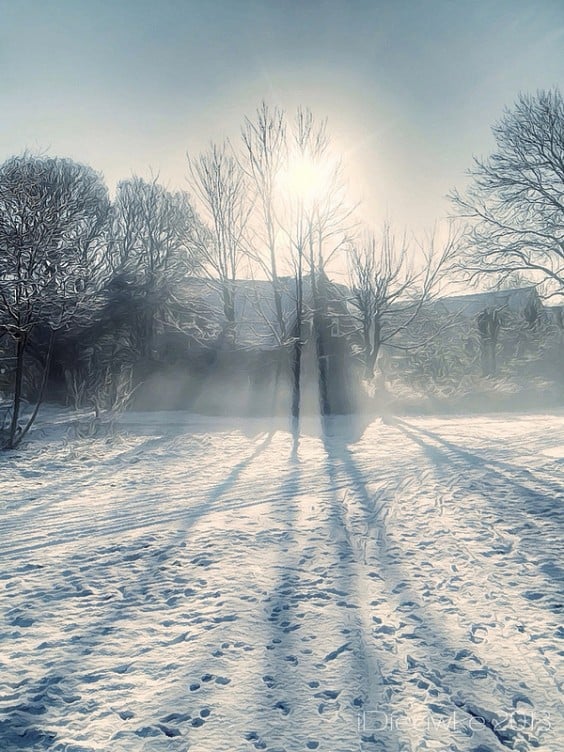 Still Snowing in March by iDieuwke – "I shot this image in march, around 8.45 in the morning. It had been snowing rather heavily in the early morning but by now the sky was clear and the sun was shining brightly, causing the snow to melt. The melting snow gave the warm air a lovely hazy quality and the sun behind the trees cast long dramatic shadows. I felt very lucky and captured the scene with my iphone 4s in bracket mode to process later in hdr pro. Processed in snapseed, shock my pic and simply hdr to give the image a little more pop and a painterly feel."
Reflects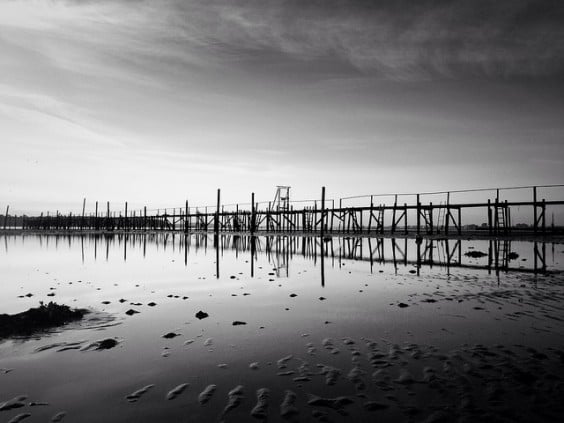 Reflects by Thisisjoanna – "I was on my way home from work and saw the pier in the distance. The sun was just setting, the tide was out and the remaining surface water gave off a perfect reflection. I couldn't get close enough to get a good shot so I waded out (in my wellies that I keep in my car for such occasions) and stood in the middle of the harbour to snap this image. I processed it in Noir Photo for the black and white effect and adjusted the brightness slightly using Snapseed."
Spider…
Spider… by David O. Welsh – "I took this photo on the Las Vegas Bellagio hotel while walking in the corridor on the way to the Tower outside the Sensi Restaurant. I saw an interesting detail with the contrast of the structure of the skylight and the chandelier, giving the name to the image 'the spider'.
The process: I placed the iPhone looking up to the building through the skylight. To create the perfect circle effect I had attached the Fish-Eye Lens, I processed with Snapseed in my iPhone. I started to crop the image using the rule of thirds in aspect ratio 1:1 , then I rotated the image 15 degrees to align the windows, with Tune Image increased the ambiance to 33% , with Black & White increased the contrast to 33%, with Center Focus Portrait 2 to increase the blur strength to dark."
Untitled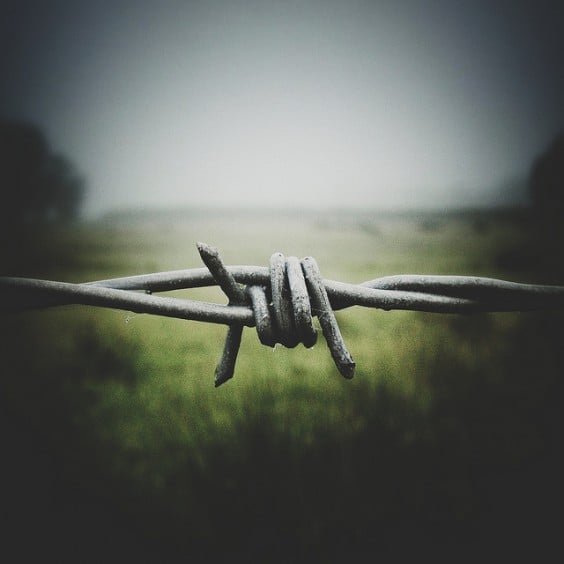 Untitled by Nick James Adams – "Ever since I've been into mobile photography I hadn't come across any fog which was frustrating given I've been inspired by lots of friends fog photography for well over a year now and I know that editing fog is fun to play around with. Finally one morning at 5:30 am I spotted some fog, grabbed my about to die iPhone 4S and chased it, which led me to a very moist farm field very close to home. This landscape is still very dull even with the fog so I had to work with what i had around me, which wasn't much apart from a fence stopping me from trespassing further. After framing a couple shots of the barb wire, my phone dies. So I back home to process with VSCOCam."