The 'Capturing the Moment' showcase for October continues and features the photographic talents of Shel Serkin, Paul Brown from Skipology.com, Tal Shafik, Erika Brothers, Alon Goldsmith and Frederique Bellec from the Mobiography Flickr Group. I hope you enjoy this weeks selection. Thank you to all the group members who contributed this week.
199 steps at Whitby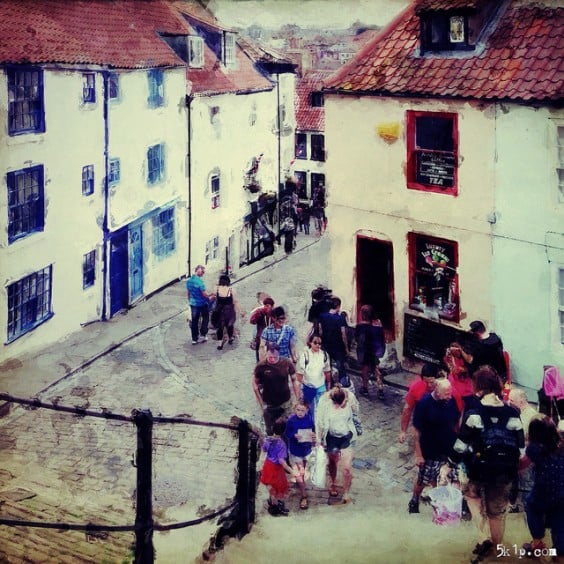 '199 steps at Whitby' by Paul Brown – "Occasionally when I'm capturing an iPhoneography image I have a specific processing idea in mind. That was the case with this image captured towards the bottom of the famous 199 Steps to Whitby Abbey. I was always going to process it a painterly style and try to force the question at first glance "Is it a photograph or is it a painting?" My family and I had a wonderful week at this beautiful English seaside town towards the North of the East coast.
Although it's not on a large enough scale and the figures are far too large, whenever I'm working with a scene in a painterly style with a large number of figures I'm influenced by the work of L S Lowry. One day I hope to find the perfect scene to try to create something like his great paintings. We can all dream!
It was initially captured in Oggl, borders cropped away in Filterstorm and the vertical lines of the buildings corrected using FrontView. This is the base image. From here various versions were created including the main 'under-paint' version via Glaze. The various versions were blended using Superimpose to add back areas of detail and give the image the unique blend of textures you get when you stack apps.
The full process with images at each stage is detailed on my blog at skipology.com"
Reichstag
'Reichstag' by Tal Shafik – "I loved the contrast between the clean, elegant architecture of the Reichstag's dome and the silhouetted people in the background. I think this contrast is best captured in black and white.
I used ProCamera 7 to take the original image, and then processed with VSCOcam."
Red Fall
'Red Fall' by Erika Brothers – "In this particular image I was inspired by the fall colors of October and changing seasons as we enter winter – all reflected on a persons face. I used Snapseed for first image calibrate brightness, ambiance and saturation.Superimpose to apply the flowers on the face, and paint refinement with Repix, and for final vintage effects I used Picfx."
Give it to Me
'Give it to Me' by Alon Goldsmith – "I was in the photo pit photographing G. Love and Special sauce at the Hardly Strictly Bluegrass festival in San Francisco. G. Love lit up and started smoking a big fat joint. Next thing, he looked down, handed it to me, and asked me to pass it to the expectant fans on the other side of the security barrier. The crowd went crazy as I complied with his request. Whether I indulged before the handoff is anybody's guess. Shot with iPhone 5 using Oggl"
Nadiv
'Nadiv' by Shel Serkin
Shadows Hide and Seek
'Shadows Hide and Seek' by Frederique Bellec
Do you have a favourite?
Do you have a favourite from this weeks selection? Let us know your thoughts on this weeks featured photos in the comments below. If you haven't already joined the Mobiography Flickr Group then head on over and join in the fun.