The theme of this week's showcase of mobile photography is black and white photography. All images this week illustrate just how effective the black and white medium can be. From 48esteban's beautifully captivating portrait, to the tender hands of a mother taken by Marta Spencer and Laurence Bouchard's dark nigh-time silhouette image. I am a big fan of black and white photography and love the way it can simplify a scene, add mood or atmosphere.
Featured artists this week include: 48esteban, alopezc72, arguelles67, eesieber, John Nieto, Laurence Bouchard, Marta Spencer, Niels B, Seamus2021, sf_streetphoto, yiorgoskouts and Alice1280
Do you have a favourite photo from this week's showcase? Let us know which in the comments section at the bottom of the page. Finally, hashtag your photos with #mobiography for a chance of getting featured in future showcases.
Commuter train stories #8
'Commuter train stories #8' by 48esteban – "As a daily London commuter, I spend an hour on the train to and from the office. I'm fascinated by how absorbed my fellow commuters are… working, reading, texting, snoozing, sleeping, dreaming… Whatever passes the time. After taking a couple of candid shots on my iPhone – and sharing these with my sister @saritafair who encouraged me to post them at IG – it occurred to me that this might make a nice little documentary series. All shot in colour and using Snapseed to process into bnw and using the brilliance, vignette, drama and frame tools. The images seems to strike a chord with IG followers all around the globe who see something of this in their own commuter journeys."

S i n c a b e z a
'S i n c a b e z a' by alopezc72 – "The photo is taken in the Torres de Serranos, one of the twelve gates that guarded the old Christian wall of the city of Valencia, Spain. I'm used to photograph from outside because it is next to my house. This time I decided to make the tourist visit, walking inside this old monument and taking advantage of the elevated views that offers over the city. Looking for a dynamic photo with some human subject on it this was one of my favourites during the thirty minutes I was shooting that day.
Regarding the edit, the contrast between shaded and lit parts is very large already in the original color photo, but I wanted to accentuate the "mystery" of it by passing it to black and white using the Blackie application that allows a fine control of contrast and light on this type of photos. Also, with Snapseed I gave to the photo a square format to accentuate the look on the man and his shadow. Surprisingly, due to the light of that specific moment, the shadow of the man had no head so it gave a very curious visual aspect for this particular shot."

Untitled
'Untitled' by arguelles67 – "I love photography, I like to use the smartphone because it allows me to manipulate the settings like an SLR. For this photograph I wanted to capture the movement with low speed and capture the ambient illumination of the streets of San Francisco, and reflect the accelerated life of its people. The photograph reveals it with the application Google Snapseed, generally I start eliminating the color, increasing the average tones and lowering the shades a little bit. Then I apply a tonal separation and increase the structure subtly. Finally added a vignette to the image."

Untitled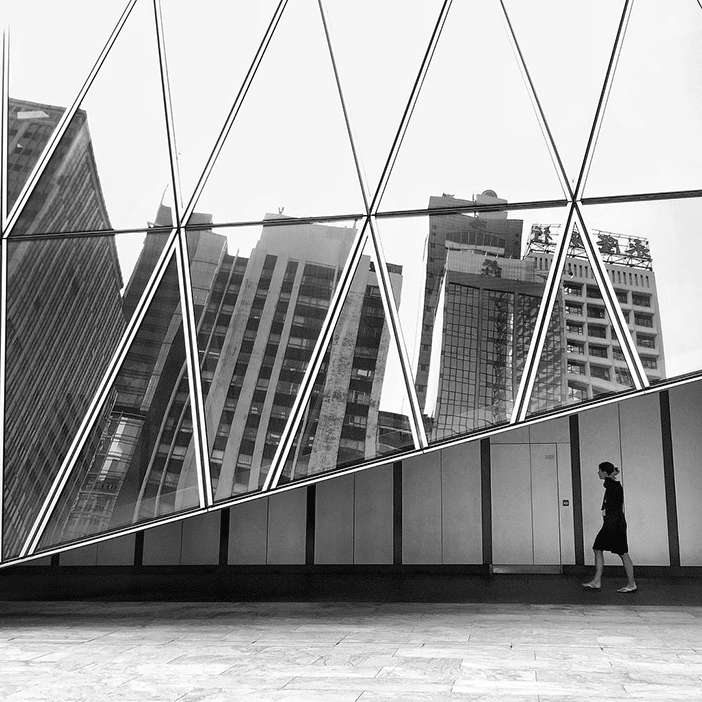 'Untitled' by eesieber – "This picture was taken in the CBD of Hong Kong. I was attracted by the interesting architecture and urban reflections. The human subject gives a sense of scale and adds a story to the image. Shot with an iPhone 6 and edited in snapseed with a b&w conversion and slight crop."

Ocean beach
'Ocean beach' by John Nieto – "This photo was shot at Ocean Beach seawall in San Francisco in the early evening using an iPhone 7plus. It was edited entirely with Snapseed. "

3/11
'Untitled' by Laurence Bouchard – "'3/11' was shot in Roppongi, Tokyo – in front of Tatsuo Miyajima's 'Counter Void' installation. I'd been wanting to shoot this installation for a few years but it was switched off (at the request of the artist Miyajima) 2 days after the tragic Tohoku earthquake in 2011 that left more than 15,000 dead and a further 3,000 unaccounted for and 120,000 still displaced.
Last year I was surprised to see some new photos surface of the installation and I learned that Tatsuo Miyajima had decided to switch it on again for 3 days as a way of remembering those that had passed away..
Fortunately, this year I was finally able to photograph the installation and actually went there for each of the 3 nights it was relit. This was taken on the 1st night (3/11) the day the earthquake struck 6 years ago. I wasn't able to get there until 11pm and the place was eerily quiet – I'd expected there to be crowds of people. A stranger cycled by and I stopped and asked him if he could cycle past again and I'd send him the pics. However, they didn't come out as well as I'd hoped but it gave me the idea to use my own bicycle for a shot. I set the iPhone's 10 sec timer and placed it on a Joby tripod. I then cycled past a few times until I got it right. After I made a few minor tweaks in Snapseed."
A mother's love
'A mother's love' by Marta Spencer – "They say you should photograph that which you know. Put a little piece of yourself into each photo and you can't go wrong.
Pictured here is the hand of my 85-year-old mother comforting my brother in his hospital bed. There is so much emotion here that you don't see. My brother had been hospitalized for 32 days, wasn't breathing on his own, and hadn't been able to speak the whole time due to the breathing tube.
I stood there watching mom trying to comfort him in the only way she could, since he was connected to so many machines.
I try to imagine what it would feel like to be in his position at that very moment. I knew the only thing that would comfort me would be to see my mom. Her loving touch would make it all right, and make me feel better. My brother was all smiles as she stood there saying soothing words, and stroking his hand. The afternoon light coming through the window at that special moment was perfect. It felt intrusive to take a photo but I didn't want that precious moment to be forgotten.
The photo was taken with an iPhone 7 Plus. It was at first edited in the natural camera, then slightly edited with Snapseed and Instagram filters."

Le dessinateur – Rome
'Le dessinateur – Rome' by Niels B – "I was in Rome for 2 days for my work. In this beautiful town there is always possibilities to take photography. I took this picture very early in the morning. A man stood in a ray of light drawing a monument on a old place in the heart of Rome. I took and edited the photography with Hipstamatic. Lens : Jane Film : Blackeys Supergrain."

Stand Fast
'Stand Fast' by Seamus2021 – "It was a blustery morning in September and I had just survived a lack lustre sunrise. It had been raining and to be honest if there was not a low tide around sunrise I would not have gone out. I hardly ever 'intend' to photograph the West Pier in Brighton, UK, as it so heavily photographed, but while walking back along the beach I thought the clouds were characterful so decided to grab a few shots before my morning coffee. I set up a composition to accentuate the clouds and the leading edge of the incoming wave. Timing can be hit and miss with waves and long exposures as the iPhone really is just layering multiple exposures, so it is important to have the wave edge coming in on the final frames otherwise you just have blur.*
I actually have a different process now – much better. I watch the shot evolving on screen and stop exposure when the shot has taken on the compositional shape I desire or indeed if it is an early fail I can move onto the next attempt or admit defeat and try something else. Today I also use different apps for long exposure: ProCam 4 (my goto camera app) and NightCap Pro."

Cyclist
'Cyclist' by sf_streetphoto – "My pictures are basically inspired in two ways. On the one hand by impressionism and on the other hand by the possibilities of my iPhone. For most of my photos, I do not attach great importance to details and photographic perfection, but on the artistic effect, the story, the surprising and unconventional, the expressive power.
In this particular photo I have reduced the amount of post-processing to a minimum. The shot is taken with Slow Shutter Cam. In this way I have created the blurred impressionistic style. The post-processing is limited to a little cropping, converting to black & white and contrast enhancement with Snapseed. "

Paper made city
'Paper made city' by yiorgoskouts
Wild sea this morning
'Wild sea this morning' by Alice1280
Do You Have a Favourite?
Do you have a favourite from this weeks showcase? Let us know your thoughts on the featured photos in the comments below.
If you haven't already done so, follow Mobiography on Instagram and hashtag your photos with #mobiography for a chance of getting featured in future showcases. Don't forget to sign up to the Mobiography email list to get the latest news and updates direct to your inbox.
Save
Save
Save
Save
Save