For the theme of this week's showcase of mobile photography from the Mobiography Flickr Group, we look at the subject of the abandoned and neglected. There is something beautiful about abandoned places that has been catching my attention for a while now. It might be the character, the history and stories these places have to tell or the fact that nature is gradually reclaiming back these forgotten places.
The showcase features work from talented artists and photographers Mike Hill, Colman Love, Dustin Wright, Michael Beresin, Anna Cox, Joanne Mariol, Robert Eckhardt, thegoreyend and myself.
Let us know if you have a favourite and what you think makes for the perfect landscape photograph in the comments section at the bottom of the page.
The Chair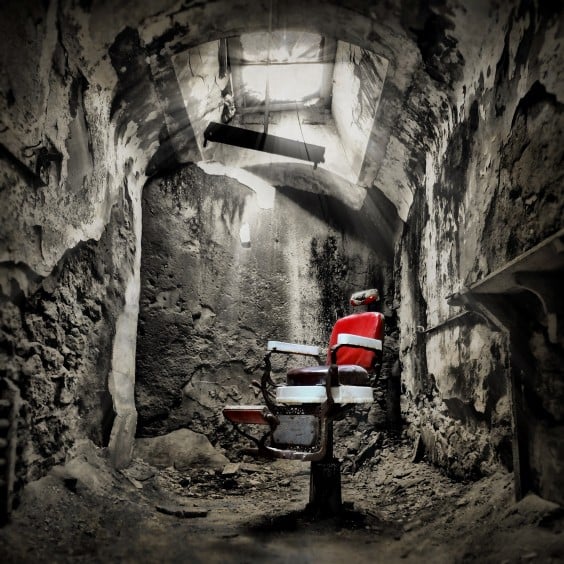 'The Chair' by Mike Hill – "A few years ago I took a trip up to Pennsylvania, to basically get out of the hell hole that is Orlando, and gather photos of a place I had never been, but always wanted to see. Eastern State Penitentiary in Philly was one of those places that every urban explorer knows about, and has either been to, or wants to go. The prison, which once housed Al Capone in the 20's for weapons charges, was opened in 1829 and ran strong for the next 142 years before finally closing down in 1971 due to much needed, but unaffordable, repairs to make it safely livable. It now just sits as rows of lifeless tunnels made from crumbling brick and concrete cellblocks left to father times mercy. This photo was taken in what's left of the barber studio in one of the cellblocks, and represents the cold nature of the inevitability of time and neglect.
Taken on an iPhone 5, I used PicFX, Superimpose and Snapseed to edit it."
Barn
'Barn' by Colman Love – "I live and grew up in Indiana Everybody loves a mountain picture or a great ocean sunset, but there is incredible beauty to be found in the plains. One of the great things about the farmlands of the Ohio Valley region are these wonderful old barns with incredible textures and stories. They are becoming harder and harder to find. I spend a lot of time in my car for my work and have begun shooting these wonderful structures whenever I find one. This one was particularly inviting because of its shape and the long views behind it.
I shot this image with my iPhone 5s using ClearCam's enhanced setting. I moved the image with PhotoSync to my iPad and did basic corrections in Snapseed. I used Leonardo to add the cloudy sky and removed some artifacts using Touch Retouch. I brought the image into iColorama to convert to B&W, then blended the image with the color version in Multiply mode."
Waiting for the Bus? You'll be waiting a while…
'Waiting for the Bus? You'll be waiting a while…' by Dustin Wright
Bear behind bars
'Bear behind bars' by Michael Beresin – "My wife and I love taking weekend trips and after hearing so many wonderful things about Brooklyn, New York we spent the weekend there several weeks ago. It's such an amazing place for photographic opportunities and I was literally jumping out of my pants with excitement, knowing that I was going to come away with some great images. On Sunday we had brunch with cousins in the Greenpoint section and then took a nice walk to Transmitter park, which is located on the water at the end of Greenpoint Avenue. There were five us on walk, and I of course, was well behind everyone, busily snapping photos left and right with my Iphone 5. I had originally passed the window with the bear behind the bars without really thinking about it, but on the way back I stopped and began to realize what a great photo it had the potential to be. I take a lot of square photos, but for this one, I thought that a 4×3 format with a vertically oriented shot would be the best option. It was obvious to me that positioning the bear towards the lower right side of the viewfinder would be the best way to capture this engaging image, which for me, encompassed the bear, the graffiti and the trash cans along the base of the image. I generally try to keep post processing as simple and straightforward as possible and no different with this one, which was processed with Snapseed and Paint FX, two of my favorite apps."
The Abandoned Rollercoaster of Camelot
'The Abandoned Rollercoaster of Camelot' by Andy Butler – "This is an early morning shot of Excalibar, the centre piece rollercoaster at the now abandoned theme park, 'Camelot' near Chorley, UK. The park was closed in 2012 after several seasons of declining visitor numbers. I have made a couple of trips to the park in recent months to gradually explore the different areas of the park. On this occasion there was a thick, early morning mist which shrouded the massive steel structure. I worked at Camelot for a season back in the early 90's and it was sad to return and see in such a redundant state of disrepair and vandalism."
Free Ride
'Free Ride' by Anna Cox
Stairway to heaven
'Stairway to heaven' by Dustin Wright
The fun is gone
'The fun is gone' by Joanne Mariol – "The story behind it it is a bit mundane. I was running errands and happened to drive by this abandoned building. The "FUN" sign caught my eye of course for pop of color but also because the word "fun" just seemed so out of place in relation to this abandoned, stripped down building.
I captured the image on my iPhone 4s (which I will send the original to the email address you provided) and processed it through Snapseed and Phonto on my iPad and saved it with Photogene4."

Old army ambulance, Thunder Mountain
'Old army ambulance, Thunder Mountain' by Robert Eckhardt – "Just south of Winnemucca, Nevada, and a stone's throw from I-80, Thunder Mountain Monument is a folk art fancier's dream. Created over many decades by Frank Van Zant (Chief Rolling Mountain Thunder), it fell on hard times after he died in 1989. But efforts by Frank's son Dan, donations from folk art enthusiasts, and a designation as a Nevada Historic Site have helped to bring it back from the brink.
I've passed Thunder Mountain many times in my travels, usually in a hurry to get somewhere else, and so stopped for the first time last month on my way home from a long photography trip. The main house is fenced off with barbed wire for protection from vandals and thus difficult to photograph well, but the rest of the site is open to visitors — and in varying states of disrepair. Standing next to one of the outbuildings, this M-43 ambulance from the early 1950s was of the type used extensively during the Korean war. According to one of the few signs at the site, it was built by Dodge, and got 6 mpg. This particular vehicle is most definitely not in museum-worthy condition.
It was an early afternoon in June and brutally hot when I stuck my iPhone 5S through the long-gone passenger window and took this image. The light was exceptionally harsh, so I used auto mode in TrueHDR to help me with the extreme contrast. The result was rather oversaturated, as is often the case with TrueHDR, and failed to convey the heat of that afternoon and the bleached dry surroundings. So I took the image into Snapseed and performed my relatively standard sequence of initial edits (small amounts of Details, HDR Scape, and Drama). I converted a copy to black and white, also in Snapseed, and took that version into Camera+ to tone it with my favorite filter, Contessa. I then combined the two versions in Blender to bring back just a bit of color and, hopefully, a bit of what it felt like on that hot June afternoon."
Under the Overpass
'Under the Overpass' by thegoreyend – "This is a scene I pass by on a monthly basis-I have to drive a lot for my job visiting parolees on my caseload, and this is near one of my stops. The first time I saw this, about 6 months ago, I knew I wanted to photograph it; I knew it would be perfect for the type of editing I like to do. It reminded me of childhood images I conjured up in my imagination of strange, exotic, and romantic places and had always wanted to be real but never seemed to materialize.I finally stopped there a couple of weeks ago and took this photograph. I took this image with the KitCamera app camera on my iPhone, and used one of their frames. I edited it in snapseed, first using the HDR Scape action, then changing it into a black and white, then taking it through the Retrolux action. After I finished in snapseed, I did more editing in pic grunger, also using their frame which went around the KitCamera frame, but. I've forgotten what style and effect I chose. I do remember that I reduced the strength to less then 50% and chose the metallic texture. I went back to snapseed to brighten it to give it a more faded, aged, and romantic look.
I wanted to create something from the imagination, but from the imagination's imperfect and personal interpretation of a real scene, not an image completely dreamed up. Although I took this photo with the iPhone, I did all the editing on the iPad because it's easier for me to see what I'm doing on it. "
Which was your favourite?
Do you have a favourite from this weeks selection? Let us know your thoughts on the featured photos in the comments below.
If you haven't already joined the Mobiography Flickr Group then head on over and join in the fun. Alternatively, sign up to the Mobiography email list to get the latest news and updates direct to your inbox.