The Camera In Your Pocket: How To Take Better Photos With Your iPhone [Ebook]
Learn how to take amazing photos with your iPhone.
Instant Digital Download
Access to future book revisions and updates
Secure Payment with PayPal
Photography is a fantastic and wonderful thing. Through it we can tell a story, convey an emotion, capture a memory, document a special event or a precious moment in time. A wedding, birth of a newborn baby, birthday celebration, family holiday or even a simple day out can all present plenty of photo opportunities.
There was a time when capturing these moments meant having a traditional camera with you at all times. Nowadays, we can use the cameras in our iPhones. They are always with us, which is part of the reason why iPhone photography is rapidly growing in popularity. Plus, apart from the cost of the phone itself, a lot of the tools you need come in the form of free or inexpensive apps.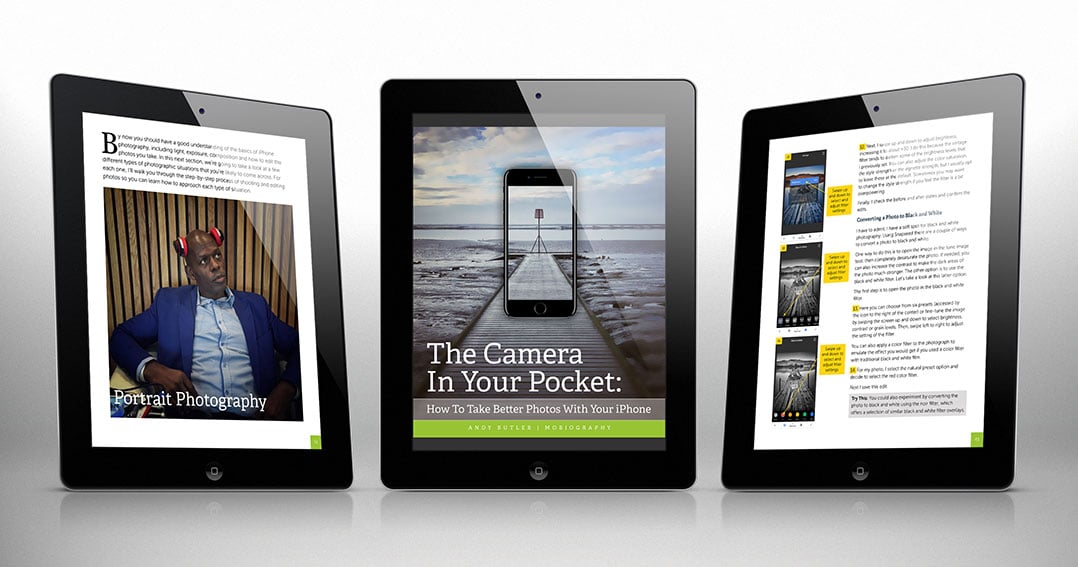 What you'll discover in this 92 page eBook
In this 92 page eBook you'll learn how to master three basic steps for better iPhone photography:
How light, exposure and focus effect the photos you take and how to manually control your iPhone's camera.
How to create a strong composition.
How to edit the photos you take in a way that makes the most out of your images and recreates the feeling you had when you took the photo. For this we are going to be using the apps, snapseed and touchretouch.
With a basic understanding of these three cornerstones of photography, we'll then look at some examples of how to take better portrait and landscape photographs as well as techniques such as HDR and panoramas.
The book includes top tips and actionable techniques that are laid out step-by-step. Instead of having an exhaustive list of every iPhone photography gadget, tool and app out there, the book focuses on a handful of the most popular apps; the iPhone's native camera app, Camera+, Procamera, Snapseed, and TouchRetouch. Master these and you'll be setup to create some stunning images.
This book will teach you how to use the camera that you always have at your disposal. Photography isn't just about taking a quick snapshot or freezing a moment. It's about recreating the emotions you experienced at that time. Armed with the right knowledge, you'll be more confident about taking pictures that will capture the beauty of life. Those special memories you encounter will become moments you can treasure for years to come. Your photographic journey will never truly be over, but this is a wonderful place to start.
So let's get started.