Want to Take Better Photos With Your Smartphone​?
Start learning from the world's best smartphone photographers with Mobiography Magazine
Mobiography Magazine is a leading digital magazine for smartphone photographers and your essential guide to the best tips, insights and inspiration from the mobile photography world. Mobiography showcases the best examples of smartphone photography as well as featuring; Interviews with mobile and smartphone photographers. Top tips, how to guides and tutorials. Reviews of the latest photo apps. Reviews of mobile photography accessories. Available on iOS and Android.
Grab Your Free Copy of Mobiography Magazine
Enter your details below and find out how to get access to the Free Issue of Mobiography Magazine plus get smartphone photography news and tips direct to your inbox.
The Best Digital Magazine About Smartphone Photography
Available on iOS & Android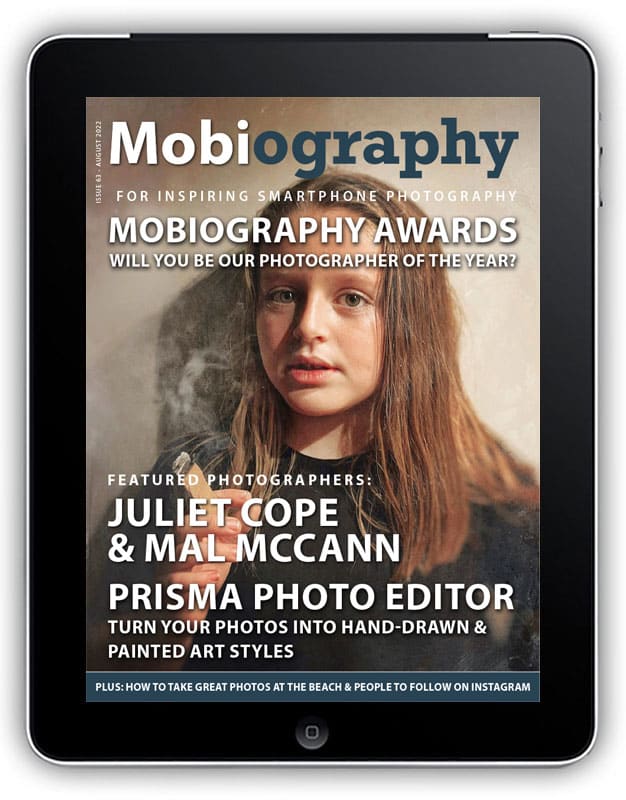 Subscribe Today &
Get a 30 Day Free Trial
Inside this issue you will find:
Interviews with Juliet Cope and Mal McCann
Mobiography Awards 2022: Now Open for Submissions
Beginners Guide: 9 Tips for including people in your landscape photos
How to take great photos at the beach
Photographer's guide to using Instagram Reels – Part 1
Prisma Photo Editor: Turn your photos into hand-drawn & painted art styles
We highlight 5 Inspirational photographers to follow on Instagram
Plus the Mobiography gallery showcase
Magazine Pricing
Mobiography Magazine is the number one resource for smartphone photographers. We offer a selection of subscription packages. Every single subscription package includes a FREE trial which can be cancelled any time. We also give you a FREE complimentary issue so you can get a feel for what Mobiography magazine are all about. If you don't want to subscribe, that's fine, you can purchase issues individually!
What People Are Saying…
Don't just take our word for it, check out some of the hundreds of 5 star reviews in the app store
"I have read Mobiography magazine since issue 1, anyone who uses a mobile phone for photography, whether as their main camera or for casual snaps will find Mobiography magazine a great source of information. The reviews are excellent and easy to understand, interviews with photographers are usually very interesting and one can always learn from their techniques and experiences, there is something in the magazine for all levels of photographer whether beginner or pro. The yearly prescription is good value and I find the new update gives the magazine a nicer cleaner look 10/10"
"Mobiography is a great magazine for the beginner and experienced mobile photographer. Andy has a done an excellent job in bringing it all together in a format that combines video, print and stills to showcase what can be accomplished with the tiny camera in your pocket. Every issue features interviews with photographers that are pushing the boundaries of this medium along with plenty of tips and tricks to help you improve your skills."
"I love this magazine on so many levels! It has the most interesting topics on Apps for editing, enhancing and helping to take better phone photos. I am a beginner in the field of phone Photography I have learnt so many things from reading the different topics in this Magazine. Some excellent photos and discussions by some excellent phone photographers. I read it from cover to cover and then can't wait for the next issue, to excite me all over again! I rate this magazine with the maximum of stars ~ 5"
​​Grab Your Free Copy of Mobiography Mobiography
​Start learning from the world's best smartphone photographers with Mobiography magazine
SUBSCRIBE & SEND ME THE FREE ISSUE