The use of leading lines within a composition are an excellent way to draw a viewers eye into a photograph and towards a distant subject. This week's showcase of mobile photography showcases a selection of superb examples of iPhone photography which beautifully illustrate the use of leading lines within a composition. These example photographs use a combination of perspective, reflections and lighting to fantastic effect in order to create stunning results.
The showcase features work from mobile photographers ARCHiPhone, Tomaso Belloni, Richard Pilon, Marco Lamberto, Shel Serkin, Heline Lam, Dani Salvadori and Vivi (Veevs) Hanson.
Let us know if you have a favourite and your thoughts on the best way to use leading lines in your photographic compositions in the comments section at the bottom of the page.
Upstairs
'Upstairs' by ARCHiPhone – "I am ARCH,iPhoneographer. I am in Japan. I will take a photo in the unconscious. This photo is one of them. You may be difficult to see in this photo, but I was paying attention to children who are riding the escalator. Futuristic landscape that have been modified on a VSCO was would be noticeable, but I like the photo there are people. And I love the camera of the iPhone. I use from time when iPhone 3G came out. I use than the camera of the digital SLR."
Second star to the right
'Second star to the right' by Tomaso Belloni – "I have walked many times this staircase in a station of Milan's underground, a staircase which almost nobody seems to be using. Only this time I noticed this view, with the yellow handrails that seem to be leading unavoidably to the red door, but leaving an escape to the right. To me, also because of my state of mind at the time, it symbolized the presence of a second possibility even when there seems to be none. Whether the red door is a worse choice than the way to the right is of course unknown.  I took the photo with the iPhone 5 default camera and processed it with Snapseed and (I think) Mextures."
Civic Opera Building
'Civic Opera Building' by Richard Pilon – "I was visiting Chicago for a few days and took some time to walk downtown with my iPhone looking for photo opportunities. Street photography is my main passion but I also like taking architectural shots. I love Chicago and there is no shortage of options.
One of the first buildings I came across was the Civic Opera Building. I was immediately drawn to the walkway on Wacker Drive. I was happy the sidewalk was not crowded and the two people at the end of the walkway gave this image a good sense of scale.
I took this shot using Hipstamatic's Jane lens and Blanko Freedom13 film. Some minor edits were made using Snapseed."
Ghosts
'Ghosts' by Marco Lamberto
Steel Wings
'Steel Wings' by Marco Lamberto
Chloé
'Chloé' by Shel Serkin
Towards the Light
'Towards the Light' by Heline Lam – "I like the idea of creating unconventional, surreal settings. As in most of my work, "moving onward" is an underlying theme. With this particular image, "Towards the Light," I want to portray positivity of traveling through a seemingly unknown space or tunnel towards a guiding light. This image was post-edited and processed on my iPhone 5s through Snapseed, Laminar, Image Blender, Circular, Union and LensLight of two different photos that I had taken previously on my iPhone 5; the figure is one that I took when I was in Germany, while the setting of the structure was taken in Singapore. "
New tunnel, Kings Cross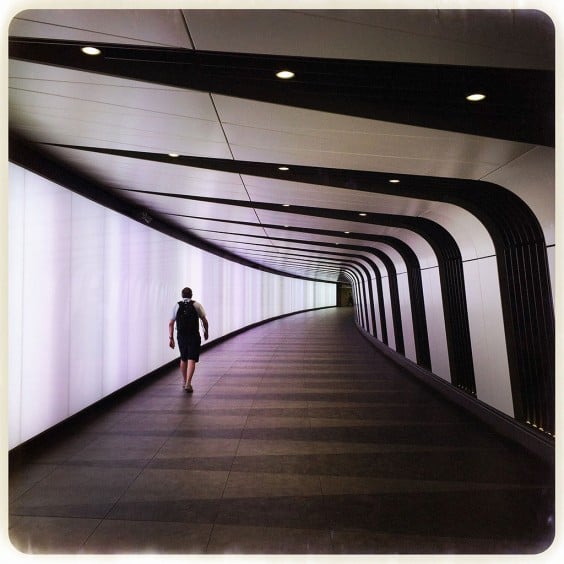 'New tunnel, Kings Cross' by Dani Salvadori – "I work in King's Cross, once the seediest part of central London but now the site of a major regeneration project which will take 20 years to complete. A few weeks ago a new pedestrian tunnel was opened to the tube and, ever eager to explore a new part of the site, I went home that way on its first day open to the public. Much to my surprise the space was stunning and I took this shot as the only other person down there receded into the distance. The image was taken in Hipstamatic (Jane/Maximus XLIX) and there was no other processing."
Looking down
'Looking down' by Vivi (Veevs) Hanson – "My lovely friend Jen organised a visit to Tate Britain a few months ago.  I had never been before and it's such a wonderful art gallery!  I love stairs and Tate Britain has 2 beautiful staircases.  This one is not its main rotunda staircase.  I was lucky that no one was on this staircase when I took the shot.  The light was beautiful.  I took photo with my iPhone 5 using VividHDR and edited with Perfect B&W"
Which was your favourite?
Do you have a favourite from this weeks selection? Let us know your thoughts on the featured photos in the comments below.
If you haven't already joined the Mobiography Flickr Group then head on over and join in the fun. Alternatively, sign up to the Mobiography email list to get the latest news and updates direct to your inbox.