The theme for this week's Mobiography Showcase Challenge was 'Portraits'. The photos submited this week were a fine collection of stunning photos of both people and animal. Featured photographers have taken different approaches from candid street photography, to more staged portraits to abstract approaches. They beautifully illustrate how a portrait photograph should be taken.
Featured photographers this week include: Elaine Taylor, chris_iphone, Litonya Knelsen, Alan Kastner, Charles Read, Lukasz, Jennie Muxworthy, Evelynne Sieber, el_rubins_ed, Maryana, Patricia Roosen, Isabelgap, Jen Burnett, mauricio_bustamante, Stuart Fear, olympiamontaldo, Brendan O Se and Geri Centonze.
Take part in next week's showcase challenge
The theme of next week's showcase will be 'Reflections' so start sharing your best smartphone portrait photography, by using the #mobiography_challenge_7.
The best ones will be featured in next weeks showcase, so get sharing now.
Billy
'Billy' by Elaine Taylor – "I shot this photo of my son, Billy, on an iphone6s using Hipstamatic's Tintype app.  I asked Billy to look directly at the lens and positioned his eyes in the frame to maximise the effect. I adjusted the filter in the app by reducing the grain and removing the border, then I did a little more tweaking in Snapseed."

Waiting for Wim, Photographers Gallery, London 2017
'Waiting for Wim, Photographers Gallery, London 2017' by chris_iphone – "This portrait was taken while waiting patiently in a book signing queue for Wim Wenders at the Photographers Gallery in October. Wim Wenders exhibition of Polaroids 'Instant Stories' is on at The Photographers Gallery until 11th February 2018 and is highly recommended. The image was processed with my go to app Snapseed, then filter applied in VSCO and finally tweaked in Instagram."

Alien…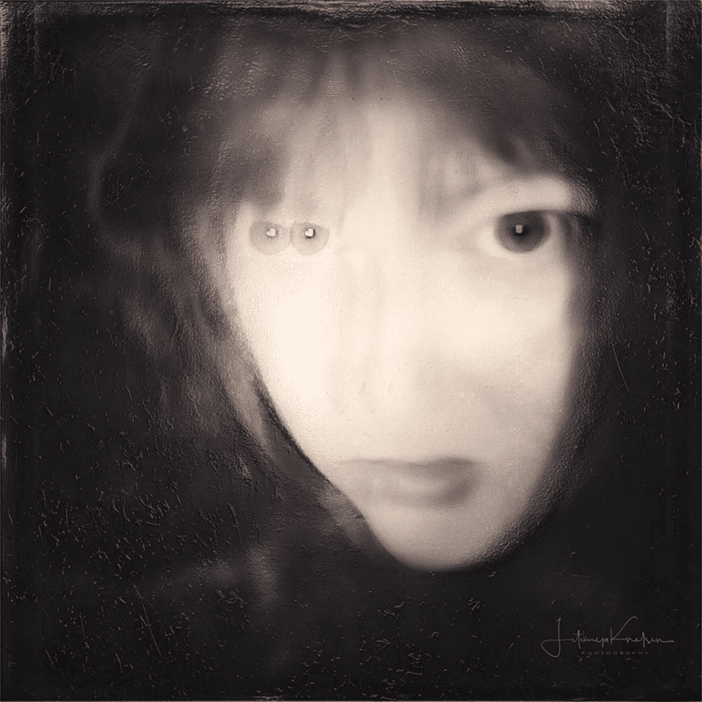 'Alien…' by Litonya Knelsen – "The "Alien" image I created was inspired by the idea of seeming like one of the crowd on the surface, but on closer examination seeing the uniqueness that sets someone apart from the crowd. I shot it on my LG G6, tweaked the image in Snapseed, created a few different versions in iColorama and finally blended a couple of those versions together to create the final image."

Cause when you are dreaming, you see for miles and miles
'Cause when you are dreaming, you see for miles and miles' by Alan Kastner – "This photo is the eighth instalment in an ongoing series. Each entry is a candid photo taken through the same window at different times and angles as I try to capture a specific mood (and story) unique to each subject. It has proven an interesting exercise as I was never comfortable shooting faces from close proximity; and it doesn't get much closer than this.
I captured the image using Hipstamatic on an iPhone 8 Plus. Wanting to gain a little more depth and ambience, I then ran the unaffected ("raw") file Hipstamatic saves through the app three times, using a different lens/film combo each time. I took those files and blended them to suit my tastes in Superimpose before making a few final adjustments in Snapseed."

Election day shadows
'Election day shadows' by Charles Read – "I encountered this woman on election day, in a Starbucks – where she had found a quiet corner to rest, out of the rain. If she hadn't been slumbering, I'd probably have asked her whether she had yet voted the question of the day, for sure. I couldn't resist her style, seated there in the soft light as she was while I waited for my coffee order.
I edited this as a Hipstamatic in black and white (John S lens, BlacKeys XF film, Triple Crown flash), but then wanted to restore some of the original color to the scene. So I used Snapseed's double-exposure tool to precisely overlay the original shot and add color back, selectively, giving the final image almost a slightly vintage, tinted feeling. "

Uniwersytet Trzeciego Wieku
'Uniwersytet Trzeciego Wieku' by Lukasz – "This photograph was taken while travelling on the bus in my hometown in Poland. The weather had been quite nice that day, with the sun shining brightly enough to put some light in the otherwise gloomy interior of the bus. I have taken a few photographs during my journey that day and after looking at my image gallery this photograph immediately stood out. The elderly lady sitting in tough and the addition of the poster saying 'Students day' gave this shot more meaning and a story. The photographs is called "Uniwersytet Trzeciego Wieku" which translates to "The University of the Third Age". It is an international movement whose aim is to educate the retired members of the community – those in their third 'age' of life. Thank you very much to my brother who had spotted the connection and gave this shot its tittle.
The shot was taken on Iphone 7 plus using portrait mode. In terms of post processing I have used Snapseed to crop the photograph and then VSCO cam for B&W filter and minor contrast adjustments .
Camera model: Iphone 7plus – Apps used : Snapseed , VSCo cam"

the street
'the street' by Jennie Muxworthy – "The boxer pup in portrait looked lonely so my dog and I stopped to say hello. Of course I wanted to capture that face! Taken on my galaxy s8, minimal editing with Snapseed and BeFunky. I would love you to use photo."

Untitled
'Untitled' by Evelyne Sieber
Sonrisas y Esperanzas
'Sonrisas y Esperanzas' by el_rubins_ed – "For many years I have made dental prostheses, now I am involving photography with my iPhone in my work every day with my clients and perpetuate their smiles. Today they are doubly satisfied."
History as such and no…
'History as such and no…' by Maryana – "This photo was taken during the Chelovin photo shoot, I took a few photos with my iPhone 6S (which I especially like as its more like photographing with an actual camera). I edited the photo using Photoshop Express."

Untitled
'Untitled' by Patricia Roosen – "I photographed my son during a long car trip. He was tired and tried to take a nap! He was sitting next to me and the way he was relaxing for a moment was so beautiful that I had to capture it!
The picture is taken with a iPhone 7+ and the App is Hipstamatic! My all time favorite photo-app and I use it all the time…..The combinations of films & lenses are countless and the results are great!
Hipstamatic App – Lens: Watt – Film: Blank BL4 – Flash: Jolly Rainbo"

Untitled
'Untitled' by Isabelgap – "This photo was taken with iPhone 7 and the filter used was from the hipstamatic app. The lady of the photo is 80 years old and her name is Deanir. This year she underwent a treatment to cure a lymphoma and we took this picture at her last medical appointment."

Intermission
'Intermission' by Jen Burnett – "This image was taken at Arena Stage in Washington, DC. During intermission I saw this gentleman sitting on the bench and between his pose, the stairs, light, shadows and colors I knew I had to quickly capture a candid portrait of him before the moment was gone. I used the native camera on the iPhone X and processed the image in VSCO: U3 filter, perspective adjustment, and I cropped the image to enhance the composition and further isolate the subject. "

Untitled
'Untitled' by mauricio_bustamante
Pupstar
'Pupstar' by Stuart Fear – "One of the big advantages of using a mobile phone to take a pic is the speed with which you can do it. I spotted my dog, Florrie, lying in her frog pose in some good light, so snapped away. She'd have been long gone by the time I'd sorted the settings in a camera. Did you spot the deliberate mistake? Look top right and you can just see a cable laying on the floor. It ruined the original image so I added the vignette to hide it, and that had the bonus of making Florrie stand out (and making wine stains on the carpet go away!)."

Untitled
'Untitled' by olympiamontaldo
Photographic Punctuation Photo Booth
'Photographic Punctuation Photo Booth' by Brendan O Se
My Monalisasmile
'My Monalisasmile' by Geri Centonze
Don't forget…
Remember, the theme of next week's showcase will be 'Reflections' so start sharing your best smartphone photos of Reflections by using the #mobiography_challenge_7.
The best ones will be featured in next weeks showcase, so get sharing now.
If you haven't already done so, follow Mobiography on Instagram and hashtag your photos with #mobiography. Don't forget to sign up to the Mobiography email list to get the latest news and updates direct to your inbox.