The theme of this weeks showcase of mobile photography is photos that use lines and angles in their compositions. Lines are everywhere be they physical lines or the lines created by shadows and light play. This weeks showcase illustrates how several photographers have used lines, angles and the shapes they make to create some amazing photographs. From the shapes created in Aco Konikoni's cross crossing escalators to the use of road marking and shadow in Sebastian Oskar Kroll's aerial photograph. This weeks showcase offers some excellent ideas on how you can incorporate lines into a photographs composition.
Featured photographers this week include: Aco Konikoni, Sunny Owen, @kaha_k, Mark Fearnley, Katarzyna Matukiewicz, @nejbs, Saimon Hossain, Sebastian Oskar Kroll, George Koutsouvelis, and @ziuteklz.
Do you have a favourite photo from this week's showcase? Let us know which in the comments section at the bottom of the page. Finally, hashtag your photos with #mobiography for a chance of getting featured in future showcases.
Cross
'Cross' by Aco Konikoni – "I always use iPhone 7. This is the escalator of the department store in Osaka, Japan. I think that this intersecting composition is beautiful?? So I took it from the middle floor. I thought that monochrome is unsatisfactory, so I edited some of the reflected parts into a color splash."
I'm missing home today. Golden Gate Bridge detail, San Francisco 2014
'I'm missing home today. Golden Gate Bridge detail, San Francisco 2014' by Sunny Owen – "There are a million awesome photos of Golden Gate Bridge – it's iconic for a reason. I decided to hike across (a windy and noisy experience!) and look for a different perspective. I liked the angles and the simplicity that looking up gave me.
I shot this with an iPhone 5S using Camera+. I tuned it a bit in Snapseed, and sharpened it also. Then I added a hint of color and texture in Mextures. I wanted the shapes to stand out, and to emphasize the color a bit. "
P jak pawilon 4 kopu?
'P jak pawilon 4 kopu?' by @kaha_k – "This photo was taken in the Four Dome Pavilion in Wroclaw, Poland. The building was erected in 1912 and designed by the architect Hans Poelzig. Pavilion is listed as a UNESCO World Heritage Site and puts on art exhibitions. I took the photo with my iPhone 5s. I wanted to capture as much of the ceiling and dome windows as possible so I placed the smartphone on the floor and took a series of pictures. I used Snapssed for editing, using the black and white filter and tonal contrast and brightness.
I love architecture and symmetry. It is not always possible to capture the whole picture like this dome."
Web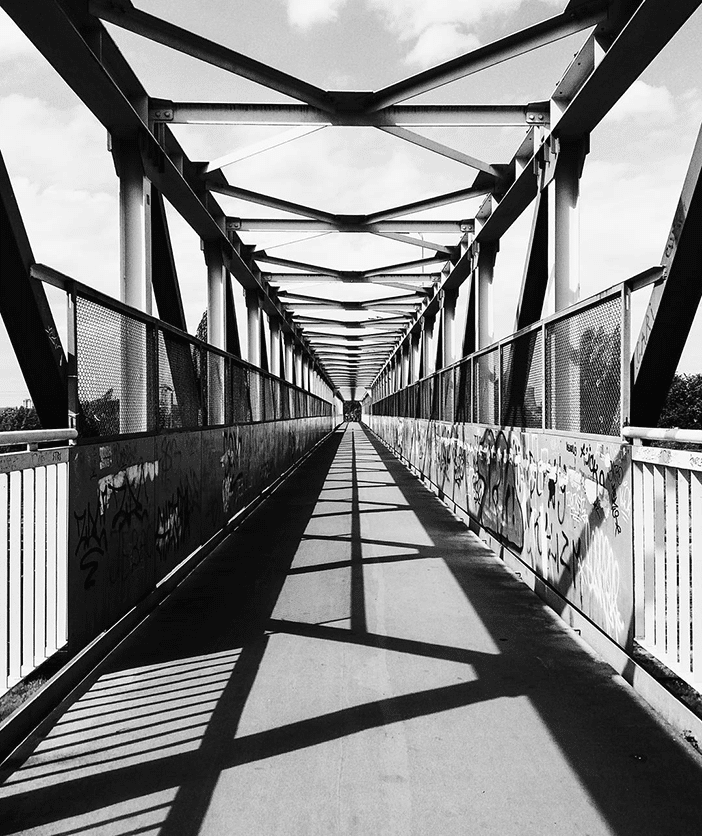 'Web' by Katarzyna Matukiewicz – "It took me a little to wait until the bridge was empty, but I believe patience is a virtue and in this case waiting was worth it. I used Snapseed to increase contrast and VSCO for black and white filter, which for me is the best when you want to focus on light and shadow in your photo."
Long shadows
'Long shadows' by Sebastian Oskar Kroll – "I took this photo from my bedroom window. I really loved the long shadows. I always use the Hipstamatic app. It's my favourite app."

Enclosed
'Enclosed' by @ziuteklz – "The photographs had been taken in April 2017. I had been on my way to attend Sony Photography Awards Exhibition in London. As a keen photographer I was looking forward to the exhibition held in Somerset House. The fact that it was a nice, warm and sunny day was an added bonus to a perfect morning ahead. When I was walking from the underground station towards my destination, I noticed a lone figure sitting underneath a bridge. The bridge and part of the stairs made a nice frame for the shot. I instinctively took a few photographs using different angles and after that continued my journey.
I have recently revisited the shot and decided to do a few edits. The photograph was taken on an iPhone 7 plus using the 2x zoom feature.
The edits were applied in Snapseed using the black & white filter and adjusting the exposure and contrast of the image. The finishing touch was added in Instagram using the Juno filter as it gave the image and old fashioned look I was looking for.
Camera: iPhone 7plus 2x zoom feature. Apps used: Snapseed, Instagram"
Namba crossing
'Namba crossing' by Mark Fearnley
Hard geometry
'Hard geometry' by George Koutsouvelis
Another day, another nun. Oh, praise the lawd!!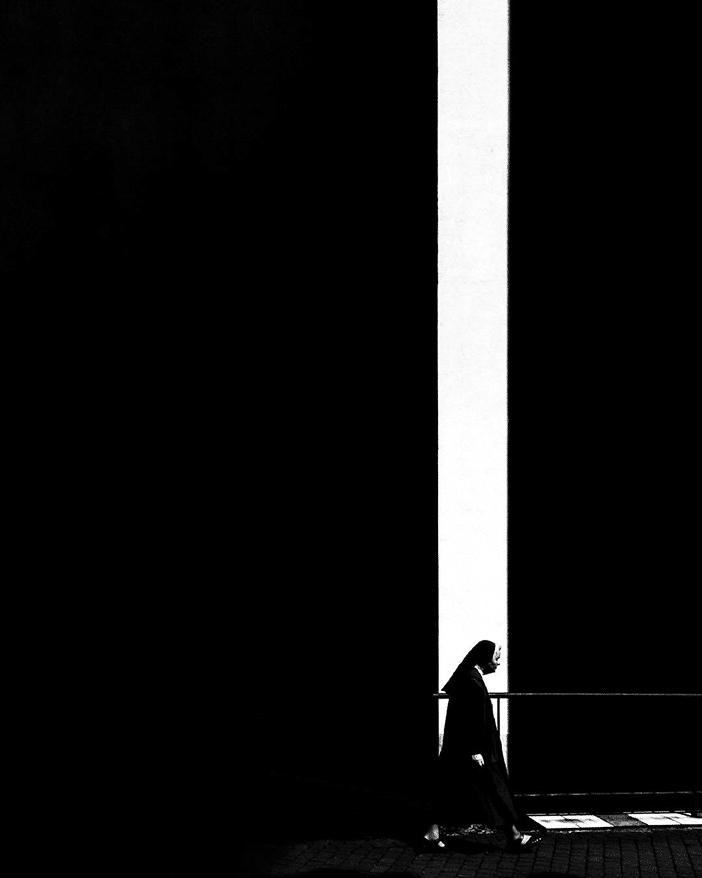 'Another day, another nun. Oh, praise the lawd!!' by @nejbs
Time pass
'Time pass' by Saimon Hossain
Do You Have a Favourite?
Do you have a favourite from this weeks showcase? Let us know your thoughts on the featured photos in the comments below.
If you haven't already done so, follow Mobiography on Instagram and hashtag your photos with#mobiography for a chance of getting featured in future showcases. Don't forget to sign up to the Mobiography email list to get the latest news and updates direct to your inbox.
Save
Save