Smartphones continue to improve, allowing people to rely on them more and more for their photography and videography needs. iPhone technology is catching up to that of high-end digital cameras, too, and as camera sensors have improved, so has video capability, which now offers up to 4K resolution.
Whether you're capturing your family vacation or working on a film project, you don't want your video to look shaky and unstable. By simply holding your iPhone with your bare hands, you risk having a trembling, difficult-to-watch video. The fix? An iPhone stabilizer.
The iPhone Gimbal Stabilizer
There are all different kinds of stabilizers that can be used to get a broad range of shots. A gimbal is a common type of iPhone stabilizer, giving the operator the freedom of handheld shooting while still preventing camera shake and vibration. Gimbals are powered by brushless motors, keeping the camera level even as the operator moves it. Even if you're moving quickly, an iPhone gimbal stabilizer will prevent bumpy shots.
Though newer iPhones have better optical stabilization, it still isn't able to replace the production value of an actual stabilizer, making it a much-needed accessory if you're going to be moving around (even slightly) while shooting video.
iPhone Stabilizer Options and Considerations
Most people want the highest quality stabilizer available for the lowest price possible. However, experienced videographers may want a slightly more expensive stabilizer because they often have advanced features, while beginner videographers are often happy with simpler stabilizers. Below, we have a selection of professional-quality stabilizers, as well as a few that are specifically for budget shoppers.
Other considerations you want to keep an eye out for include durability and material; weight, compactness and travel capability; battery time; rotating capabilities; and extra features.
Here are five of the best iPhone gimbal stabilizers for mobile videography:
DJI Osmo Mobile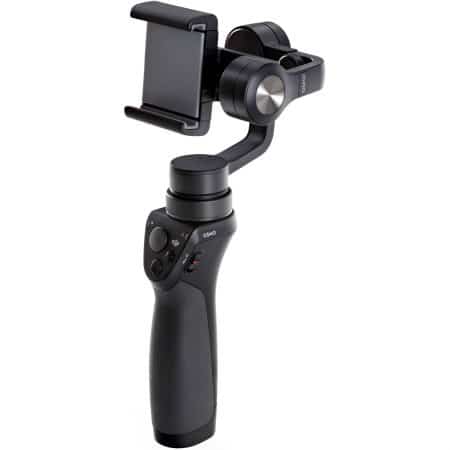 The DJI Osmo Mobile has image stabilization and tracking, regardless of what you're filming. The three-axis gimbal system can be held in four positions ­– standard, underslung, portrait and flashlight – allowing you to get any shot you need, even abstract and artistic ones.
The handle has a shutter button and joystick control, and it will connect with your device via Bluetooth. The handle also has controls for ISO, shutter speed and white balance. Additionally, the Osmo Mobile has a motion time-lapse feature, as well as live streaming capability.
Some people have found the DJI GO app to be buggy or to find that bobbling or shuddering occurs.
The Osmo Mobile will provide up to four and a half hours of continuous use.
More Details on Amazon
FeiyuTech SPG Plus
The FeiyuTech SPG Plus three-axis, handheld gimbal lets you rotate your phone in any direction while keeping it recording in either horizontal or vertical mode. The sliding arm mechanism keeps your iPhone balanced at all times. Features include a dual handle; 100 degree rolling, 320 degree tilting, and unlimited panning with single-tap control; intelligent face tracking; and time-lapse shooting.
Some find this gimbal to be on the heavy side and difficult to travel with, and beginner videographers may find it tricky to calibrate. This gimbal is compatible with the Feiyu ON app, though some users have had responsiveness issues with iOS.
The battery has up to eight hours of run time.
More Details on Amazon
Ikan FLY-X3-PLUS
The Ikan Fly-X3-PLUS has a six-axis inertial measurement chip and a three-axis accelerometer that will keep your iPhone steady as you shoot handheld video footage. This is similar to the optical image stabilization technology technology of the iPhone 7 and 7 Plus. (Note that this device isn't intended for pan and tilt shooting.) As your hand and arm shake, the FLY-X3-PLUS will correct for even small movements thanks to the gesture control system, keeping your phone steady throughout shooting. There's also a counterweight that can be used with bigger iPhones, like the 7 and 7 Plus. The FLY-X3-PLUS is easy to setup and use, and its battery life is three hours.
More Details on Amazon
LanParte HHG-01 Handheld Gimbal
The LanParte HHG-01 Handheld Gimbal comes with two adjustable smartphone clamps, plus two counterweights so that you can get the right fit and balance for your iPhone. The three-axis gimbal doesn't have a joystick, but it does adjust to stay steady as your wrist moves. Stabilization is available for panning, rolling and tilting.
This gimbal is one of the leading choices for travelers because it's lightweight and compact. Though it doesn't weigh much, the housing of the HHG-01 is sturdy and it has a secure, non-slip grip made with silica gel.
The internal, rechargeable lithium-ion battery is removable and will last for approximately three hours. The HHG-01 also comes with a nylon carrying case.
More Details on Amazon
Zhiyun Smooth 2
This lightweight, three-axis gimbal can be controlled from afar with the ZY Play app. Note that some users say the app can be tricky to use because it's lacking in instructions.
The five-way joystick of the Zhiyun Smooth 2 controls 360 degrees of pan, and 320 degrees each of tilt and roll. Additional features include a dedicated shutter button; a rapid-start function; a smart face tracking option; and noise reduction.
The battery life of the Smooth 2 is five hours, and you can also use it to charge your iPhone (a helpful feature, because shooting video can quickly drain your smartphone battery).
More Details on Amazon
3 Budget iPhone Stabilizer Options
If you're just starting to experiment with shooting iPhone video or you need a second, less expensive stabilizer to take with you when you're on-the-go, consider these three budget-friendly options.
X-CAM Gimbal Folding 2 Axis Handheld Stabilizer
The X-CAM Gimbal Folding 2 Axis Handheld Stabilizer is convenient to travel with and quickly use or store thanks to its portable, folding design. Since this iPhone stabilizer is pocket-sized, it's an excellent option if you don't want to travel with extra camera equipment or bags.
This gimbal has a two-axis stabilization system that spins forward and sideways, ridding the video of fuzziness and jitters. It's adjustable for up and down angles, and also has Bluetooth capability without requiring an app.
Setting up the X-CAM can be tricky for some users, especially with phones on the heavier side, but once you've balanced the gimbal for the first time, using it becomes easier.
The X-CAM comes with a velvet bag to keep the device free of dust when it's not in use. The X-CAM's battery time is two to five hours of constant filming; battery time will vary based on the weight of the phone.
More Details on Amazon
Tiffen Steadicam Smoothee
The Steadicam Smoothee by Tiffen is popular with sports fans who want to capture action-packed moments. Highly adaptable and designed with sturdy metal, the Smoothee is a great option if you're going to be shooting in rough locations. It's also agile, compact and lightweight, making it easy to travel with, and the grip is ergonomic and comfortable.
Videos taken with the Smoothee are incredibly smooth and bounce-free, and the iPhone mount can also be used as a tabletop tripod. Note that even though the Smoothee is on our budget list, it's still considered a professional-grade gimbal, and the learning curve can be steep.
More Details on Amazon
Zeadio Ergonomic Swivel Smartphone Handheld Grip Stabilizer
The Zeadio Ergonomic Swivel Smartphone Handheld Grip Stabilizer is both a tripod and an iPhone stabilizer. The multi-use tripod and full 360 degree rotation gives you the perfect viewing angle every time. It's ideal for streaming live video for social media platforms.
Some users have said that the structure feels on the light and cheap side, but as far as budget gimbal stabilizers go, the Zeadio does what it's intended to do. However, since some have found it somewhat flimsy, it may not be a great option for adventure travel videographers or anyone who's going to be shooting in rough locations.
More Details on Amazon
Weighing Up the Options
We recommend the DJI Osmo Mobile and the Zhiyun Smooth 2 stabilizers if you're not looking for a budget gimbal.
The DJI Osmo Mobile is ideal for videographers who want something they can start to use quickly, as it's very easy to learn how to use. It's a reliable, smooth gimbal that allows for high quality videos, and it has great extras that many other gimbals don't have. With advanced image stabilization and tracking, the gimbal can be held in four different positions to allow for any shot, including artistic ones. The handle has a variety of controls and the gimbal also has advanced features like live streaming and time-lapse.
The lightweight Zhiyun Smooth 2 has a five-way joystick with pan, tilt and roll control. Extra features include rapid-start, face tracking and noise reduction. The battery life of the Zhiyun is a bit longer than that of the DJI Osmo Mobile, and the stabilizer can also be used to charge your smartphone.
For budget shoppers, we recommend the Tiffen Steadicam Smoothee or the Zeadio Ergonomic Swivel Smartphone Handheld Grip Stabilizer.
The Steadicam Smoothee is ideal for sports fans who want to capture fast-paced action, or anyone who will be shooting in a coarse or rugged location. The iPhone mount doubles as a tabletop tripod and the entire stabilizer system is lightweight enough to travel with. We feel that the Smoothee is the most professional-grade gimbal you'll find at a budget price.
The Zeadio Ergonomic Swivel Smartphone Handheld Grip Stabilizer also acts as both an iPhone stabilizer and a tripod, and users love it for live streaming to their social media feeds. This gimbal isn't recommended for anyone who will be filming in a rugged location, though, as it's not as sturdy as the Smoothee.